Krabi Travel Guide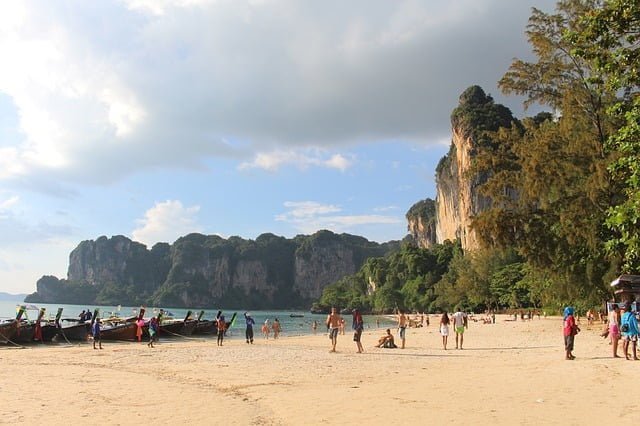 Introduction
Situated in Southern Thailand east of the island of Phuket on the mainland, Krabi province has slowly but surely gained in popularity with tourists over the years. While it lacks the commercial glitz its competitor across the bay has, it has enough tourist services to people visitors happy, while providing space and a subdued atmosphere that its built-up neighbour lacks.
Cultural Attractions
Begin your cultural exploration of the Krabi area by visiting the Tiger Cave Temple. Located within a cavern situated in a limestone karst, it isn't an easy place to visit, as accessing requires an arduous climb up more than 1,200 steps.
Named for tiger paw prints which were found inside the cave where this wat was established, this temple is considered by locals to be the most sacred place in Krabi province. In addition to the cavern, a sizable Buddha statue and outstanding views over the surrounding areas are two additional reasons to endure the punishing climb. Try to arrive outside peak UV hours (early morning is best), and you'll sweat and burn less on the way up and down.
Back in Krabi Town, Wat Kaew Ko Wararam is not only this settlement's top temple, it also stands out the most compared to the modern downtown core. Clad in brilliant white, this wat is adorned with ornate decorations on its exterior., while its inner sanctum boasts an expertly painted blue mural surrounding a Buddha statue where locals leave offerings. Outside, you'll find a garden with water features, along with a pair of flamboyant peacocks.
During your time in Krabi province, you'll almost certainly pay Railay Beach a visit. On the way to the longtail boat ferries, you'll pass through the seaside town of Ao Nang. While it is mostly home to a collection of souvenir shops and cheap restaurants and bars, you'll also find the subtly beautiful Ao Nang Mosque here as well.
If you wish to tour the place, dress up – no shorts or exposed shoulders/chests allowed. Even if you don't have time to see the interior of this place of worship, come by during the evening hours, as the building is lit up brilliantly after dark, and a food market in adjacent streets will give you a chance to sample the local halal cuisine.
Want to take home the specialities of Southern Thailand to friends and family? Massaman curry may not pack well in your checked luggage, but by taking some cooking classes during your time in Krabi, you'll be able to reproduce the flavours you sampled here for your loved ones back home.
Within several hours, you'll learn what ingredients are required to prepare some of the most common Thai dishes out there, and where they are procured in the region. With evening classes available from some schools, you won't even have to set your alarm – excellent news for night owls!
Other Attractions
Virtually all tourists who go out of their way to visit Krabi have Railay Beach on their to-see list. A sandy peninsula walled off from the rest of the mainland by a mighty series of limestone karsts, access to this paradise is granted by longtail ferry boats which take visitors here from the beach at Ao Nang.
While it is possible to come here on a day trip, there are plenty of backpacker to luxury resorts which will allow you to remain here after the sun has set. While food, drinks, and accommodation here are nominally more expensive than the mainland, the added premium is worth the feeling of relaxation you'll get by being here for days at a time.
There is more to this region than Railay Beach – take a boat tour to the outlying islands, and you'll see the amazing beaches which few visitors to Ao Nang and Railay ever get to see.
The four islands tour is the most popular, as it takes you to Koh Poda, Koh Gai (named because of its resemblance to a chicken), Koh Mor, and Koh Tub. In each of these places, you'll have small but lush islands ringed by fine white sand to yourself – don't forget to bring a mask and snorkel!
With the presence of massive limestone karsts lording over Railay Reach, it is no wonder rock climbing has become so popular here. With nothing but ocean beneath climbers on many routes, many choose to scale without protective harnesses, as the sea below is more forgiving of mistakes than solid earth.
If you are a beginner, though, start off with ropes no matter where you climb, as landing wrong on water can result in serious injury.
Back on land, those looking to get amazing views of the Krabi area will want to head up the Hang Nak Nature Trail during their time in the region. Leave the flip-flops at home – this is a trek for those with proper hiking boots.
Bring plenty of water, hydrate often, and make your way slowly up to a dramatic viewpoint with sweeping views of Krabi Town and vicinity. With a rocky ledge with juts out above hundreds of feet of empty air, you'll have an Instagram worthy photo opp to show off to your friends back home.