Kurashiki Travel Guide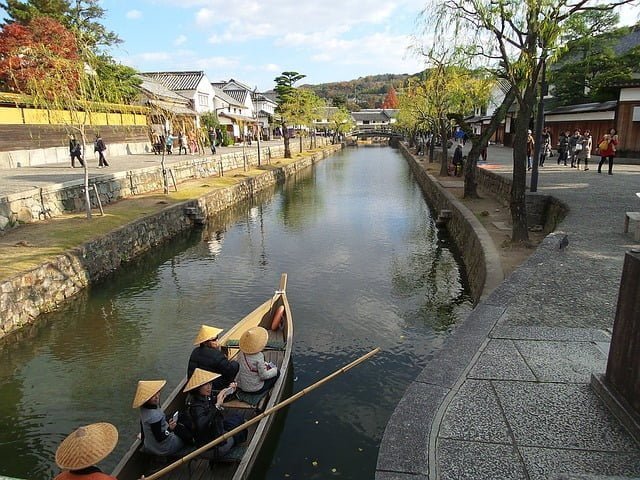 Introduction
Famous for being a rice port during the Edo Period, Kurashiki is filled with museums that detail its trading past.
Escaping bombardment during the Second World War, its storehouses are in mint condition, making it a fabulous place to spend a couple of days.
Come check out our Kurashiki travel guide as we cover the best things to do in Kurashiki, Japan.
Top Attractions
Kurashiki has more than its share of museums, but if you only have time for a few, ensure that Ohara Museum makes your short list. Completed in 1930, this was the first institution in Japan that played host to Western art.
As you stroll the halls of this beautiful building, you'll see the works of Pollock, Rodin, El Greco, and Picasso, among others. However, the galleries of this museum aren't reserved exclusively for foreign artists – in the annex, you'll find works by a number of prominent Japanese artists as well.
On top of that, you'll also come across artifacts from Egypt and China, as well as a gallery that shows off crafts created from ceramic, through stencil dyeing, and other styles.
Learn about the most prominent merchant in Kurashiki by dropping by Ohashi House during your visit. During the Edo Period, this was not the best class to belong to, as sellers of goods were ranked well below other castes like the samurai, who sat on top.
Throughout this impressive abode, you'll find tatami floors, which was one sign of wealth in those days. Elaborate sliding doors, a big kitchen, and scrolls are other touches that offer a hint at how big a deal this family was.
However, none of these features illustrates their standing in the community like the style of house they had. Unlike houses typical of their fellow merchants, Ohashi House has a front gate with an open area in front of the property. This was a style of residence typically reserved for samurai – the fact they were permitted to build their home in this fashion speaks volumes of the sway they held with local leaders.
Haven't had your fill of museums yet? Make Kurabo Museum your next stop on your tour of Kurashiki. Built during the heart of the Meiji Period back in 1888, this former industrial building once spun cotton and other feedstock into fabric.
Within this structure, you'll find antique machinery and other artifacts from this operation – many captions are not available in English, so bring along a Japanese friend/guide, or prepare to make liberal use of Google Translate.
Temple lovers will want to include Achi Shrine in their sightseeing plans during a visit to Kurashiki. This Shinto shrine, which is said to be over 1,700 years old, boasts a gigantic rope over its entryway in a similar fashion to shrines in the Izumo area.
The highlight of this place is a collection of sacred rocks known as iwasaka. With roots in Korean folk legends, these artifacts highlight a time when mainland tribes set sail in search of new lands, only to settle a short distance away in Japan.
Other Attractions
Many of the main sights found in Kurashiki can be found within or close to the Bikan Historical Quarter. When you have finished visiting its museums and other main attractions, the atmospheric nature of this neighbourhood makes it an attraction in itself.
Also known as the Canal Area, this sector of Kurashiki used to be where shipments of rice were stored before being loaded onto ships and sent off to other cities in Japan. The canals which now serve as a captivating focal point for the area gave ships passage between warehouses and the harbour of Kurashiki.
Lined with trees like weeping willows, walking along these waterways will prove to be a relaxing activity in any season.
After your stroll along the canals of Kurashiki, grab a meal or coffee at one of the restaurants and cafes that can be found in the vicinity of Ivy Square. Named for the leafy vines that cover the stately brick buildings in the area, the relaxing ambience makes this place the perfect place to take a break during your tour of this quaint Japanese city.
There are a number of attractions located within an easy walk of Ivy Square. Momotaro Karakuri Museum is one of them. This institution honours what many consider to be Japan's first superhero, Momotaro (or Peach Boy).
Distraught by tales of a local demon that he spent his childhood hearing about, he decided one day to leave his home to vanquish this food-stealing monster once and for all. Flanked by three animal friends he fed along the way, they took care of this beast, bringing peace to the land.
Within the museum, you'll find artwork based on the tale of this lad – try to bring a Japanese speaking friend with you, as all displays are in kanji.