Kuwait City Travel Guide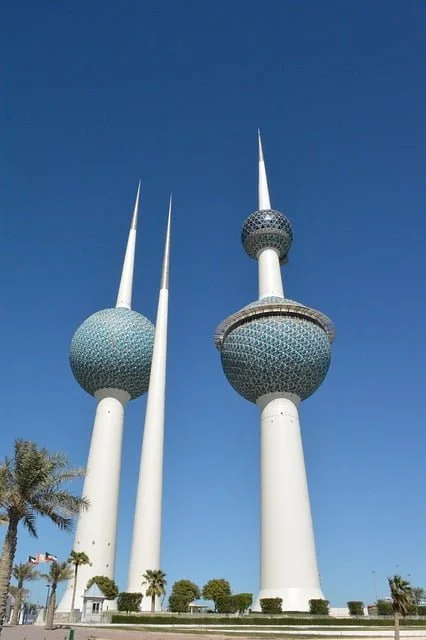 Introduction
Kuwait City is the sole urban centre of the tiny Middle Eastern country from which it takes its name.
Buoyed by oil wealth, you'll find plenty of soaring skyscrapers, luxury cars, and gleaming malls. However, it also has fascinating museums, mosques, and other spots of cultural interest.
Come check out our Kuwait City travel guide as we cover the best things to do in Kuwait City, Kuwait.
Top Attractions
Begin your trip to Kuwait City by checking out the iconic Kuwait Towers. These stunning landmarks are a series of three towers, located on this city's waterfront. The main tower features two blue spheres – the lower stores water and has a restaurant on its upper half. Meanwhile, the smaller top sphere hosts a cafe and observation deck.
The other two towers are practical in nature. The middle tower holds water in its single blue sphere and is not open to the public. The third tower has no sphere – instead, it holds equipment that lights up the other two at night. As such, this place is an excellent spot for night photography, so don't miss it, if that's what you're into.
Make sure the Grand Mosque is next on your Kuwait City itinerary. It is the biggest of all the mosques in Kuwait and is the 8th largest in the world. At peak prayer times, it can host more than 10,000 worshippers.
Tours are available, but not on Fridays or during Ramadan, as this is the holiest time of the week/year. Do enjoy the luxurious marble floors and the vibrant colours within, but show respect to those praying. Also, don't show up dressed in clothes that expose your knees, shoulders, or chest. By taking these steps, you'll avoid unintended offence.
Long before the oil age, Kuwait City was a prominent trading centre in the Middle East. Take a step back into this city's past by walking through Souk Al-Mubarakiya. This centre of commerce has been around for over two centuries. In its stalls, you'll find goods like gold, silver, spices, dates, honey, and other foodstuffs.
After you have finished touring the market, take a seat in a waterfront cafe. Here, you can drink tea/coffee while watching other locals go about their lives.
In Kuwait City for a while, and craving some culture? Check out the best performing arts shows Kuwait has to offer at the Sheikh Jaber Al Ahmad Cultural Center. This facility is the largest cultural centre in the Middle East, with a floor space of 214,000 square metres.
Within this visually stunning building, you'll find theatres, concert halls, libraries, and exhibition space. Indeed, it caters to the artistic needs of the population with regular shows. Upon arrival, inquire to find out what shows are playing during your visit.
Other Attractions
There's no denying it: Kuwait City lags behind other destinations when it comes to the arts. However, the House of Mirrors offers a sharp contrast to its bland surroundings. This dazzling place was put together by an Italian-born artist not long after moving here with her husband. It is a private residence constructed of creatively-crafted bits of mirror glass. To gain access to this stunning creation, you'll need to make an appointment beforehand. Reserve a tour, and soon, you'll get to see the most surreal home you've ever seen in your life.
Agriculture is virtually impossible in the Arabian desert that makes up most of Kuwait. However, the waters of the Arabian Gulf teem with marine life. Check out the catch of the day by dropping by the Kuwait City Fish Market.
The place certainly smells the part, with fishers hawking a variety of species, including sea bream and sea bass. If you plan to buy, arrange to have it cooked somewhere else first. No facilities exist on-site to prepare seafood, which could leave you with a smelly problem on your hands.
After a long day of sightseeing in Kuwait City, enjoy the coolness of dusk with locals at Al Shaheed Park. This urban park stands out from the desert climate in which it sits. Thanks to copious watering, much of this park is lush with grass, palms, and other plants.
Through much of the year, it can be impossible to enjoy this place in the midday heat. Come sunset, though, temperatures become more bearable, and coloured spotlights illuminate its many fountains. It is a popular place with locals, as the modern CBD rises around you, and you'll find restaurants nearby.
However, you may need to bide your time while 40 to 50 degree Celsius heat blazes outside. The Avenues Mall is the best spot in Kuwait City for this, as it has many appealing qualities. With more than 1,000 stores, it is the second largest mall in the Middle East. You'll find luxury and High Street brands here, along with a wide selection of restaurants, and a cinema.