Leh Travel Guide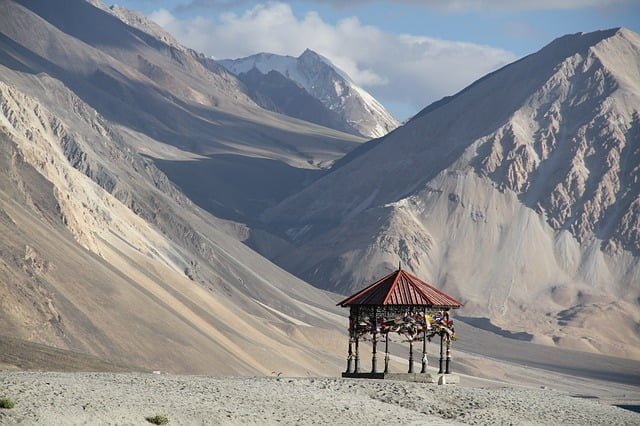 Introduction
An old Silk Road trading town that now caters to tourists, Leh will leave you breathless. Literally. With an elevation over 11,000 feet, you'll feel a bit punch drunk a day or two after arrival.
Once you adjust, its religious sights, mountains, rivers, and dunes will keep you busy through your entire stay.
Come check out our Leh travel guide for first time visitors as we cover the best things to do in Leh, India.
Top Attractions
Those interested in the culture of Leh will want to start their visit by visiting the Thiksey Monastery. It bears a remarkable resemblance to the Potala Palace, the former home of the Dalai Lama, in Lhasa, Tibet.
Within its twelve storeys, you'll find a wide array of Buddhist artifacts, art, and relics. These include statues, paintings, weapons, and thangkas, a unique type of tapestry. On the grounds of this monastery, you'll find a building known as the Maitreya Temple.
Built to honour the current Dalai Lama in 1970, it is known for a magnificent 50-foot statue of Maitreya. Representing a bodhisattva that embodies the spirit of love, it is one of this attraction's most impressive sights.
Next, make your way over to the Shanti Stupa. Built on a hill outside Leh, Japanese Buddhists built it in 1991 as part of the Peace Pagoda movement. Together with similar monuments, they are meant to promote world peace and honour 2,500 years of Buddhism.
Its base contains numerous relics of the Buddha, as well as reliefs depicting his birth and death. Even if you aren't interested in these details, the views are fantastic, so don't forget your camera.
Those wanting to learn about the history and culture of Leh should check out the Leh Hall of Fame. Specifically, this attraction also focuses on the role of the military in the area. For decades, control of the Jammu and Kashmir region has a point of dispute between Pakistan and India.
Within, you'll learn about the conflict between the two regional powers, and it contributes to the identity of Leh. Other displays, like the cloud-seeding experiments of the 2010s, show how they have developed the region as well.
Sikhism is another significant religion in India. While in the Leh area, check out Gurdwara Pathar Sahib. Located on the road between Leh and Kargil, it honours Guru Nanak Dev, the founder of the Sikh religion.
Within this holy shrine, you'll find a rock with curious indentations on display. According to legend, the Guru passed through this area long ago. After hearing that a demon was terrorizing the local people, he blessed them. Enraged, this demon decided to kill Guru Nanak Dev. The next morning, he pushed a boulder down the side of a mountain while the Guru meditated below.
Instead of squashing him, the rock became soft without harming the Guru. Further angered, the demon tried to kick the stone, only to embed his footprint in it. No matter your beliefs, this shrine makes for a worthwhile stop on your Leh travels.
Other Attractions
During your time in Leh, make room for a visit to the shores of Pangong Tso. It is one of the most spectacular lakes in Northern India, with dry peaks rising just beyond its shores.
At an elevation above 14,000 feet, it is one of the highest lakes in the world, so watch yourself for symptoms of altitude sickness. It is also a five-hour drive from Leh, so plan for a long day if you aren't staying overnight.
Nature lovers will also want to check out the confluence of the Indus and Zanskar Rivers. Each of these waterways run clean and cold, a far cry from their state in the lowlands of India. During the spring melt, river rafting is a favoured pastime here. If you haven't tried this sport yet, this is a great spot to give it a go.
Most of us will never scale a peak of any significance, never mind lofty mountains like Everest. Climbers need to have peak levels of conditioning, and a healthy tolerance for risk. If that doesn't describe you, you can still go higher on this planet than any of your friends.
All you have to do is sign up for a trip over the Tanglang La Pass. This roadway, which is on the way to Manali from Leh, achieves a peak elevation of 17,480 feet. That's just shy of the altitude of Everest Base Camp – spend time acclimatizing in Leh before attempting this trip.
Are you looking to have a little fun while in Leh? Spend a day out at the Sand Dunes Leisure Park. This region is very arid, a fact which has led to the formation of dunes outside town. Here, you can ride camels, rip up sand on ATVs, or climb these hills and contemplate life.