Lodz Travel Guide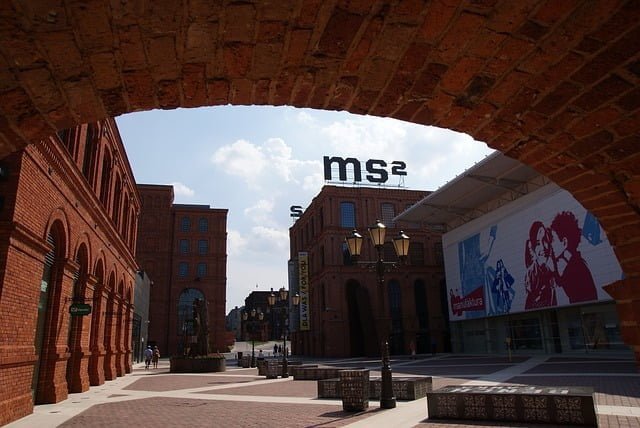 Introduction
Unlike many Polish cities, Lodz is as young as many North American centres. Originating in the 19th century as the Industrial Revolution ramped up, a strong work culture permeates through this country's third-largest city.
Many visit to see its darkest attraction (Radegast Station), but with intriguing architecture, museums, and even a necropolis, Lodz is a compelling off-the-beaten-track destination.
Top Attractions
Begin your time in Lodz by spending time inside Herbst Palace Museum. Despite the name, a royal family did not inhabit the halls of this building. Rather, two leading families in Lodz, the Scheiblers and the Herbsts, called this palatial residence home.
As owners of major industries in town, they had plenty to spend on their "castle". Throughout, you'll find period luxury furniture, paintings, and even an Asian-themed room. Be sure to check out the garden as well.
During the Industrial Revolution, Poland became a production centre that competed with the UK. However, industrialists needed a veritable army of working people to run these massive factories. Ksiezy Mlyn, a company-built "city-within-a-city", is where these hardy folks lived.
While their lives weren't opulent, the people here had everything they needed within walking distance. The company behind this development provided markets, restaurants, taverns, a church, and more to the workers that called this place home. Today, in keeping with global trends, this site is undergoing gentrification. Among tech workers, the blue-collar neighbourhood is hot.
Sadly, not all of the attractions in Lodz have a benign back history. During the Second World War, Radegast Station was the last call for hundreds of thousands of European Jews. During that horrible time, they passed through on their way to Auschwitz and other death camps.
Today, this train station hosts a Holocaust Memorial that honours those who passed through its gates, never to return. To comprehend what happened here properly, we recommend visiting with a tour guide.
Before leaving Lodz, spend some time at its Jewish Cemetery. This final resting place is more of a necropolis than a run-of-the-mill cemetery. As you walk its grounds, elaborate monuments will demonstrate the love that those left behind have for the departed.
Other Attractions
Love modern works of art? During your visit to Lodz, be sure to check out Pasaz Rozy. This glass mosaic, created by artist Joanna Rajkowska, covers the walls of the former Hotel Polski. Located off Piotrkowska Street near its northern end, it's easy to fit in this work when visiting this attraction.
To make the most of your time here, visit on a sunny day in the morning or evening. At these times, the low sun reflects off the many mirror-like pieces of this mosaic, creating an amazing atmosphere. Created to reflect Joanna's mindset after regaining her sight following chemotherapy, it's a powerful experience.
If you love green spaces, make time in your Lodz travel itinerary for Palmiarnia Łodzka. Polish winters can be long and dreary – that's why in the 1950s, authorities expanded an existing greenhouse. Within, gardeners planted a variety of tropical flora, providing a badly-needed escape for locals.
In all, this attraction contains over 1,100 species of flora from tropical climes. These include some passive palms and a durian plant. The latter specimen produces some of the smelliest, spikiest fruit on the planet – yum.
As we mentioned earlier, Lodz is home to a worker's estate. That's not the only remnant of this city's industrial past – Manufaktura is another fine example. In recent times, the business community took this former brick textile factory and turned it into a shopping centre.
Today, it boasts over 300 shops, restaurants, and cafes. In addition to this, you'll also find an arts centre, an entertainment complex, and four different museums.
End your trip to Lodz by spending an evening on Piotrkowska Street. Along its four-kilometre length, you'll find numerous shops, pubs, and restaurants. At night, this is where all the action is at!
What To Eat
On a cool day in Lodz, nothing beats a steaming bowl of Zalewajka. This dish traces its origins back to the 19th century, when it served as fuel for hard-working farmers. Considering that it contains bits of white sausage, bacon, onions, and potatoes, we're not surprised.
Many travellers consider Goulash to be Hungarian cultural property. However, European cultures and borders are porous, so let the appearance of Gulasz on Lodz menus shock you. That said, the consistency is similar, right down to the presence of paprika in this famous stew.
If you're visiting the Lodz area around Easter, have some Babka for dessert. Pastry chefs make this cake with spices, rum, and raisins. After cooking it in a bundt pan, makers top it with icing sugar and nuts. If you have a chance to try this amazing dessert, get it.