Lugano Travel Guide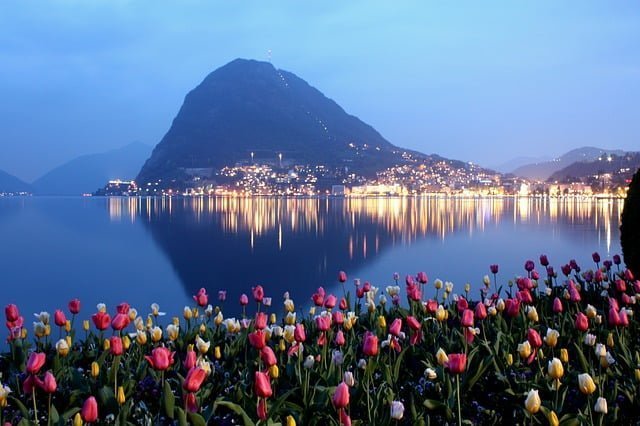 Introduction
Lugano lies on Lake Lugano, which forms part of the border between Switzerland and Italy. As such, it sits at the heart of Italian Switzerland – and it shows, with amazing churches, food, and a passion for art. Thanks to its southerly location and low elevation, this destination is warmer than the rest of Switzerland – palm trees attest to that.
Top Attractions
Begin your Lugano trip with a visit to Cattedrale di San Lorenzo. While it has only been a cathedral since the early 19th century, churches have existed on this site since the 9th century. The builders of the original church built it in the Romanesque style. However, renovations over the centuries have given this cathedral Renaissance, Gothic, and Baroque elements.
The form of this building will impress those that are into European churches. Fortunately, this attraction, unlike others in Europe, does not charge admission for entrance. In a country as expensive as Switzerland, this sight is a welcome relief for budget travelers.
If you want to check out another Christian landmark, drop by the Church of Santa Maria degli Angioli. Its builders erected this church at the turn of the 16th century. However, as they did so, they gave it a more modest facade than the Cattedrale di San Lorenzo.
Don't let that fool you, though – within lies a treasure. In its interior, you'll find one of Switzerland's most spectacular frescoes. Bernardino Luini, one of Leonardo da Vinci's proteges, created this soaring masterpiece. In addition to that, its stained glass windows and altars make this place worth checking out.
If you love the visual arts, ensure that MASI Lugano is on your itinerary. This attraction only opened in 2015, but in that time, it's become one of Switzerland's most popular art galleries. Here, you'll find works from both sides of the Alps – Latin and Germanic works get equal billing here.
Fondazione Gabriele e Anna Braglia is another great stop for art fanatics. Founded from the private collection of Anna and Gabriele Braglia, it contains over 250 works of art from Italy, Europe, and abroad. In particular, their collection of German Expressionist work is noteworthy.
Other Attractions
Lugano is another Swiss city with frontage on a gorgeous lake. Lake Lugano is a glacier-fed body of water that gives off a brilliant blue-green hue. As a result, many boat tours run on it – with mountains everywhere, there is much to capture your attention.
But even if you don't take a boat trip, there is much to do in the area. Along the lakeshore, there is a well-used walking path. And along the way, there are many restaurants and cafes where you can engage in people-watching.
But on an especially stunning day, you'll want to spend time enjoying Lido di Lugano, or Lugano Beach. This facility isn't just a sandy strip on the lake, though – it also boasts multiple swimming pools, beach volleyball courts, and more.
You may be tempted to go in the lake, as some guests do. But we advise against it – Lake Lugano suffers from a pollution problem. It will take decades to complete cleanup efforts, so stick to the pools instead.
Get a view of Lugano and its lake from the top of Monte San Salvatore. Standing 2,000 feet above the valley bottom and Lake Lugano, the views at the summit are nothing short of breathtaking. After getting all the panoramic shots you can handle, go for a walk on one of its hiking trails.
To get to the top of Monte San Salvatore, you can take an air tram, or you can hike up. The second option can save budget travelers considerable cash, as tram tickets cost 30 CHF a piece.
End your Lugano experience with an evening at Piazza della Riforma. Around this square, you'll find numerous bistros, cafes, and restaurants. But as you eat, contemplate its stormy political past, where rivals have killed each other over their views.
What To Eat
In Southern Switzerland, many Italian-influenced dishes have found their way over the Alps to Lugano. Saffron Risotto is one of those meals – this creamy dish combines Swiss Saffron with rice, butter, garlic, onions, tomatoes, and bacon.
When you're enjoying that divine meal, have it with some Pane Valle Maggia. Lugano residents invented this bread centuries ago from sourdough starter, wheat flour, and rye flour. Baked with sea salt, it is the perfect accompaniment to many meals in this town.
At dessert, try to have Torta di Pane Ticinese. This dish combines cubed bread, raisins, various nuts, grappa, and much more. As it's yet another Italian treat, take your time and savour it.