Madurai Travel Guide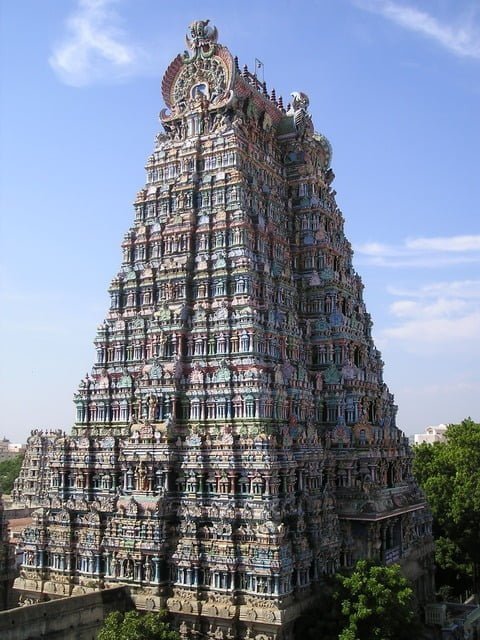 Introduction
Dating back to the 6th century BC, Madurai is one of the oldest cities in India. As a result, it is home to some of Southern India's most auspicious temples.
If you are into these attractions, this is one destination you won't want to miss.
Come check out our visitor guide to Madurai as we cover the best things to do in Madurai, India.
Top Attractions
Begin your time in Madurai by checking out the Meenakshi Amman Temple. First mentioned in writing from the 6th century, it has likely been around for even longer than that. Its creators dedicated it to Meenakshi, an avatar of Parvati, goddess of love.
Through the ages, this structure has seen more than its fair share of strife. In the 14th century, raiders from the north razed and plundered the temple. The faithful quickly rebuilt it, and in the 17th century, ruler Tirumala Nayaka renovated and expanded the structure.
Throughout the year, this place sees multitudes of disciples, who come to pay tribute to Meenakshi and Shiva. If crowds bother you, try to avoid visiting on weekends and holidays. As Madurai's most prominent attraction, be sure to give it the attention it deserves. By blocking off at least a half-day, you'll make the most of your experience here.
Once you have gotten your fill of Meenakshi Amman Temple, make sure Alagarkoil Temple and Shrine is next on your list. Situated out of town in a village called Alagar Koyil, this holy place is made only more atmospheric by the lush palms that surround it.
It creators dedicated it to Narasimha, an avatar of Vishnu. As you walk through this crumbling temple, you'll find several sizable images of this part-lion, part-human entity. Also, be on the lookout for statues and carvings of Bhudevi, the Hindu earth goddess.
Pazhamudircholai is another temple worth a day trip away from Madurai. Sat atop a thickly-forested hill, devotees believe it is one of six abodes that Lord Murugan called home. In addition to his shrine, you'll also find places of worship for goddesses Valli and Deivayanai, and Lord Ganesha.
Nobody really knows who built this temple, but local legend holds that Tamil poet Avvaiyar encountered Lord Murugan here. Travelling through the area on a hot day, she sought rest under a shady fruit tree. Shortly after stopping, she realized a shepherd was sitting up in its branches.
He asked if she would like a piece of 'roasted' fruit. Not amused by his antics, she asked for unroasted. He sent several pieces down, which got covered in sand. Blowing it off, the shepherd joked, 'cooling my roasted fruit, are you?'. She quickly realized a field hand was unlikely to be so clever, so she asked for his true identity. At that moment, he transformed into Murugan, and Avvaiyar worshipped at his feet.
Finally, be sure to make time to see Thirumalai Nayak Palace before leaving Madurai. Built at the behest of King Thirumalai Nayak, it is considered one of the wonders of Southern India. Its grandeur highlights the wealth of that period in history, as it blends Dravidian and Rajput architectural styles spectacularly.
Despite its spotless appearance, this palace has suffered drama in the past. Raiders from the north inflicted damage, and before the British colonial period, local authorities neglected it for a time. In the 19th century, Lord Napier, Governor of Madras, partially restored the palace grounds.
These days, local authorities have mostly restored this vital part of Madurai's history to its former glory. Be sure to visit in the evening, when a light and sound show, which highlights its history, is held.
Other Attractions
Learn about the life of the modern father of India by visiting the Gandhi Memorial Museum. One of five museums dedicated to Mahatma Gandhi, you'll find several interesting artifacts here. Chief among them were the clothes he was wearing when Nathuram Godse assassinated him.
Don't miss the visual biography of Gandhi gallery. Here, you'll find photos, letters, and other objects that will tell his story from cradle to grave.
In the mood to check out more temples? Make room in your schedule to see the Koodal Azhagar Temple. Dedicated to Lord Vishnu, this Dravidian-style temple dates from the 6th century. At its centre lies a five-tiered rajagopuram, which stands well above this temple's exterior granite walls.
If you can, attend Brahmotsavam, this biggest festival this place hosts. Temple authorities hold this sacred event during the Tamil month of Vaikasi, which falls in May and June.
Madurai may be famous for Hindu temples, but it is also home to a noteworthy Christian church. While in town, pay St Mary's Cathedral a visit. Its eye-catching blue-and-white exterior – which is in the Neo-Gothic style – makes for excellent pictures. When you aren't admiring its stained-glass windows, take a second to enjoy the peace and tranquillity of its interior.