Mainz Travel Guide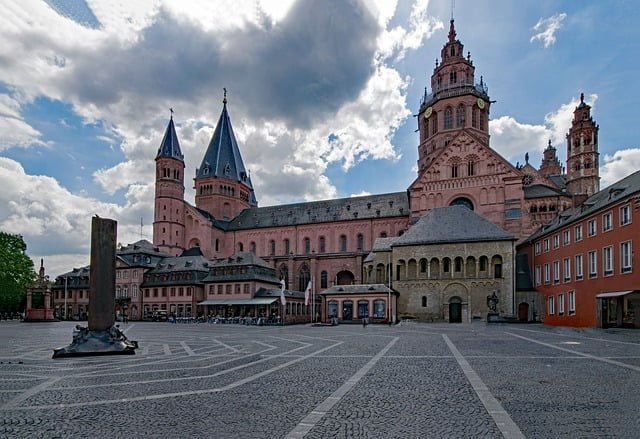 Introduction
In the times of the Romans, Mainz sat on the outer fringes of the Roman Empire. That began its long history of human habitation. Today, this German city boasts Roman ruins, millennia-old churches, and scores of museums. If you're spending extra time in Germany, don't miss this place on your travels.
Top Attractions
Begin your time in Mainz by visiting St. Stephan's Church. This historic building is one of the oldest in town, dating from the 14th century. However, the original church dates to the 10th century. It survived multiple wars over the years, including WWII.
Because of that, this Gothic gem boasts several attractions. These include a 13th-century altar mensa and a 16th century Tabernacle. More recently, famed artist Marc Chagall installed nine stunning stained-glass windows. On a sunny day, there's no place in Mainz we'd rather be.
Next, make your way over to the Mainz Cathedral. Also known as St. Martin's Cathedral, this holy place is around 1,000 years old. This Roman Catholic place of worship is notable for several reasons. First, it has two chancels – the place where the priest conducts mass. Second, it features Romanesque, Gothic, and Baroque architectural features.
Many will capture your attention during your visit. Just be mindful of the faithful – refrain from using flash photography.
Don't miss seeing the Gutenberg Museum. This institution pays homage to Johannes Gutenberg, inventor of the printing press. Featuring movable metal type, it allowed the mass printing of books. In its exhibits, you'll find artifacts like bookplates, the first book printed on a Gutenberg Press (the Bible), and more. Get an audio guide on entry to make the most of your visit.
Millennia ago, Mainz belonged to Rome. During that time, they established a Sanctuary of Isis and Magna Mater. Around 12 BC, soldiers built a temple to the Egyptian Goddess Isis and Roman Goddess Mater Magna here.
In 1999, construction crews uncovered this monument. Shortly after, they abandoned plans for a shopping arcade, opting to build a tourist attraction around this sight instead.
Other Attractions
Mainz is a long way from the ocean. Nonetheless, it is home to a Museum of Ancient Shipbuilding. Truth be told, the Romans used riverboats to navigate the Rhine River.
In the early 1980s, construction crews found remains of these watercraft on the river bottom. As the national Romano-Germanic Museum expanded, a branch focused on ancient shipwrecks was opened here. To this day, you can watch archaeologists work to restore recovered ships. Best of all, admission is free, making this attraction budget-traveller friendly.
Watch Mainzers go about their day by dropping by the Mainzer Wochenmarkt. This farmer's market brings the best produce, meats, and other goods from the surrounding country. Their wurst is especially good, as is the fresh honey.
The Mainzer Wochenmarkt happens three days per week – Tuesdays, Fridays, and Saturdays. It runs from 7 am to 2 pm, so even late risers can attend. However, if you're early, you can catch breakfast on the weekends.
Looking for an Instagrammable landmark to capture in Mainz? Seek out the Fastnachtsbrunnen Fountain. In the 1960s, seeking to renew the city, the city asked local industry to craft a centrepiece fountain.
They did so, coming up with a lighthearted piece. The result was a composite of 200 figures, all carved from bronze. Standing nine metres high, this fountain still charms visitors more than 50 years later.
End your time in Mainz by wandering around Kirschgarten. The name of this central district translates to "cherry orchard" in English. Fitting enough, this part of town used to be where farmers once grew cherries.
Today, this place is home to cute half-timbered Germanic buildings. After taking your share of photos, settle down at a cafe/restaurant, and watch the world go by.
What To Eat
The Mainz area is home to a couple of signature German dishes. Handkase, a fragrant cheese, is one of its most famous. Made from sour milk, some people don't care for its smell. Thankfully, it tastes far better than its aroma, Have it with raw onions and caraway seeds for best results.
Are you feeling brave? If so, find a restaurant in Mainz that serves Saumagen. Translating literally to "sow's stomach", cooks prepare this dish by using a pig's stomach as a casing. They stuff that casing with pork, herbs, and vegetables. Locals eat this dish with dry white wine or a craft beer.
End your meal in Mainz with a slice of Black Forest Cake. Boasting dark chocolate, whipped cream, and cherries, this sweet dish will complete your food coma.