Munster Travel Guide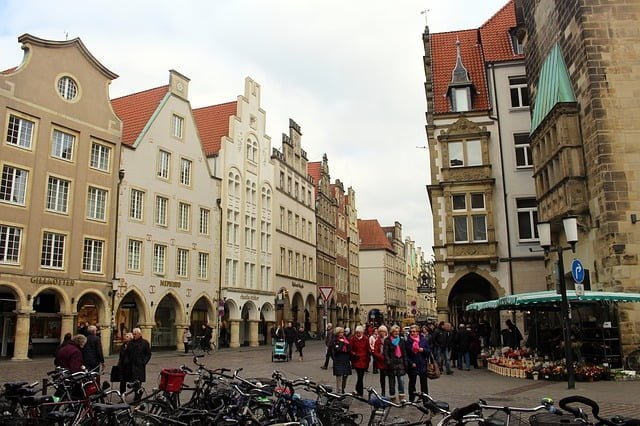 Introduction
Munster is a city with deep historical roots. It traces its origin to the 8th century when Charlemagne was still trying to tame the Saxons. Since then, its churches and medieval architecture have charmed generations of travellers.
Add in acclaimed museums, parks, and markets, and you have a can't-miss destination in Westphalia.
Top Attractions
Munster is home to some noteworthy churches. Start by exploring the Munster Cathedral. The current building dates from the 12th century when builders fashioned it in the Romanesque Style. Before then, previous churches had existed from the 9th century.
This cathedral's most significant renovation remade some aspects in the Late Gothic Style. You'll find the most notable example in its west portal. There is much to take in, from its Baroque High Altar to its Astronomical Clock. So, allow a few hours to make the most of your visit.
Next, make your way over to St Lambert's Church. Builders finished this church in the 13th century. Before the current structure, churches existed as far back as the 11th century.
In St. Lambert's bell tower, you'll notice iron cages – these have a grisly past. In the 16th century, a failed rebellion took place in Munster. In retaliation, the authorities tortured and killed the ringleaders. After their death, they suspended their bodies in the cages as a warning to other potential rebels.
Apart from this, their 400-year-old organ and tower bells are also worth seeing.
Munster is home to some excellent architecture. At the centre of town, the Historisches Rathaus Munster offers one of the best examples. The builders of this historic city hall crafted in the Gothic style. Over the centuries, this building became associated with peace. Warring nations signed two peace treaties – ending the Thirty Years War and the Eighty Years War – within its walls.
Learn about local culture at the Westphalian State Museum of Art and Cultural History. Locals mostly know this institution for its modern art and sculpture, Inside, you'll find pieces from the Die Brücke and the Der Blaue Reiter movements.
Other Attractions
Want to take in everyday Germans as they go about their business? Spend some time at the Wochenmarkt Munster. Open on Wednesdays and Saturdays, this well-loved local institution deals in flowers and foodstuffs.
As you walk through its stalls, you'll find products like sausages, fresh fruits and veg, and baked goods. In our opinion, the waffles are especially delicious. Around Christmas time, this market really shines – don't forget to try some gluhwein!
Love beautiful flora? Make a stop at the Botanical Garden of Munster. The University of Munster established this facility at the turn of the 19th century for research purposes. On its grounds, you'll find a series of outdoor gardens and greenhouses.
From an alpine garden to a tropical greenhouse, its holdings are extensive. In all, you'll find more than 8,000 species over 4.6 hectares. Visitors looking for budget attractions will love this place, as authorities charge no admission for entry.
Those travelling as a family will want to check put the Allwetterzoo Munster. Open since 1875, this zoo now plays host to over 3,000 animals representing around 300 species. This facility is suitable for children, as it also has a petting zoo.
Every year, nearly one million people pass through its gates. In particular, weekends and holidays are popular, as local families visit during this time. To avoid the crowds, we advise visiting during weekdays.
Need to relax a bit after a few days of intense sightseeing in Munster? Spend some time along the shores of Lake Aasee. In 2009, Lake Aasee won an award as Europe's most beautiful park. Walk along the shore, and local runners & inline skaters will join you. Or, you can join Munster residents by taking a sail on its waters.
What To Eat
If you're feeling peckish as you explore Munster, Germany stop into a restaurant and have some Panhas. This is a local blood sausage made by boiling diced bacon in stock and pig's blood. When complete, it's often with mashed or boiled potatoes.
At dinner, find an eatery that serves Rinderbraten mit Zwiebelsoße. In English, this translates to Roast Beef with Onion Sauce. Yes, it's delicious as it sounds, as this meal takes hours to prepare from scratch.
When the time comes for dessert, be sure to find some Struwen. Munster citizens have enjoyed this beloved street food since the 11th century. Made with yeast dough and raisins, cooks fry these pancakes in oil, then top them with cinnamon & sugar. Often, you'll get them with an apple dipping sauce on the side – bliss!