Mykonos Travel Guide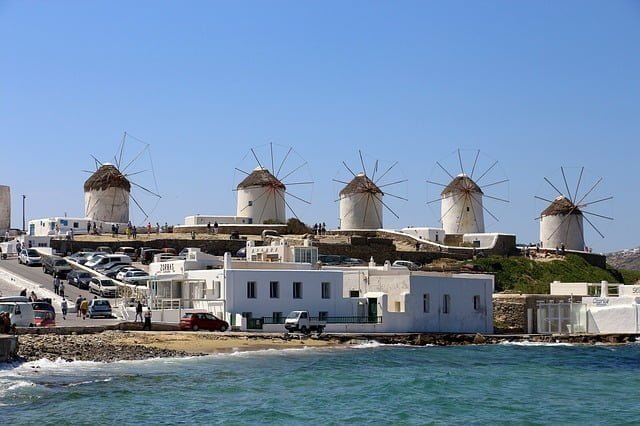 Introduction
Long a favourite of those on the party circuit, Mykonos is a fun place to travel in Greece. However, there is more to this place than beaches and nightclubs.
It has a collection of monasteries, art galleries, and of course, those picturesque windmills!
Come check out our Mykonos travel guide as we cover the best things to do on Mykonos, Greece.
Top Attractions
Just arrived in Mykonos? Get the big attraction – The Windmills of Kato Mili – out of the way. They were initially constructed by Venetians in the 16th century to mill wheat. However, in the present day, they are simply a photo op for the crowds of tourists who visit Mykonos.
You'll see these landmarks from every point in the village. Indeed, it is the first thing you'll sight when arriving here via ferry. Be sure to plan your visit with care – in high season, three cruise ships a day flood the site with visitors. At these times, you'll struggle to enjoy yourself.
If you don't mind crowds, we recommend visiting at sunset. Even if you aren't impressed with the windmills, you'll enjoy watching the sun sink into the horizon. Otherwise, the view from Little Venice (covered later in this guide) is among the best on the island.
While Mykonos is essentially Party Central, it does have cultural attractions of note. The Monastery of Panayia Tourliani should be first on your list of places to go. Church authorities built this Christian place of worship in the 16th century and dedicated it to the Virgin Mary.
The monastery's exterior is quite attractive, sporting the whitewash finish many Greek buildings are famous for. A marble fountain adds to its curb appeal, but inside, you'll find additional features. Chief among them is its altar screen, as Florentine artists carved it. Visit its small museum, which contains artifacts that include the first bells used in the church.
Next, drop by the Monastery of Paleokastro. For years, it served as a nunnery, but today, it serves as a church. It dates from the 17th century – in the museum within, you'll find items that date from that time.
These include icons, priest's robes, and other holy items. As you make your way around, be respectful. Locals come here to pray – do not get in their face with your DLSR camera!
The Church of Paraportiani is another holy site of interest worth visiting while in Mykonos. Religious authorities began construction on this interconnected series of churches in the early 15th century. It wasn't until 17th century that stonemasons laid their last sun-baked brick.
On the right day, the white finish of this masterpiece will stand out brilliantly against the sky and sea. Unlike the other churches on this list, there isn't much of interest inside. Because of this, however, it is a quiet place to relax and reflect. Before indulging in the hedonism of the beaches of Mykonos, take the opportunity to do so.
Other Attractions
Need a break from Mykonos' noisy beach clubs? Check out the Rarity Gallery. Founded by two local contemporary art enthusiasts, its collection shows off the hottest works in the genre. They rotate the items on display regularly – come in one day, and everything may be different from the one before!
From avant-garde to tamer pieces, art lovers of all kinds are bound to find something they'll like. Some pieces are for sale – just ask, and you may find yourself flying home with one.
However, you didn't come to Mykonos for the churches or the art – its many beaches are the star attraction. Start by paying a visit to world-famous Agrari Beach. For years, nudists have flocked here to bronze their bodies without fearing judgment or prosecution. Today, it maintains its carefree vibe.
Unlike the party beaches, Agrari is comparatively quieter. It isn't a slouch in the amenities department, though – a well-stocked bar and restaurant will take care of your needs.
If pin drop silence is what you are after, make the pilgrimage out to Fokos Beach. Here, you'll find no sunbeds, and the local tavern is quite far. There are no umbrellas, either, so don't forget to bring your own shade.
Those seeking the quintessential Mykonos beach experience will want to spend a day on Agia Anna Beach. Here, clubs play chill music by day, and house standards by night. Sunbeds are available, but they don't come cheap – 40 to 100 Euros per day is the going rate.
Thankfully, those bothered by the volume of the music have the option of moving down the shore. The end lacks sunbeds, but it's also quieter.
Want to get in a great meal after a day at the beach? Head to Little Venice. As discussed earlier, this district has incredible views of The Windmills. It also faces west, guaranteeing you'll see some of the best sunsets you've seen in your life.