Nizhny Novgorod Travel Guide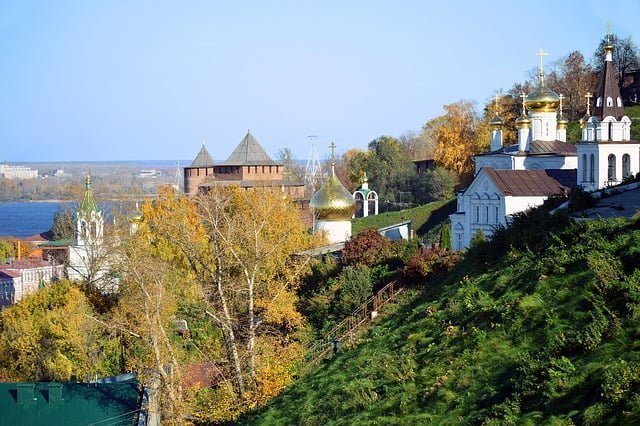 Introduction
Nizhny Novgorod, or NN as some locals call it, is the most influential city in the Volga region. Outside of the 2018 World Cup, though, it doesn't receive many foreign tourists.
Nonetheless, its Kremlin, religious sites, and museums will keep you occupied during your visit.
Come check out our Nizhny Novgorod travel guide as we cover the best things to do in Nizhny Novgorod, Russia.
Top Attractions
Start your time in Nizhny Novgorod by checking out the Nizhny Novgorod Kremlin. City planners built these walls in the 16th century as the Tsar mobilized for war against the Tartars. After achieving victory in Kazan, the importance of this fortress declined.
However, it did eventually see action in the Second World War. As the Luftwaffe rumbled overhead, anti-aircraft guns mounted to the Kremlin's towers defended the city. Today, the Kremlin is in excellent condition, as local authorities refurbished it in 1949 and 2012.
Thirteen towers and much of the old city walls remain intact. Attractions within include Michael the Archangel Cathedral, the Obelisk of Minin and Pozharsky, and an art museum. You'll also find an Eternal Flame, which honours Nizhny Novgorod citizens that died in World War II.
After you have finished exploring the old city, make a trip out to Pechersky Ascension Monastery. This Orthodox structure dates back to the 14th century when St. Dionysius took up residence in a nearby cave. They built a monastery on the site soon after, where it remained until a landslide destroyed it in 1597.
Church officials rebuilt it the next year at a site one kilometre north. Free from geological hazards, it has served monks and local believers ever since. Its interior boasts some spectacular frescoes, but it was also home to a sacred relic. According to local legend, this monastery housed the skull of the Venerable Macarius, a Russian Orthodox saint, until 2007.
After arriving back in Nizhny Novgorod, make Rukavishnikovykh Usadba your next stop. This historic mansion may be a mouthful, but it will make your butcherings of its name worth it. Once you see its ornately sculpted exterior, you'll understand how wealthy its merchant owners once were.
Its beautiful art, chandeliers, and grand ballroom are all highlights. However, to protect the integrity of the floor, all visitors are made to wear shoe coverings. Bear in mind that these are reused – thus, be sure to wear closed-toe shoes!
Peer into the past of Nizhny Novgorod by paying a visit to its Museum of Old Equipment and Tools. Its exhibits are part of a once-private collection held by a local businessperson. Today, it allows its patrons not just to see, but touch and interact with the items of yesteryear.
From a German penny-farthing bicycle to a gramophone that still plays records, you'll have plenty to see during your visit. If you're lucky, you may encounter a guide that speaks English.
Other Attractions
Up for a bit of exercise? Tackle the Chkalov Stairs in the centre of Nizhny Novgorod. They were built in the aftermath of the Second World War to honour those who fought and died to keep Stalingrad free. It is the longest staircase in Russia, as 560 steps take you to higher ground above the River Volga.
At its base, you'll find a monument to a boat called Hero. If you're lucky enough, you may get to see local athletes race each other up the stairs.
For the most part, zoos in Russia are sorry places to visit. However, in Nizhny Novgorod, the Limpopo Zoo is a notable exception to this rule. According to locals, its animals are well-fed and properly cared for. Animals found here include tigers, leopards, panthers, raccoons, goats, and many more.
If you wish, you can feed some animals. Coin-operated machines allow you to buy food that you can give to some of the residents of this zoo.
If you're looking to get sweeping views over Nizhny Novgorod, take a ride on the Nizhny Novgorod Cable Car. It was built to allow residents of Bor to commute easily to Nizhny. However, it has proven popular with photographers, as it provides panoramic views of the city and the River Volga.
All told, you'll have 13 minutes to get snaps. With a peak altitude of 82 metres, you should be able to get some good ones! Just keep in mind its primary use – transit. Don't obstruct locals attempting to get home, and you'll avoid potential conflict.
As your trip to Nizhny Novgorod winds up, end it with an evening spent on Bolshaia Pokrovskaia Street. During the 2018 World Cup, this was where all the post-game action was at. As you walk through, you'll find scores of restaurants, cafes, and bars along this pedestrian street. Just be ready to spend, as prices have remained on the expensive side since the World Cup.