Odense Travel Guide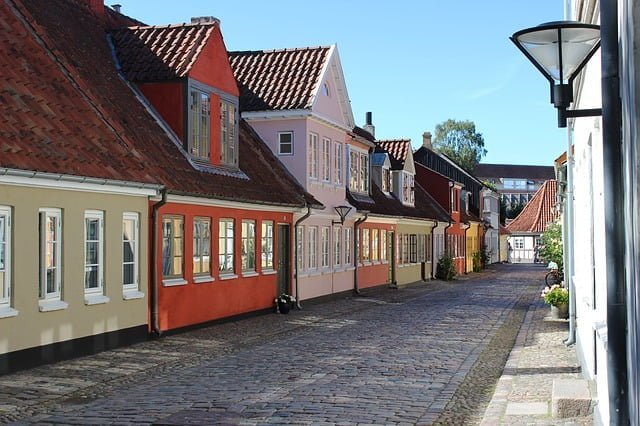 Introduction
Sitting between Jutland and Copenhagen, Odense is the biggest city on the island of Funen. While most travellers use this place as a transit point, it has so much more to offer. From stunning castles to the final resting place of a king, there is much to discover here.
Come check out our Odense travel guide as we cover the best things to do in Odense, Denmark.
Top Attractions
Once you've gotten your bearings in Odense, make plans to visit Egeskov Castle. According to experts, it is one of Europe's best-preserved Renaissance water castle. It was built in the 16th century to provide its nobles with protection from the dangers of civil war.
The Danish countryside was in turmoil during the Protestant Reformation. Initially, access was only possible via a drawbridge. Combine that with its high walls, and Egeskov Castle did its job well.
Today, Egeskov Castle is more than just an imposing sight. Inside, there are several highlights worth seeing. These include a variety of oil paintings on its walls, plus a giant, ornate iron chest. Its interior is also home to a museum. Within, you'll find vintage automobiles, motorcycles, and antique agricultural equipment among its displays.
Outside, its multiple gardens will impress those who love green spaces. The Renaissance section has stunning fountains, while its fuchsia garden is the biggest in Europe. Also, don't forget to try out its hedge mazes. The bamboo maze is the largest in the world, and the beech maze has bedevilled participants for centuries!
During your visit, some parts of the castle may be closed off. Unbeknownst to some, it is still a regal property, Thus, when members of the Danish royal family are around, closures happen to ensure their privacy.
Learn all about the history of trains in Denmark at the Danish Railway Museum. This facility is the largest of its kind in Scandinavia – as such, railfans should NOT miss this attraction. This former engine shed and rail yard have been welcoming curious members of the public since 1975. It stretches over 10,000 square metres and contains 50 locomotives and train cars.
Of all the cars to see, King Frederick IX's funeral train should be the top of your list. When you're done seeing the showpiece items, go on a mini-train. Even if you aren't travelling with kids, go for a ride – embrace your inner child!
St. Canute's Cathedral is easily the most significant religious point of interest in the Odense area. People have used this spot as a place of worship since the 10th century. However, the current church dates from the turn of the 16th century. That said, you'll still find foundation stones from the older structure in the crypt.
This cathedral got its name from King Canute IV. He ruled at a tough time in Denmark's past when feudal lords ruled over various parts of the countryside. In addition to cementing the role of the Christian church in Denmark, he centralized power. As a result, later generations dedicated a cathedral in his name.
Highlights of the church include the interred bones of King Canute IV, as well as a dazzling carved altar. If you have the opportunity, attend a concert here. The acoustics of this centuries-old structure is incredible!
Put yourself in the shoes of a Danish villager from centuries past by visiting The Funen Village. During the Second World War, workers moved 25 structures from Funish villages to this park. They include a cute windmill, an inn, a school, as well as many timber and stone homes.
Take time to explore the many gardens you'll find here, and interact with the livestock. With sheep, goats, cows, and horses, this place is a beautiful spot for families to visit.
Other Attractions
Check out the site of a Viking ship burial by visiting Ladbyskibet. This spot is the only Viking burial mound ever found in Denmark, with a local discovering it in 1935. While the wood of the ship has almost completely decomposed, the imprint it left behind is clearly visible.
The discoverer found numerous artifacts buried with the body of the long-deceased Viking. However, archaeologists moved those items to museums around Denmark.
Transport yourself back to Denmark in the early 20th century by checking out Tidens Samling. Within the walls of this museum, you'll find rooms dedicated to each decade of this tumultuous century. From period furniture to knick-knacks, you'll see it all.
If you're travelling as a family, make time in your schedule for the Odense Zoo. With a history that stretches back 90 years, it has long been an institution in Odense. Today, it is home to 147 different species of animal, both land-based and marine. In its enclosures and aquariums, you'll find specimens from the Amazon to the Arctic.
Unwind after a long day sightseeing in Munkemose Park. All in all, it is a great place to go for a stroll. If you have kids, it has a playground where your little ones can blow off steam.