Okayama Travel Guide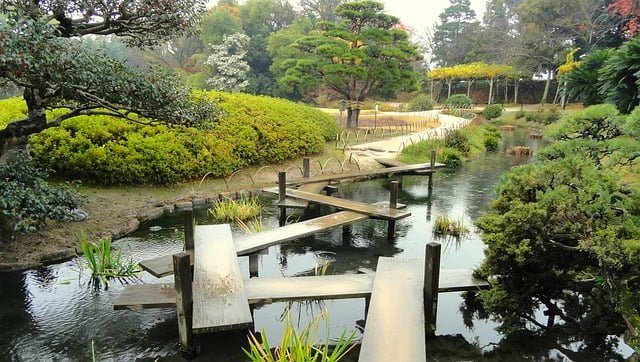 Introduction
Many travellers pass through on the way to somewhere else. They are missing out, as Okayama is home to a series of attractions that make it an awesome off-the-beaten-track destination.
With a reconstructed castle, an exquisite garden, and a post-industrial art museum among its highlights, you'll be glad you made time for this underrated city.
Come check out our Okayama full travel guide as we cover the best things to do in Okayama, Japan.
Top Attractions
Start your visit to Okayama with a visit to Okayama Castle. Originally built in 1597 just prior to the start of the Edo Period, it survived the Meiji Restoration, only to be bombed to ruins during World War II.
Shortly after the end of this conflict, restoration efforts were made, enabling it to open its doors again in 1966. Also known as the Crow Castle due to its black walls, this six-storey high fortification hosts exhibits on what life was like during its heyday in the Edo Period.
While most buildings had to be rebuilt after the war, one building on castle grounds did manage to survive. The Moon Viewing Turret, which was finished in 1620, is in its original form, so if you have purists in your party that bristle at the sight of this castle's modern interior, be sure to show them this structure.
Next, make your way to the island of Inujima, where you'll find the Inujima Seirensho Museum. A former copper refinery that closed within a decade of being opened due to weak global prices, it stands today both as a monument to the early Industrial Age of Japan and as the home to a modern art gallery.
Created by artist Hiroshi Sambuichi, it is constructed of bricks made from slag left over from the copper mining process. Within, there are austere exhibits which tell the tale of Icarus, the life story of the author and Japanese nationalist Yukio Mishima, and make the case for environmental sustainability.
All around, the ruins of the turn of the century industrial complex stand in contrast to the interesting institution that Hiroshi Sambuichi managed to build with the help of philanthropists.
Those who are into religious halls of worship will want to make time in their schedule to see Kibitsu Shrine during their visit to Okayama. Closely associated with a Japanese tale called Momotaro, it is home to a main hall that is more than 360 metres long, making it one of the biggest in Japan.
With respect to the story attached to this place, it was here where the army of Prince Kibitsuhiko based themselves before launching an offensive against another prince who was causing trouble in the area.
The rock where Prince Kibitsuhiko shot his arrows at the other side is fenced off to both highlight it and to keep visitors off, but there is more to this shrine than that. For one, it is famed for its collection of daruma dolls. Secondly, it is home to a dojo where local children practice archery – feel free to watch as they size up shots and build skills in this ancient sport.
Haven't had your fill of Shinto sacred places? Make Saijo Inari Shrine your next stop in Okayama. Dedicated to Inari, Shinto god of the harvest and merchants, you'll know when you are approaching the shrine, as you will pass under a 28-metre high torii that ranks as the fourth tallest in Japan.
Throughout the grounds of this temple, you will find fox statues, as they were considered to be messenger animals for Inari. Elaborate in its design, it is often mistaken for a Buddhist temple. However, the thick rope that lies over the entryway of the main hall means that it is, in fact, a Shinto shrine.
Other Attractions
After taking in everything that Okayama Castle has to offer, take a stroll over to Korakuen Garden . Built in the late 17th century to give the castle lord a place to entertain guests, the landscaping found here is above and beyond what is usually found in the typical Japanese garden.
With rice fields, tea bushes, and maple/plum/cherry trees, the flora found here is varied and combines with the slope of the land plus the views of nearby Okayama Castle to create an amazing experience for visitors.
There's more to Inujima than the art gallery discussed earlier in this guide. There is a village that is home to just under one hundred people, outdoor art exhibits built for festivals in the past, as well as a beach that has camping facilities on it. When experienced along with the art gallery, Inujima is an excellent way to kill an entire day.
Relax and unwind after a long sightseeing in Okayama by heading to Nishigawa Canal Park. As the name implies, it is built along a former canal in the city centre. Lined with benches and walking paths, it is a pleasant place to be in all seasons, but spring is truly spectacular, thanks to its abundance of sakura trees.