Pilsen Travel Guide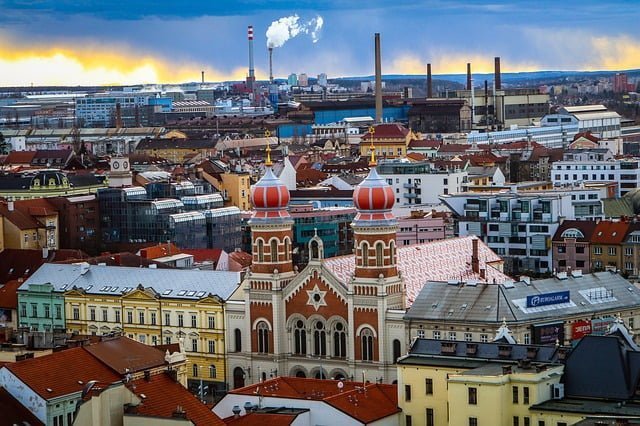 Introduction
Pilsen, like its counterpart Ceske Budejovice, is a city defined by its history of brewing beer. Of all the beers exported from Czechia annually, Pilsner Urquell tops the list. However, there is more to do here than go on brewery tours.
It has a church and a synagogue of note. It boasts a stunning public square. And a cool secret lies under its streets. If you visit Pilsen, you'll get to experience it all.
Come check out our Pilsen travel guide as we cover the best things to do in Pilsen, Czechia.
Top Attractions
Many attractions in Pilsen relate to its beer-brewing history. However, it is home to two religious institutions of note. The first of these is St Bartholomew's Cathedral, a Roman Catholic church that dates back to the 13th century.
Because of its age, historians say this building is likely one of the oldest structures in Pilsen. However, its construction continued over centuries, with the cathedral approaching its final form in the 16th century.
Architects built this cathedral in the Gothic style. However, one of its features – the Czech Altar – offers an Art Nouveau counterpoint. Apart from that, the Pilsner Madonna and The Calvary are a pair of sculptures also worth checking out.
Take your time inside. You can only appreciate its massive pillars, spectacular naves, and beautiful stained glass windows by going slowly. End your visit by climbing the bell tower, which is the highest of its kind in Czechia. No other vantage point in Pilsen can match the sightlines visible from the top.
Pilsen used to be home to a significant population of Jewish people. Check out the place where throngs used to worship by visiting the Great Synagogue. Architect Max Fleischer led the construction of this impressive Moorish-Romanesque Revival building in the late 19th century.
Featuring red brick, Orthodox Christian onion domes, and Arabic/Indian influenced interior design, it is a sight to behold. The community held services here from 1893 up until Germany occupied Czechia in 1939. After the war, the city's Jewish population was a shadow of its former self. Nonetheless, services resumed until 1973. That year, Czechia's Communist rulers shut it down.
After the fall of the Iron Curtain, the Great Synagogue opened once more. However, with only dozens of local Jews remaining, it is mostly a tourist attraction today. As you walk through its interior, you may stumble across photographic displays and other cultural exhibitions. Feel free to take pictures, but be respectful of others.
This Czech city harbours a secret. Beneath its streets lies the Pilsen Historical Underground, a 12-mile network of tunnels. Its builders bore these subterranean passages from the 13th through to the 19th century. Initially, residents used them to food, supplies, and of course, beer.
In later centuries, city planners began to use these tunnels as municipal infrastructure. In those days, the tunnels moved water and sewage under the city streets. Because of their built-out state, Pilsen had the most advanced public works in Czechia for many years.
In the most recent century, the tunnels had fallen into disrepair. Lately, though, restoration has allowed us to see what these marvellous works were like in their heyday. Officials offer tours in several languages, including English.
Learn about the history of Pilsen's favourite drink at the Brewery Museum. Here, you'll learn about the origins of beer, how people in the Middle Ages made the drink, and more. It also contains exhibits on the history of Pilsen. Included are pieces of the city's old defensive walls. At the end of your visit, you'll even get a frosty mug of beer from free.
Other Attractions
Some may not consider the Pilsner Urquell Brewery a cultural attraction. Regardless of semantics, this institution has put Pilsen on the global map. A joint German-Czech operation started in 1839, this company has deep roots in this city. Since 2000, Pilsner Urquell has outranked rival Budweiser as the top exporter of Czech beer.
The guided tour will show you both traditional and modern aspects of Pilsner Urquell production. You'll walk through the bottling plant, where they brew beer and fill containers. You'll see how recycling empties have made their operation greener. And, in the cellar, you'll get to taste unpasteurized beer straight from the barrel.
If you have kids travelling with you, Pilsen has two attractions worth a look. First, be sure to stop by Zoo Pilsen. This compact but entertaining zoo is close to the city centre. Of the animals hosted here, its lions and lemurs attract the most interest.
If the weather is too inclement for a walk through the zoo grounds, check out Techmania Science Center instead. This attraction, which opened in 2005, was the first of its kind in the Czech Republic. Interactive exhibits allow visitors to learn principles of physics, steam locomotion, and other principles.
End your time in Pilsen by spending time in Republic Square. Lined by the oldest buildings in the city and defined by a modernist fountain, it is a stunning place to visit. Around Christmas, a holiday market gives you the chance to enjoy amazing food and buy crafts. If you're here at that time, be sure to check it out.