Plovdiv Travel Guide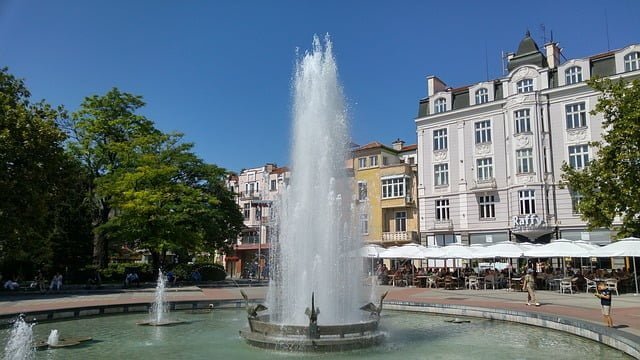 Introduction
Not many casual travellers have ever heard of Plovdiv. Around for almost 8,000 years, it deserves greater accolades. Thracians, Greeks, Romans, Byzantines, Ottomans, and other groups have all ruled this place. With ruins and artifacts from all these eras, Plovdiv is a must-see on your travels through Bulgaria.
Come check out our Plovdiv travel guide as we cover the best things to do in Plovdiv, Bulgaria.
Top Attractions
After getting settled, make the Plovdiv Roman Theatre your first stop in town. Roman architects erected this ancient entertainment centre in the 1st century AD. Over the years, sediment buried the complex, and residents forgot about it. It was only in the 1970s that locals rediscovered this landmark. As a result of earth encasing it for centuries, this Roman theatre is one of the world's best-preserved.
After its refurbishment, it reopened both as a tourist attraction and as a performing arts venue. During the summer months, artists of all kinds hold plays, concerts, and other performances here. At peak capacity, this venue has room for approximately 7,000 spectators. Performances here rarely disappoint, as the acoustics of this facility are exceptional.
Note that, as a ruin needing constant maintenance, the Plovdiv Roman Theatre has an entrance fee. Yes, it's annoying, but the condition of this ancient marble structure and the views it affords are worth it.
Learn about the cultures and traditions of this region of Bulgaria by visiting the Plovdiv Regional Ethnographic Museum. You'll find this institution in the house of Argir Kuyumdzhioglu, a successful 19th-century merchant.
In six rooms, you'll find galleries that cover a variety of topics. These include things like clothing, furniture, religious items, art, and musical instruments. In all, this outstanding museum boasts over 40,000 items in its collection.
Even the house itself is a work of art. Builders crafted it in the Baroque style, which gives it a stately appearance. Before becoming a museum, it also served as a girl's boarding house, a flour warehouse and as a vinegar factory.
The Plovdiv Regional Ethnographic Museum is in the Old Town, surrounded by well-manicured gardens. There is a small admission fee charged for entrance – note that you'll pay extra to take photos.
Are you not done with museums yet? If you have the stamina for one more, head over to the Regional Archaeological Museum of Plovdiv. This institution has collected many artifacts from this city's 8,000-year history. However, it is primarily known for its coins. You'll find 60,000 pieces here, with specimens dating back to the Roman era.
In other galleries, you'll get to check out objects from the Thracian, Greek, and Roman periods. These include art/sculptures, pottery, jewellery, lamps, mosaics, and so much more. Like the Ethnographic Museum, curators charge admission, with extra fees for photographers.
Fans of religious landmarks will not want to miss the Church of St Constantine and Helena. Locals built this structure in the 4th century AD, not long after the passing of Emperor Constantine. Over the years, it was a target of violence, necessitating its rebuilding several times.
Authorities built most of the current structure in the 18th century. Famed Bulgarian painter Zahari Zograf created many of the mind-blowing frescoes that cover the interior of this church. Dazzling and detailed in their composition, these works of art make a visit here worth it.
Other Attractions
Delve deeper into the Roman past of Plovdiv by walking through the Hisar Kapia. Except for the foundations, the current gate actually dates from the 11th century AD. Despite this renovation, it retained its character well, making it a popular place for pictures. Like many old attractions in Plovdiv, you'll find this landmark in the Old Town.
For a relatively brief time, the Soviets exerted influence over Plovdiv. The Alyosha Monument, which stands atop a hill overlooking the city, is an enduring reminder of that time. Alyosha, slang for "Soviet soldier", stands 36 feet on a concrete plaza, making it unmissable from anywhere in Plovdiv.
Up close, it is a powerful reminder of the Soviet presence here during/after the Second World War. Even if you have a negative impression of the Soviets, the views are the best in the region.
Need to take a break from exploring Plovdiv? Take a second to rest by the fountains of Park Tsar Simeon. Created by Lucien Chevalas, a Swiss architect in the late 19th century, this public space is beloved by residents.
The Lake with the Singing Fountains, this park's most impressive, is impressive enough by day. But, Thursdays through Saturdays at 9:30 pm, a light and music show make it the place to be.
End your time in Plovdiv by spending an evening in Kapana. This artsy neighbourhood literally translates as "The Trap." With scores of fantastic art galleries, restaurants, and bars, we think you'll agree!