Polonnaruwa Travel Guide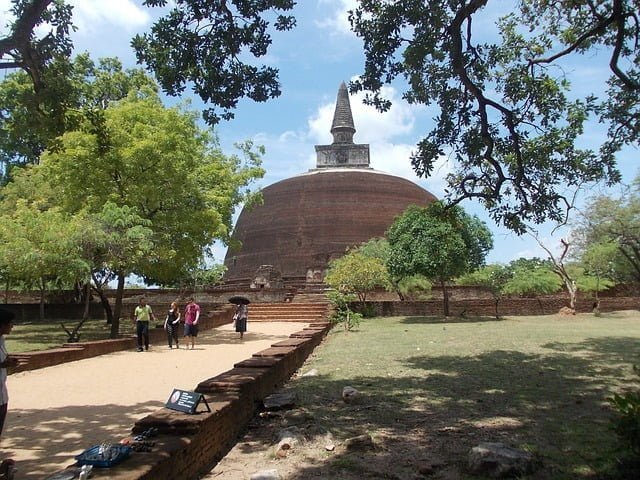 Introduction
Sri Lanka has a wealth of well-preserved archaeological sights from its ancient past. Anuradhapura isn't the only refurbished city you need to check out – make room for Polonnaruwa as well.
Home to numerous excavated temples, stupas, and other structures, just walking through inspires wonder. If you are a lover of history and culture, strongly consider adding this city to your travel itinerary in Sri Lanka.
Come check out our Polonnaruwa travel guide as we cover the best things to do in Polonnaruwa, Sri Lanka.
Top Attractions
The ancient city of Polonnaruwa has many interesting ruins to explore. Start by checking out the Gal Vihara. King Parakramabahu I commissioned the building of this rock cut temple in the 12th century.
It is famous for four depictions of the Buddha, chiselled out of this temple's hard granite rock. One is standing, one is a reclining figure, and the other two seated. Some archaeologists dispute the identity of the standing figure, as they maintain it is the monk Ananda, not Buddha. The reclining figure, which measures more than 46 feet long, is among the largest in South and Southeast Asia.
Back in the days of the Polonnaruwa kingdom, this facility was responsible for the education of young monks and was a place of worship. It was also where King Parakramabahu I unified the Buddhist monks of Sri Lanka. He brought the three clans together, expelled the corrupt, and drew up a universal code that strengthened the religion.
Next, make your way over to the Polonnaruwa Vatadage. Archaeologists believe this building once held a tooth or the alms bowl of the Buddha. However, there is a great deal of disagreement on when the inhabitants of Polonnaruwa built this magnificent structure. Some say Parakramabahu I, while others think Nissanka Malla commissioned it.
However, there is no disputing the beauty of this ancient temple. Everything from its statues and reliefs to decorative landings at the bottom of staircases is stunning.
After this kingdom's fall in the 13th century, civilians abandoned this building and others. The jungle quickly reclaimed everything – by 1903, archaeologists found weird mounds of earth where a city once was.
The Lankathilaka Image House should be your next stop on your Polonnaruwa tour. It is a massive structure that once boasted Buddha statues that stood up to 40 feet high. However, this was nothing compared to the gigantic pillars as its entrance. Standing 58 feet high today, archaeologists speculate they stood twice as tall in their heyday.
At five storeys tall back in the days of the Polonnaruwa Kingdom, it would have been an impressive sight. Within, visitors honoured the Buddha with prayers and offerings, just as they do in operating temples today.
Finish your tour of this ancient city with a visit to the Polonnaruwa Archaeological Museum. Here, you'll find the many artifacts found during the excavation of this world-class ruins complex. These include bronze artwork, statues, pottery, and even human remains. Note that museum officials forbid photography – leave your phone in your pocket during your visit.
Other Attractions
When you are done exploring Polonnaruwa, check out this region's wild side by visiting Wasgamuwa National Park. The government created this nature reserve for animals displaced by massive hydroelectric and resettlement projects.
After the shock subsided, the transplanted animals adjusted to their new home. Here, you'll find some of the largest herds of Sri Lankan elephants on the island. Also, you may spot sloth bears in the wooded areas of this park.
If you have extra time to spend exploring ancient Polonnaruwa, several sites may be worth your attention. First, check out the Medirigiriya Vatadage. This structure is far older than others in this city; records first mention this place in late 2nd century AD. However, officials believe it may be considerably older than that.
Today, only a multitude of pillars remain of the structure. However, you'll find remnants of a Sleeping Buddha, bathing ponds, a primitive toilet, and a sick bay.
Make time in your extended touring schedule to take in the Rankoth Vehera. It was the largest stupa in ancient Polonnaruwa and continues to be to this day. King Nissanka Malla ordered its construction – when it was complete, it stood 200 feet high.
Degradation since its abandonment reduced its peak height to 108 feet today. Despite this, it still ranks as the fourth tallest stupa in the country. As you walk around it, keep your eyes peeled for carvings. One engraving mentions that King Nissanka Malla personally supervised its building, and worshipped at its base regularly.
Finally, be sure to check out the Statue of Parakramabahu I. Its building honours one of this kingdom's most prominent monarchs. You'll find it on a boulder just north of the ancient city, overlooking the Parakrama Samudra reservoir.