Pondicherry Travel Guide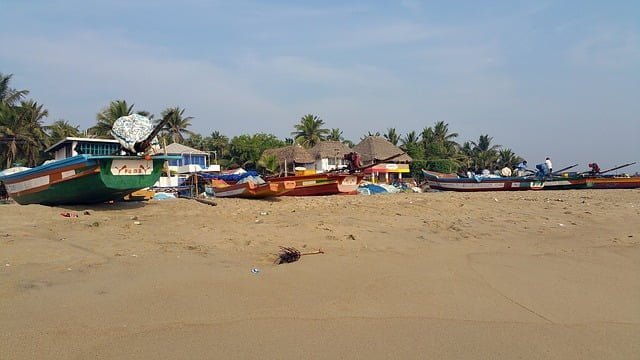 Introduction
Typically, when you think of colonial-era India, you think of the British. Yes, this nation controlled much of the Subcontinent, influencing its affairs for more than a century. However, other European powers had their own piece of India.
We all know the Portuguese ruled Goa, but did you know France had Indian territories? Except for times when the British took it, the French ruled Pondicherry for 300 years.
Today, elements of its French past remain, from French-speaking Indians to baguettes to its churches. When in Southern India, don't miss your chance to check out this intriguing destination.
Come check out our Pondicherry travel guide as we cover the best things to do in Pondicherry, India.
Top Attractions
Those wanting to check out the best-loved Hindu temple in Pondicherry should stop by Arulmigu Manakula Vinayagar Temple. Pilgrims come to this hall of worship from around India to pay tribute to Ganesh, its resident deity.
This place was one of few temples to survive the French colonization of this region. Joseph François Dupleix, the governor-general of French India, had threatened to destroy it, but backlash forced him to relent.
The top attraction of this temple is its vaunted Golden Chariot. Devotees funded its construction, costing 3.5 million INR ($50,000) to plate a chariot with 7.5 kilograms of gold. While it is available for viewing, you'll need to be around on Vijayadhasami Day to see it in action.
The Beatles sparked Western interest in ashrams when they attended a Himalayan one in the 1960s. When in the Pondicherry area, you'll have an opportunity to check out a similar community. Known as Sri Aurobindo Ashram, Indian philosopher Sri Aurobindo founded this community in 1910.
After retiring from Indian politics, he joined with spiritual guru Mirra Alfassa to start the ashram. From the 1920s on, it grew rapidly to 150 devotees by 1934. Today, its campus provides a home for hundreds of believers and allows pilgrims and curious tourists to visit. If you want to drop by, do so between 8 am to Noon, or 2 to 6 pm.
As a former French colony, Pondicherry is home to a pair of notable churches. The Basilica of the Sacred Heart of Jesus is the first one you should visit. Built in the early 20th century, its red and white styling embodies the brilliance of the Gothic school of architecture.
Within, its stained glass windows tell the story of various events from the life of Jesus. Its central altar is the centrepiece of this place, though. Adorned with flowers and statuettes of figures from Jesus' life, it will appeal to casual visitors and devout Christians alike.
Eglise de Notre Dame des Anges should also be on your list of places to visit in Pondicherry. Built in 1855, it takes its inspiration from the Greco-Roman style of architecture. In the modern era, it is the only church in India that conducts mass in three languages – English, French, and Tamil.
Inside, this church contains several notable features, which include a statue of Joan de Arc, a bell, and a painting donated by King Napoleon III.
Other Attractions
Looking for more temples to explore during your visit to Pondicherry? If so, include Varadaraja Perumal Temple in your plans. This 12th-century specimen is dedicated to Lord Vishnu and is an excellent example of Chola-style Dravidian architecture.
Its most prominent feature is a five-tiered rajagopuram within this temple's inner sanctum. Elaborate rituals are held daily, meaning you'll get a chance to witness something cool whenever you visit Pondicherry.
Being on the Bay of Bengal, Pondicherry is close by to several swimmable beaches. Arguably, the best of these is Paradise Beach. Called Plage Paradiso by French colonial authorities, it continues to be a place of relaxation for locals and visitors alike.
On the sands, you have the option of renting a sun lounger or a cabana that protects from the elements. Swimming is allowed, but only within designated areas. Along the beach, stalls provide access to street food, but prices are elevated compared to the city. Also, note that there is admission charged for access to the beach. This fee helps pay for cleaning that keeps this stretch of coast pristine.
Serenity Beach is another desirable option if you're looking soak up a few rays. Boasting golden sands and lesser crowds than Paradise Beach, you'll enjoy the time you spend here. Here, the waves can kick up, especially during the monsoon season. As such, you'll find a surfing school – if you've never tried it, Pondicherry is a good place to learn. On weekends, a flea market sets up shop here, allowing you to find the perfect souvenir for family back home.
Back in Pondicherry, join the locals for an evening stroll on the Seaside Promenade. Unlike the rest of this city, this place is a car-free zone. Because of this, families can walk along the coast without continually looking out for vehicles.
With cafes, street food stalls, and gentle sea breezes, there is no better place to people watch in Pondicherry.