Poznan Travel Guide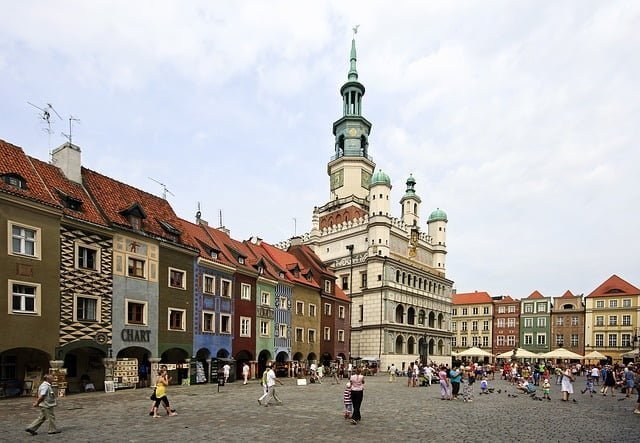 Introduction
Polish culture has had a rough go of things over the centuries. But, even through periods of occupation, that retained their core identity. However, that begs the question – where was Poland born?
Historians point to Poznan, the capital of Wielkopolskie and one of the largest cities in the country. Here, you'll find amazing churches, museums and other attractions that get to the core of what it means to be Polish.
Top Attractions
Make the Poznan Cathedral of St. Peter and Paul your first stop. This imposing cathedral is the oldest in Poland, as its constructors finished it in the late 10th century. Initially built in the Romanesque style, later renovations transformed it into a Gothic structure.
Many prominent Polish kings from the medieval era are buried here, but that's not the only reason to visit. Features like its baptismal font, stained glass windows, and its many statues also impress visitors. Upon entry, get an audio guide to make the most of your visit.
If you're in the mood to see another religious monument, check out the Parish Church of St. Stanislaus. Local authorities oversaw the construction of this minor basilica in the late 17th century. The end result was one of the most spectacular Baroque buildings still standing in Poznan.
Upon entering, this church will shock you with its level of architectural detail. Exquisitely-carved columns, vivid paintings, and bold frescoes will overwhelm your senses. If you're lucky, you may even get to take in an organ performance. Be careful, though – local rumours say a ghost haunts this place.
Get a sense of the history of Poznan by paying a visit to Brama Poznania. You'll find this modern institution on Cathedral Island – the place where this city started centuries ago. Inside, the exhibits are as modern as the building's architecture, as they allow visitors to learn interactively.
Since Poznan isn't as popular a destination as Krakow or Warsaw, many displays are in Polish only. However, the museum's reception offers an English audio guide.
Before leaving town, be sure to check out Poznań Town Hall. From the 13th century to 1939, it served as the seat of municipal government. Today, it's home to a museum, and Poznan's famous mechanical fighting goats.
Other Attractions
Do you have an undying love for breakfast foods? If so, make room in your schedule for the Poznań Croissant Museum. For the past 150 years, this institution has been educating visitors on the virtues of these light, fluffy pastries.
In this attraction, you won't just browse displays – you'll also watch pastry chefs make croissants. As the show unfolds, they choose members of the audience to assist in the process. And yes, once they're ready, you'll get to sample the end product.
Getting tired during your adventures in Poznan? Kick back and relax for a bit in Park Cytadela. Like many central city parks, it's a great spot to chill out or exercise. However, soon after arriving, you'll notice a consistent theme.
Before becoming a city park, this parcel of land used to host a fort. Shortly after WWII, civil authorities demolished most fortifications, leaving behind just a few buildings. Today, you'll find military equipment and war-themed sculptures throughout the park that allude to its former life.
Is the weather not cooperating with your sightseeing plans? Salvage the day by spending it at Stary Browar. Translating directly into English as "old brewery", a developer retrofitted a former brewery into a shopping and entertainment centre.
This facility will keep shoppers busy, as it has over 200 shops & services under its roof. After finishing your shopping, check out works by local artists at this attraction's on-site art gallery.
Spend your last evening in Poznan hanging out in the Old Market Square. Along its perimeter, you'll find numerous restaurants and bars. Take your seat there, then watch locals and fellow tourists go about their lives. During the holiday season, you'll also find Poznan's Christmas Market here.
What To Eat
You might end up spending much of your time in Poznan in its taverns. While enjoying the best beers that Poland has to offer, have some Pyry z gzikiem on the side. This dish is perhaps the most unpretentious meal in Europe – it is simply boiled/baked potatoes topped with cottage cheese, chives, and onions. Not the best food to eat if you plan on kissing anyone later, but it'll definitely keep your belly full.
Feel like having an ambitious dinner? Find a restaurant that serves Golonka. This meaty monstrosity is a pork hock that chefs sear, then slow cook over many hours. Served with cabbage and boiled potatoes, it's a dish that won't leave you unsatisfied.
If you have room for dessert, try some Sernik. This Polish-style cheesecake features twaróg – a traditional curd cheese – as its central ingredient. With a sponge cake base and topping that range from raisins to chocolate sauce, it's a decadent treat that's worth the weight gain.