Puerto Princesa Travel Guide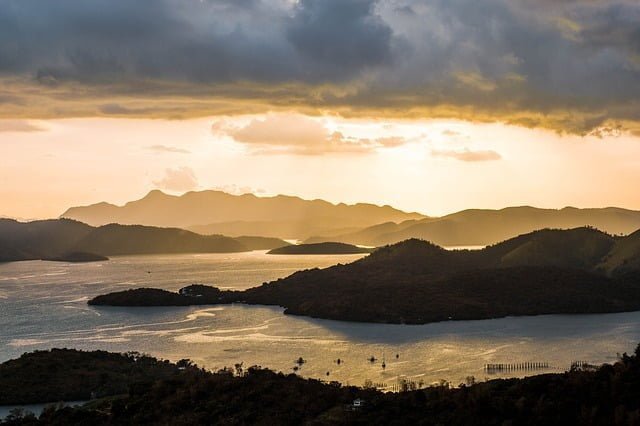 Introduction
If you plan on visiting Palawan, Puerto Princesa will be your likely port of entry. While the city itself isn't much to write home about, attractions located within a short distance of this centre make it worthwhile to spend at least a few days staying in this remote Filipino outpost.
Top Attractions
If you only have time for one excursion from the city of Puerto Princesa before heading north to Port Barton or El Nido, make time to see the Puerto Princesa Underground River. Despite the day, this UNESCO World Heritage Site is situated more than two hours away from its city centre on the western coast of Palawan.
Reached by boat from Sabang Beach, you'll disembark at the beach where a short path will lead you to the launching point. After a quick briefing of how to behave while in the cavern, you'll receive an audio guide which will detail random facts and trivia about what you'll find inside.
If you find the commentary a bit cheesy, feel free to take out your earpiece during your trip, as the darkness and quiet of the cave (save for the occasional dripping of water) will often be more profound than what is discussed on the audio recording.
Before deciding on a day trip from Puerto Princesa City, consider booking an overnight stay at Sabang Beach. The launching point for trips to the Underground River, this beach is gobsmackingly beautiful, as its white sand, dropping palms, clear aquamarine water, and the backdrop of jungle-clad mountains make it a wonderful place to spend a lazy day.
What's more, it is often quite empty due to the fact most visitors visit on day trips, giving all the space you need to have a relaxing time after touring one of the coolest caverns in Southeast Asia. Just take care when going in the water, as a nasty undertow can form at times – stick to the shallows inshore and all should be well.
On your way back to Puerto Princesa City, be sure to stop to see Ugong Rock. A series of limestone karsts located deep in the Palawan jungle, it contains caverns where indigenous people took shelter for countless generations.
Today, it has been developed for the benefit of tourists, with spelunking, zip lining, and rock climbing being some of the activities offered by the locals which manage this attraction. Some day tours stop here as part of a full day at the Underground River, so be sure to inquire whether this attraction is included before booking yours.
Before departing Puerto Princesa for other destinations on the island, set aside an hour or so to explore the Palawan Special Battalion WW2 Memorial Museum. Like other islands in the Southeast Asian theatre, Palawan was occupied by the Japanese during the Second World War.
Created in honour of resistance soldier Dr Higinio Mendoza Sr, this museum contains a variety of wartime memorabilia such as US Army jeeps, Axis flags, a variety of weaponry ranging from submachine guns to mortar shells, and numerous photos depicting Palawan during this trying period in human history.
Other Attractions
The Underground River isn't the only UNESCO World Heritage Site in the Puerto Princesa area. Situated over a hundred kilometres offshore in the Sulu Sea, the Tubbataha Reef is considered by experts to be one of the most biodiverse coral reefs in the world.
Home to over 40% of the globe's reef fish and containing 75% of the planet's known species of coral, this gem in the midst of the Coral Triangle occupies a prominent position on the bucket list of many a diver.
Due to its remote location, you won't be able to do this as a day trip; instead, you'll need to book a week-long excursion on a liveaboard diving ship. Note there is a limited season for these journeys, as the preservation of this threatened ecosystem and bad weather outside summer season mandates its closure most of the year.
Want to enjoy a day of fun and cocktails in the sun? There is no better way to do this than to go on a Honda Bay island hopping tour. After an early pick up from your hotel in Puerto Princesa, you'll get a chance to rent a snorkel and mask before being assigned to the boat that will take you out to three islands.
Over the course of your day, you'll visit Starfish, Luli, and Cowrie islands, each with its own charm. Starfish is famed for its lively snorkelling grounds and mangroves, Luli for its crescent of sand and its lagoon, and Cowrie for its visitor facilities, which include beach volleyball courts and restaurant/bars.
Want to hit up a beach far from anything resembling a fellow human being? A trip to Nagtabon Beach is just what your spirit needs. Located more than an hour west of Puerto Princesa, it is an attraction that even many locals haven't heard about.
A lonely crescent of sand nestled beneath the looming mountains of Palawan's interior, there are few services here, but that's the draw – nothing but you and a tropical paradise unspoiled by mass tourism (for now).
Those searching for a typically tacky (but fun) attraction won't be let down by what they find at the Palawan Butterfly Ecological Garden and Tribal Village. While the butterfly enclosure has seen better days, it is propped up by a variety of interesting insects and plants throughout the garden.
Additionally, there is a model tribal village which aims to shed light on the lives of the indigenous Pal'awan people. Speaking their own language (interpreters allow English and Tagalog speakers to communicate with them) and going about their daily routine, it will be an experience that will make a visit to this attraction worth it.