Putrajaya Travel Guide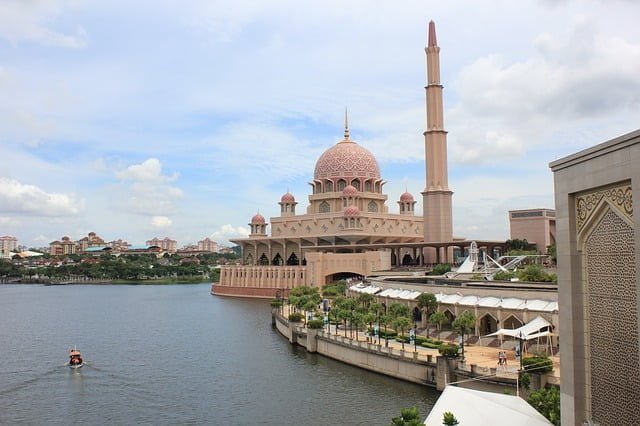 Introduction
Many worldly travellers consider Kuala Lumpur to be the capital of Malaysia. Technically, they are correct, but when it comes to administrative functions, Putrajaya is where the action is at. A purpose planned city brought into being in 1995, it is a showcase of modern architecture.
Removed from the traffic, density, and pollution of KL, it has a green, open feel to it which makes it a welcoming place for foreign dignitaries to meet government officials. There are a number of features which make this place interesting to cultural travellers: from large mosques to the Malaysian prime minister's mansion, Putrajaya will make for an interesting day trip from KL.
Cultural Attractions
Begin your visit to Putrajaya by dropping by the Putra Mosque. Made of pink granite and large enough to accommodate 15,000 worshippers at a time, it is one of the most important Islamic halls of worship in Malaysia.
While it pays tribute to ancient principles of mosque design, its interior reveals a modern side few visitors expect to see in such a building. While there is free admission and you are allowed to take pictures without restriction, dress codes are in effect – wear pants and a top that cover your shoulders and chest.
Be sure to also make time in your schedule to visit Masjid Tuanku Mizan Zainal Abidin. Known by locals as the Steel Mosque, its modernist architecture is a departure from traditional design but is very much in line with the look of the planned city of Putrajaya.
This structure has even more capacity than its companion masjid (Putra Mosque), as it can hold up to 20,000 people on a busy Friday. Like the Putra, you need to be appropriately dressed to be admitted to this structure, so leave the tank top and shorts at home.
See how the prime minister of Malaysia lives by including the Seri Perdana in your Putrajaya travel itinerary. Finished in 1999, this modern residence is where current PM Najib Tun Razak lives, works, and entertains heads of state.
While it is unlikely you'll get to meet the leader of Malaysia during your visit, you'll be able to view a number of rooms, including the Banquet and Protocol Block. In order to enter, note that you'll have to produce and leave a piece of ID with the guard house – this means you'll have to part with your passport, so be forewarned if you are sensitive about parting ways with it.
Being the official capital of Malaysia, Putrajaya is home to diplomatic gifts from other nations around the world. One of the most impressive of these is the Moroccan Pavilion of Putrajaya. Situated in the midst of its botanical garden, it boasts architectural elements common to this North African country.
Filled with Moorish design elements which include exquisitely carved pillars, sweeping arches, and decadent water features, it is a beautiful departure from the late 20th century buildings which dominate Putrajaya. Come by in the morning or late afternoon hours to capture the best light.
Other Attractions
Take a break from walking around this spread out city by dropping into the Putrajaya Botanical Garden. As mentioned above, it is home to the Moroccan Pavilion of Putrajaya, but the park itself is worth a visit based on its own merits.
Set up on over 230 acres of land, this green space contains a wide variety of tropical plants which catalogues flora that is endemic and common to Malaysia. It is split into five sections – the sun garden, the explorer's trail, the floral gardens, palm hill, and lakeside. In the last part, you can rent paddle boats, which is a perfect way to make the most of a beautiful day in Putrajaya.
Is the humidity getting to you? Need to stock up on supplies or feel like engaging in some retail therapy? Take a jaunt over to IOI City Mall. In addition to having hundreds of shops, there is also a multiplex cinema, a skating rink, a bowling alley, and an indoor amusement park, making it a great place to take the family when it is too hot or rainy to enjoy the outdoors.
If the weather is cooperating, spend some time enjoying the outdoors in and around Putrajaya Lake. A 650-hectare artificial body of water created during the construction of Putrajaya as part of its cooling mechanism and as a place to gather and play, it has proven to be a popular spot among locals ever since its inception.
More than just a beautiful water feature, it has been a venue for water sports competitions in the past: the F1 Powerboat Championship (2004), the Asian Canoeing Championships (2005), and the Red Bull Air Race World Championship (2014) have all been held on its surface.
Locals opt to simply race each other with paddle boats, or jog around its sizable circumference, so feel free to join them during your visit.
Stick around Putrajaya after sunset to photograph the Seri Wawasan Bridge. A centrepiece span that crosses Putrajaya Lake, this bridge is bathed in LED light once darkness falls, making it a favourite subject for local photographers.