Roskilde Travel Guide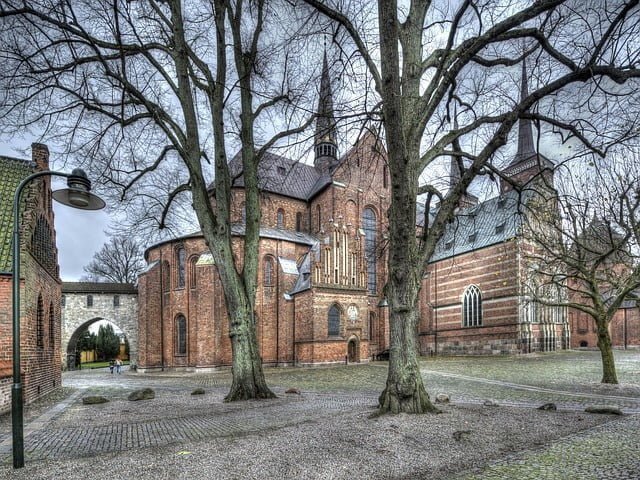 Introduction
Sitting 35 kilometres from Copenhagen, the historic city of Roskilde is a popular day-trip destination. With its ancient state cathedral, royal mansions, and museums, there's plenty here for cultural travellers.
If you're young, though, you likely know Roskilde for an entirely different reason. Every summer, one of the biggest music festivals in the world goes off here. Whatever the reason for your visit, we're confident you'll enjoy your stay!
Come check out our Roskilde travel guide as we cover the best things to do in Roskilde, Denmark.
Top Attractions
Once you've arrived and gotten settled in Roskilde, make the Roskilde Cathedral your first stop. If you see one church in all of Denmark, make it this one. This place is the official state cathedral where all coronations and royal funerals happen.
As such, this religious landmark is seriously impressive. Over its 800 year existence, this building has adopted a variety of architectural styles during various renovations. However, the Gothic and Romanesque styles are the dominant ones.
Because of these qualities, the UN recognized the Roskilde Cathedral as a UNESCO World Heritage Site in 1995. You'll understand why as soon as you approach this 248-foot tall beast. While its exterior is striking, its interior further reflects the importance of this church to the Danish.
As you make your way down its aisles, its decadent altar, decorative frescoes, and beautiful monuments will impress. Don't miss the grave of Queen Margrethe I, which an elaborate sarcophagus contains.
Don't forget to pick the guide book, as it comes with your admission. Inside, it contains information in English that will further enhance your experience.
More than a millennia ago, Vikings ruled Roskilde and all of Denmark. Learn more about the marine vessels they used to build their empire at the Viking Ship Museum. This institution opened in the 1960s to showcase five Viking ships local authorities raised from the harbour bottom.
Long ago, in the late 11th century, Roskilde was in danger of attack. To impede the progress of any invading vessels, the Vikings deliberately sank five ships in the harbour mouth. Those boats aren't the only ones on display, though. Excavations meant to expand the museum uncovered the remains of nine more Viking craft.
Today, a total of 40 craft, sourced from across Scandinavia, are on display here. English tours are available, and the Copenhagen Card covers admission at this museum.
Learn about the history of pop music and youth culture at the RAGNAROCK Museum. You won't be able to miss this building, as it stands out with its postmodern design.
Inside, you'll pick up the history of modern music in the 1950s. As you walk through the galleries, you'll learn about the hit music of every decade to the present. At the same time, find out how youth culture and movements evolved along with it.
Events are always happening here, so check out their schedule and try to attend one. On the way out, have a coffee or light meal in the on-site cafe.
Plan on visiting the Copenhagen area between late June and early July? If so, consider getting tickets to the Roskilde Festival. While hippies founded it in the 1960s, this massive music festival evolved into a 6-day celebration of pop music.
Past headliners include performers like Vampire Weekend, the Wu-Tang Clan, the Foo Fighters, and Arcade Fire. While you may not recognize many bands, you're sure to find an act you like!
Other Attractions
Long before Denmark became a Lutheran nation, Roman Catholicism was dominant. In the 13th century, religious authorities built St. Catherine's Priory. It served as the home for Dominican monks for over 300 years, until the Protestant Reformation happened.
When Lutheranism rose to prominence, authorities expelled the brothers from their monastic home. A century later, it became a private estate.
Learn how Danish royalty lived while in this town by visiting the Roskilde Royal Mansion. This Baroque-style estate served as a home for Danish royals on their visits to Roskilde. Often, it was to attend a church service, usually for funerals or regal ceremonies.
This massive mansion also served as a headquarters for British forces during the bombardment of Copenhagen. In the early 19th century, the Napoleonic Wars embroiled the Roskilde area. General Wellesley took up residence here as he plotted his next move against the Danish.
Those wanting to connect with nature while visiting Roskilde should drop by Boserup Skov. This park encompasses the Roskilde Fjord, where an urban forest meets the water. As you hike along its trails, you may see eagles, so don't forget your camera!
Before departing back to Copenhagen on the train, snap a good pic of the Roskilde Jars. These five authentic clay jars sit in a water feature just outside the Roskilde Train Station. They stand 16 feet tall, making them one of the biggest sets of pottery in the world. Built to commemorate Roskilde's 1,000th anniversary, they are quite the sight.