Sapa Travel Guide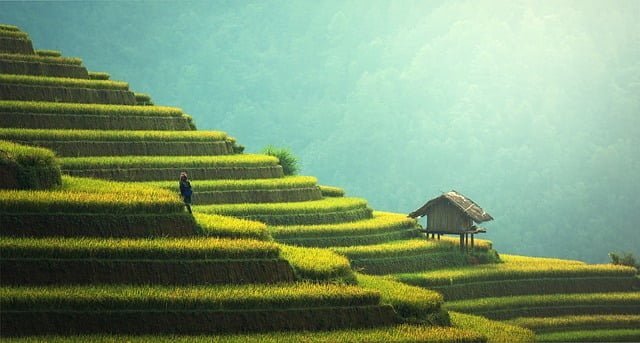 Introduction
Situated in the highlands of Northern Vietnam, Sapa is a destination easily reachable from Hanoi. With terraced rice fields, excellent trekking, and the highest mountain in mainland Southeast Asia, be sure to include it along with Ha Long Bay in your travels in Northern Vietnam.
Cultural Attractions
While Sapa is a charming place on its own, those looking to culturally immerse themselves while visiting will want to tour the villages found in the surrounding area. Start out by checking out the terraced rice fields in Shin Chai Village.
While it can take a couple hours to get there and back, the trip will be worth it, as it will bring you into contact with the greatest concentration of genuine people in the region. While you will still run into touts and aggressive salespeople trying to get you to buy souvenirs, the scenery, which boasts fog-shrouded mountains and aforementioned rice fields, will make an amazing backdrop during your visit.
If you want to explore village life further, homestays are offered here – be sure to arrive early to grab a spot if you are interested.
Those seeking to get away from the commercialized aspects of touring in Sapa will like what they find at Ta Phin Village. Home to the members of the Hmong and Red Dao hill tribes, visitors will get an idea of how these folks have pursued their daily lives for generations. In order to get to this village, you'll have to make a steep descent – if the climb back up will give you problems, motorbike taxis are available to take you back to the trailhead.
Better known but somewhat touristy in atmosphere, Cat Cat Village is a stop for many travellers visiting Sapa. Unlike the previously mentioned villages, Cat Cat can be accessed from the town of Sapa, as it sits within a 2.5-kilometre walk of its in-town trailhead.
Defined by its water wheels, it is a lively place to visit if you can block out the constant sales pitches you'll be subjected to as you explore the village. If this bothers you, leaving this attraction off your list will be a smart move.
Sapa was a favourite getaway for the French during their colonial occupation of Vietnam, as its elevation allowed authorities to escape the heat of the coastal lowlands. They built institutions to make their life there as comfortable as possible – this includes Holy Rosary Church, which was erected in the early 20th century.
Also known as the Stone Church, it is known for its subtle but beautiful architecture and its stained glass windows. Travelling Christians looking to remain faithful and the curious should know that an English mass is held on Sundays – inquire on arrival for specific times.
Other Attractions
While the villages you'll find along the way will prove to be among the biggest highlights of your trip to Sapa, the beauty of the Muong Hoa Valley will no doubt be up there as well. Throughout a trek here, you'll be treated to views of verdant rice terraces, water buffalo lumbering about, and farmers tending to their land.
To get the most out of your journey, consider hiring a private guide, as they possess knowledge that will give context to everything you'll see during your walk.
Love to scale peaks while on holiday? Don't miss the opportunity to climb Fansipan Mountain during your time in Sapa. Standing tall at 3,143 metres above sea level, it isn't just the highest peak in Vietnam, but also, the highest in mainland Southeast Asia.
This is a serious trek – don't expect a two-hour walk. If you make good time, you'll get to the summit in two days. Stock up on relevant equipment and provisions before making an attempt – this doesn't just mean taking plenty of food and water, but warm sleeping bags, as temperatures often plunge to freezing at night.
Want to experience the feeling of standing on top of Southeast Asia's tallest peak without sweating and struggling up the track for two days? If you lack the athletic inclination to tackle this mountain the first way, taking the Sun World Fansipan Legend tram will get you there within 20 minutes.
At the top, you'll be greeted by a pagoda, a Buddha image, and some of the most jaw-dropping views you'll find in the Sapa area. Just be sure to bring warm clothes – while you won't be trekking up here like the mountaineers, it can still be in the single digits Celsius during the day up here during winter, so bring a jacket, sweater, and a knitted hat.
There are many waterfalls in Sapa, but none possess the natural beauty Love Waterfall has. A cascade of water which tumbles down from a height of 100 metres, it is worth the walk you'll have to make from Cat Cat Village to get here.