Saranda Travel Guide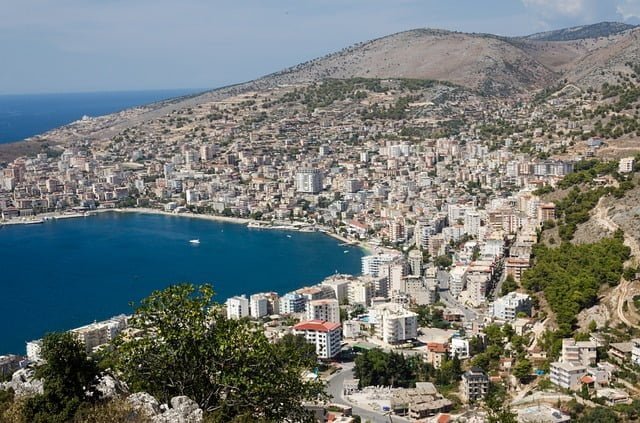 Introduction
When someone mentions Albania, does beach destination pop up in your head? Probably not. But, when you look at a map, that perception will change. This nation sits between Croatia and Greece – indeed, it ought to have a few good seaside spots.
As this impoverished European nation develops, the word is getting out about the Albanian Riviera. Its capital – Saranda. As of now, most visitors are Albanians, but this is changing fast. Visit now before this place becomes the new "it" place to be in summer.
Come check out our Saranda travel guide as we cover the best things to do in Saranda, Albania.
Top Attractions
If you're spending time down in Saranda, culture crawling won't be high on your to-do list. Nonetheless, the anchor of the Albanian Riviera does have several exciting places to visit. Start by spending an hour or two at Lekuresi Castle.
In the 16th century, this citadel acted as a staging point for the forces of Suleiman the Magnificent. The Sultan coveted the Greek island of Corfu, which laid a short distance to the south. Before he could launch an assault, though, he needed to control the waters around Saranda.
The construction of Lekuresi Castle took care of that. Upon its completion, its location gave occupants privileged views of the harbour and the sea. It served its purpose for more than two centuries, defending the area it overlooked. Its luck ran out in the 18th century, as invaders defeated the fortification and ransacked a nearby settlement.
All in all, its the best day trip you can do while having a beach holiday in the area. A taxi fare from the city centre to the castle will cost you about 15 Euro. If possible, time your visit so you are around for sunset. Drinks, like beer and glasses of wine, are available for very reasonable prices.
Go further back into the past of Saranda by including the Monastery of 40 Saints in your itinerary. The bones of this old religious landmark date back to the 6th century. Not long after the fall of Rome, this monastery, named after Forty Martyrs of Sebaste, attracted pilgrims for miles around.
The Forty Martyrs of Sebaste were Roman soldiers who martyred themselves for daring to be openly Christian. These men met a truly gruesome fate, as they were killed by lions, all before a live audience. Today, the Monastery of 40 Saints is in a ruined state. WWII dealt a harsh blow that authorities have yet to address.
The caretaker charges an admission fee around 100 lek – a reasonable amount for such an interesting site. Even if others aren't as interested in this attraction, the views of the area are outstanding. Do NOT forget your camera!
Despite this region's Christian and Islamic history, the Saranda area had been home to a Jewish community as well. You'll learn this first-hand when you happen upon the ruins of a former Synagogue Complex.
Long ago, when Saranda went by the name of Oncheasmos, a stone synagogue existed. According to carbon dating, the foundation dates back to the 5th century AD. After studying the ruins extensively, archaeologists concluded that this building was for more than worship. It also served as a school for the children, and as a community meeting centre.
By the 6th century, though, the building, for unknown reasons, was converted to a Christian Basilica. Historians say it met its end in two ways – by an earthquake or Slavic invasion.
Cap off your cultural exploration of the Albanian Riviera by stopping by the Saranda Museum. Curators cover ancient to more recent history here. By far its biggest prize is a floor mosaic, which dates from Roman times.
Other Attractions
But, you didn't come to Saranda to geek out on culture. You came here for all the fantastic beaches that are quickly putting the Albanian Riviera on the map. Unfortunately, locals and tourists can crowd many of these gems in peak season.
As a result, you won't want to waste your time on lesser spots. Start your tour of the Albanian Riviera by checking out Mirror Beach. Called Pasqyra Beach in Albanian, people have named this transcendent spot for its crystal-clear water.
Surrounded by cliffs, this beach will provide you with a secluded feeling not found elsewhere. In this age of social media, this place won't remain a secret for long, so go now!
Those seeking a harder-to-reach beach will also want to give Pulebardha Beach a try. Though popular in peak season, the crowds aren't as all-encompassing compared to those in town. Its location sits at the end of a long, bumpy dirt road, much to the chagrin of package tourists.
Like Mirror Beach, Pulebardha Beach is famous for its clear, warm water. Unlike the former spot, though, this one DOES have sunbeds – rent is 7-8 Euros for the day.
Are you looking for an atmospheric spot to work on your tan? Call at Monastery Beach during your stay in Saranda. It is a beautiful place to spend a day, as sits below an old Christian monastery (hence the name.) Note that this is a pebble beach – NO sand here!