Shenzhen Travel Guide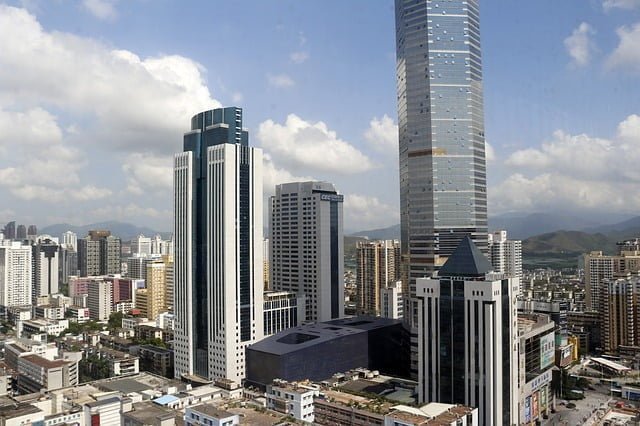 Introduction
A megalopolis of 14 million people located just across the border from Hong Kong, Shenzhen may seem like it is a long established city, but little more than two generations ago, it was little more than a loose collection of fishing villages.
Not long after China decided to pursue industrial development, it designated Shenzhen as its first Special Economic Zone in 1979. Growth exploded from there, with 99% of the buildings in the city being built since that time.
While it may lack any semblance of history in a country that is more than 5,000 years old, its modern culture, shopping centres, mountains, and beaches make it a worthwhile destination, whether you are visiting Hong Kong or passing through on a trip through Southern China.
Come check out our Shenzhen travel guide as we cover the best things to do in Shenzhen, China.
Top Attractions
Shenzhen may be a baby on the time scale of China, but its wealth has allowed it to develop a world-class cultural asset in OCT Loft Creative Culture Park. Formerly a television factory in its previous life, this compound is now to art galleries, hip coffee shops, bookstores, and garden beds overflowing with flowers.
A hub for some of this city's best designers and architects, this space played a key role in Shenzhen being declared a UNESCO City of Design in 2008. It has also hosted events, with its architectural Biennales and an annual jazz fest being some of the productions for which this place is famous.
Ever wonder where the cheap but real paintings in your local housewares store come from? There's an excellent chance they were created in the Dafen Oil Painting Village, a mass production arts facility. It's said that at one point in the past couple of decades, 60% of the world's newly created paintings were made here.
While things aren't as busy as they used to be, this place has made a smooth transition to catering to the Chinese middle class and to visiting tourists. Here, you can learn the basics of painting in one of its many cafes, have a family photo recreated on canvas for about $50, or buy one of this place's innumerable pieces for as little as 10 Yuan (roughly $1.50).
In Hong Kong for a few days, but want to get a taste of mainland China while you are there? Head over the border to Shenzhen and check out the China Folk Culture Village. Opened in 2003, it is the world's largest park dedicated to reproducing famous places in miniature.
In particular, it highlights China's most famous landmarks, including the Great Wall, the Terracotta Army of Xi'an, the Temple of Heaven, the Li River, and many others. In addition to these, there are several examples of folk houses so you can see how the Chinese lived in prior generations, and with cultural shows featuring dance, song, elaborate costumes, and depictions of past wars and legends, this attraction is one that any visitor to Shenzhen shouldn't miss.
Active travellers visiting the Shenzhen area on a relatively clear day will want to include a hike up Wutong Mountain in their itinerary. Standing 942 metres above the surrounding coastal lowlands, the views of the city and Hong Kong below are nothing short of priceless.
While it is a good idea to bring refreshments to keep you hydrated in the subtropical heat and food to sustain your efforts, there are places along the route where you can buy these items should you run short along the way.
Other Attractions
Few think of Shenzhen as a place to go to the beach, but within a short drive of downtown lies some of the finest strips of sand in southern China. Of these, Dameisha Beach is the most popular, as its golden sands and relatively clean water makes it a happening place for city dwellers and domestic tourists.
Avoid visiting on weekends and holidays if you can, as every cubic centimetre of sand is taken up by locals, making it hard to enjoy this place if you are even the slightest bit claustrophobic. Water sports lovers will love that jet skis are available for rent and that parasailing is offered, and with seafood restaurants located just up the road, you won't lack for a venue to have a quick dinner after your day at the beach.
Nature lovers and birders will want to include in the Shenzhen Mangrove Nature Reserve in their plans. A 368-hectare park protecting a grove of these waterborne trees amidst the exploding urban growth of the Shenzhen region, there are over 189 different avian species which frequent this park at various times during the year.
Winter is the best time to pay a visit, as many migratory birds choose this park as their wintering grounds.
Want to find a deal you couldn't get across the border in Hong Kong? While in Shenzhen, get some hardcore shopping done at COCO Park. A five-floor shopping centre filled with international and local brands, one can find fashions, electronics, housewares, and more here.
With plenty of restaurants, bars, and a cinema, it is also an excellent place to seek out some low-key entertainment after a busy afternoon of shopping.
Has the intense Shenzhen traffic started to get to you? An hour or two in Lianhuashan Park will help you get your head back on straight. Featuring plenty of peach trees and coconut palms, a lawn where families fly kites, and a square which explains the rapid urban development of Shenzhen, it is a rare green space at the centre of a forest of steel, glass, and concrete.