Speyer Travel Guide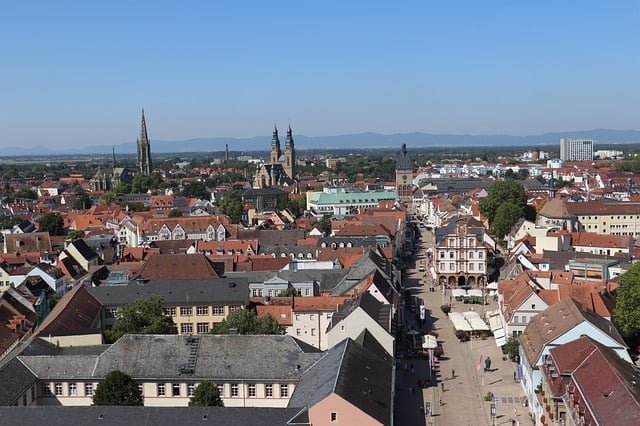 Introduction
Dating back to the 4th century, Speyer is one of Germany's oldest cities. Here, you'll find medieval ruins, significant churches, and interesting museums. If you are touring the Rhineland, you'll want to include this city on your itinerary. Allow two to three days to make the most of your time here.
Top Attractions
Begin your visit to Speyer by exploring the Mittelalterlicher Judenhof. In English, this name roughly refers to this city's medieval Jewish Quarter. Its remains are about 900 years old, making the site one of the oldest in Europe.
Today, Speyer has restored the remains of the synagogue, women's school, and mikveh. At present, the site has applied to UNESCO for World Heritage status. If UNESCO accepts their application, this place will become one of the globe's newest World Heritage Site in 2021.
To learn more about the history of Speyer, spend some time at the Historical Museum of the Palatinate. The scope of this institution is broad, as it holds over one million artifacts. Among them, a 190,000-year-old axe stands out.
This museum's exhibitions cover periods like prehistory, Roman times, the Middle Ages, and the modern era. Additionally, this attraction also hosts travelling exhibitions from larger institutions. When planning your visit, we advise dropping by during the week. With hundreds of thousands of annual visitors, people crowd into this place on weekends.
Church enthusiasts will not want to miss visiting Speyer Cathedral. The court of Holy Roman Emperor Konrad II commissioned its construction in the early 11th century. Miraculously, this structure has survived centuries of wars, including WWII.
Periodic renovations have allowed this cathedral to maintain its Romanesque form. However, its greatest claim to fame is its status as the burial site for monarchs. From House Salian to House Habsburg, scores of nobles rest here.
In Speyer, the Dreifaltigkeitskirche is its most significant Protestant church. This late Baroque structure rose at the turn of the 18th century. There are two main attractions here for visitors – its bell tower and the organ. Locals love the latter, as its ornate design complements its powerful sounds.
Other Attractions
Are you a fan of technology? Make time in your Speyer itinerary to see the Technik Museum. This institution focuses mostly on the history of vehicle development. Within its 150,000 square metres, you'll find everything from vintage planes to locomotives.
A genuine Soviet Space Shuttle is one of the top highlights of this attraction. But, this place has something everyone will enjoy. As a result, plan to spend several hours here. Before leaving, be sure to take in a film at this museum's IMAX theatre.
If you're travelling as a family, spend part of your day at the SEA LIFE Centre. This aquarium, which is popular among locals, is home to numerous aquatic species. In particular, you find marine animals like starfish, seahorses, and manta rays.
Admission for this attraction is roughly 30 EUR per adult. While on the high side, the diversity of species here makes the price worth it.
Because of numerous, destructive wars over the centuries, remains from Germany's medieval era can be hard to find. City wall gates are especially rare, but Speyer has an intact Altportel. Standing 180 feet high and with a built-in clock, it is a stunning specimen.
That's not all, though – you can also climb to the top of this structure. From its observation deck, you can get sweeping views of Speyer. Best of all, admission is free, but we recommend hiring a guide to make the most of your visit.
End your time in Speyer by spending an evening on Maximilianstrasse. This street is one of this city's most popular shopping streets. Buildings along this thoroughfare date from the late 17th century – in them, you'll find cool shops, restaurants, and pubs. Try to visit at Christmas, when this stretch is at its best.
What To Eat
Feel like going on a culinary adventure while in Speyer? If so, find a restaurant that serves Saumagen. This dish is a stuffed sow's (pig) stomach that chefs slice into sausage-like coins. The stuffing is a mix of potatoes and pork, spiced with nutmeg, marjoram, and white pepper. Once you get past the aversion many of us have towards organ meat, it's actually quite tasty.
Less adventurous eaters will enjoy having some Himmel und Erde. This meal consists of black pudding, fried onions, and a side of mashed potatoes with apple sauce. As an exceptionally hearty dish, you'll want to have this one on an empty stomach.
Pair your meals in Speyer with some Liebfraumilch. Local farmers raise the grapes used to make this local varietal of white wine. As a semi-sweet wine, it works well with onion-heavy dishes – in Rhineland, you'll find plenty.