Sun Moon Lake Travel Guide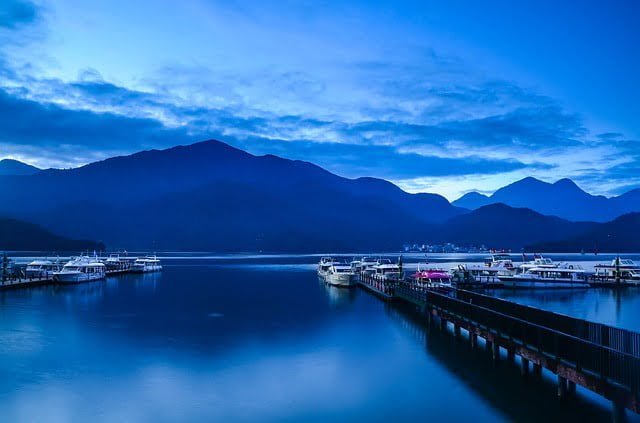 Introduction
Situated near the centre of Taiwan, Sun Moon Lake is one of Taiwan's best-loved travel destinations. An aquamarine gem set amidst mountains and temples, it is a must visit for any traveller spending significant time in Taiwan.
Top Attractions
Soon after arriving at Sun Moon Lake, head to the nearest ticket office and purchase passage on one of the many boat tours crisscrossing this body of water. More than just a way to save time as you explore this area's many attraction, the views you'll get of the lake, surrounding mountains, temples, and even a man-made island makes this form of transportation an attraction in itself.
On board, tour guides give commentary in Taiwanese, Mandarin, and (occasionally) English, giving you a background on this region's history.
After stepping off the boat, make visiting the Wen Wu Temple, one of your top priorities. Built on the shore of Sun Moon Lake when a hydroelectric project caused two separate temples to be moved in 1938, this gorgeous Taoist hall of worship is a popular place for pilgrims to visit.
Three halls exist within – one is dedicated to the God of Literature, another to the God of War, and the last to Confucius. Around the grounds, spectacular guardian dragons can be found, so leave plenty of room on your memory card before visiting this temple.
Experience the best nature the Sun Moon Lake region has to offer by spending a day exploring Yushan National Park. Established to protect the wilderness surrounding the highest peak in Taiwan (Mount Yushan), there are plenty of trails to trek within its boundaries.
Many choose to climb Yushan, which can be done in a (long) day, but remember to prepare for cold temperatures, sun exposure, and physical exertion by bringing warm clothes, wearing sunscreen, and carrying plenty of water.
If you wish, there are cabins and tent sites for those who wish to camp overnight in the park – given the scarcity of wild places in Taiwan, this is a very popular activity, so plan ahead if you want to do this.
Learn about the First Nations people who traditionally inhabited the Sun Moon Lake area before the Han Chinese arrived on the scene by checking out the Formosan Aboriginal Culture Village. While there is a nice space where you can see first-hand how these tribes lived their lives generations ago, it is primarily known for its amusements these days – with a roller coaster, a set of European gardens, and a well-staffed food court which provides plenty of options for members of your travel party.
Other Attractions
Culture hounds looking to add another religious attraction to their list will want to make their way up to Xuanzhuang Temple. Perched on a slope on the east side of the lake, it has privileged views of Sun Moon Lake below and is situated across from a tea egg stall famed for the quality of this well-loved Taiwanese snack.
The temple grounds are peaceful, with plenty of pine trees and a large ceremonial bell. Within, displays explain the basics of Buddhism to non-practitioners in easy to understand detail, making it a good stop for those looking to get into this eastern religion.
Railfans will want to make a point of paying a visit to Checheng railway station. Widely considered to be one of the most beautiful stations in all of Taiwan, it was built to service a small logging village back when forestry was practised in this corner of the country.
Doubling as a museum, you'll find old locomotives on site, and there is a logging museum and a number of tea houses situated nearby.
If your schedule permits, try to attend the Sun Moon Lake Cherry Blossom Festival. Held in the month of February, it is during this time of year when scores of mountain cherry trees explode into blossom around Sun Moon Lake and in the surrounding area.
Locals recommend visiting the Formosan Aboriginal Culture Village during this time, as the density of trees is greatest here. Otherwise, they can be found in abundance along paths like the Ita Thao and the Ci'en Pagoda Trail, on the campus of National Chi Nan University, and along Youshuei Lane in Jhongming Village.
Active travellers will want to take one day to do a circuit on the Sun Moon Lake Bikeway. 30 kilometres in total, it is an ambitious but doable ride which boasts plenty of amazing vistas and attractions along the way. With separated grades from the road much of the way (with some paths being built right on the lake shore), it is a relaxing but athletic way to see Sun Moon Lake.