Szczecin Travel Guide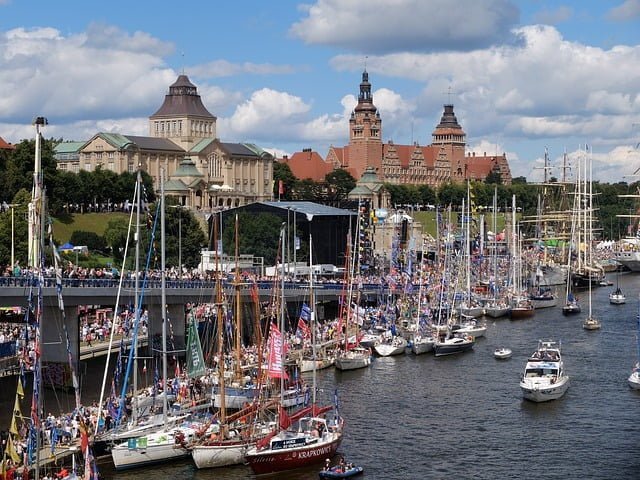 Introduction
Over the centuries, Szczecin has been a part of Germany, Sweden, and Denmark before finally falling under Polish control. Throughout its history, this city has been an important seaport and industrial city. However, it doesn't lack in cultural attractions, as you'll see in this travel guide.
Top Attractions
Soon after arriving in town, make the Szczecin Cathedral the first place you visit. It took the citizens of Szczecin parts of three centuries to build this Romanesque church. But finally, in the 14th century, they completed it.
After its destruction in the 17th century, the re-builders of this church made it into a Baroque structure. The Second World War almost did in this landmark, but thankfully, the costs of demolishing it proved greater than reconstruction.
Today, it not only serves as a functioning cathedral but as one of the best viewing platforms in Szczecin. From the bell tower, you can enjoy amazing views of the city below.
Long ago, the Ducal Castle served as the home of the dukes of Pomerania. The walls of this keep date back to the 14th century, when the Barnim the Great commissioned its building. However, Prussian empire officials almost concealed this Renaissance masterpiece from modern eyes.
During 19th century renovations, they had design elements from that period covered up. Many historians agree – these changes were hideous. However, when the Second World War hit, half the castle crumbled to Allied bombs. After the war, restorers undid the Prussian renovations, restoring the structure to its former glory.
During World War II, air raids became a nightly reality. When sirens sounded, Szczecin locals retreated into the Underground City Trails. Designed to hold 2,000 people, they had running water, were heated, and even had bunks.
Before leaving town, take in some culture at the Szczecin Philharmonic. Not long after its 1948 opening, this structure won awards for its groundbreaking contemporary architecture. After arriving in Szczecin, ask about coming performances. With great acoustics, seeing a show here is a treat.
Other Attractions
In a bad mood? Need a reason to smile? During your time in Szczecin, visit the Be Happy Museum. Since 2018, this bubbly attraction has become wildly popular among younger, social media savvy generations.
In this place, you'll find a series of fun, whimsical backgrounds/props that are ideal for snapping photos and selfies. Entry fees start at 35 PLN (~8 EUR) per person. However, if you want a photo session with a professional photographer, expect to pay as much as 70 EUR.
Many old buildings in Szczecin fell to Second World War bombing raids. However, you'll find many of the survivors along the Waly Chrobrego Promenade. From the National Museum in Szczecin to the Naval Academy, there are beautiful structures everywhere you go.
Sitting atop an embankment above the Oder River, it is also a popular walk among locals. In the summer, you'll often find markets set up along this street, adding to the atmosphere. Take a seat at a roadside cafe, and walk the city unfold before your eyes.
Need to slow down during your visit to Szczecin? Spend an hour or two in Jan Kasprowicz Park. This place isn't a token green space – together with neighbouring parks, there are 91 hectares to discover. This place is particularly beautiful in autumn when all the trees turn various shades of yellow, orange and red.
As you make your way through this park, you'll find many things of interest. Specifically, its rose garden, amphitheatre, and a monument to the Hungarian revolution are all highlights.
End your visit to Szczecin by spending an evening exploring Stare Miasto. After the bombardments of WWII, this neighbourhood was the greatest surviving chunk of the former Old Town. With plenty of places to sit, eat, and drink, this is an ideal people-watching spot.
What To Eat
As you walk the streets of Szczecin, you may get hungry. If lunch or dinner is a ways off, grab up Paszteciki to fuel up. These savoury pastries, which originated in this city, contain fillings like ground meat, mushrooms, and cabbage. Cooks prepare these pocket by deep-frying them – not particularly healthy, but very tasty.
At dinner, satisfy your hunger by ordering a big bowl of Bigos. This stew typically contains pork, but any meat will do in a pinch. Complimented by bacon, kielbasa, and potatoes, this is a seriously heavy dish, so bring your appetite.
If dessert is an option, opt for some Makowiec. This bread doesn't overdo it on the sugar – instead, it delivers a mild sweetness with honey, raisins, and orange peel. Topped with poppy seeds, it's a treat you'll most often find in winter. However, some bakeries make it year-round, so look around.