Thessaloniki Travel Guide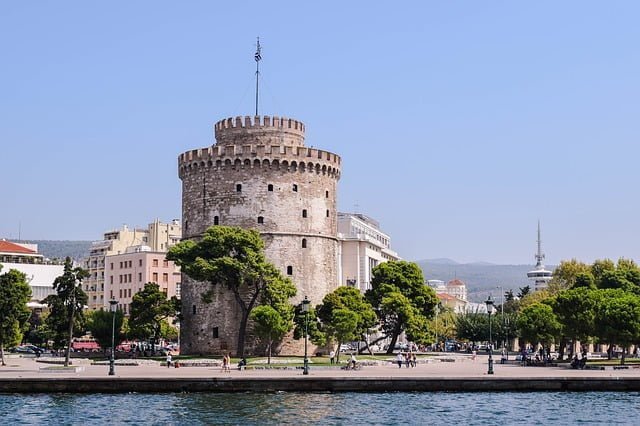 Introduction
For travellers coming from Turkey or Bulgaria, Thessaloniki is the first significant destination they come across.
With a history spanning from Roman times to the Ottomans, you'll be wondering why more tourists don't visit here.
Come check out our Thessaloniki travel guide as we cover the best things to do on Thessaloniki, Greece.
Top Attractions
Of the many attractions in this destination, the White Tower of Thessaloniki stands the most. The visually stunning fortification has had a long, if checkered history. It replaced a Byzantine-era defensive point that stood before the Ottoman Turks took Thessaloniki in the 15th century.
While controlled by the Ottomans, it served not just as a fort, but as a notorious prison. The Ottomans did not tolerate dissent kindly – indeed, this tower jailed many dissidents over its history. Executions took place here as well, including a mass killing of Janissaries.
These troops, tasked with protecting the Sultan, took on a rebellious air. As a result, the authorities made a brutal example of them. After their execution, the fort became known as the Red Tower, as the Ottomans spilt much blood here.
In the early 20th century, Greece took back Thessaloniki from Ottoman-controlled Turkey in the Balkan Wars. After taking control, civil authorities whitewashed its exterior to cleanse the Red Tower from its bloody past. From that point on, locals have known it as the White Tower of Thessaloniki.
English-speaking tourists do not commonly visit this part of Greece. As such, the captions within are all in Greek. If you don't want to rely on Google Translate, English audio guides are available for rent.
Next, make your way over to the Church of Saint Dimitrios. This ancient Byzantine church has stood since the 7th century. Before it, earlier versions had burned repeatedly, leading to the stone replacement that exists today.
Church leaders named it for Saint Demetrius, the patron saint of the city of Thessaloniki. After the Roman Empire turned hostile to Christianity in the 4th century AD, Demetrius refused to renounce his faith. For this crime, his former charges executed him by spearing.
As this church has stood for 1,300 years, it has earned recognition as a UNESCO World Heritage Site. This church lost many Byzantine mosaics during its time as an Ottoman-era mosque, but the few that remain are worth seeing. However, its crypt makes this place. Here, you'll find the perfectly preserved remains of a Roman bathhouse. Historians believe this is where Roman authorities executed Demetrius, and dumped his body, along with other local Christians.
Take in discoveries researchers have made during local digs by stopping by the Archaeological Museum of Thessaloniki. Here, implements dating from Prehistoric, Hellenic, and Roman times sit in galleries for the benefit of locals and tourists alike.
The scope of this museum is broad. From Macedonian war helmets to exquisite sculptures of Greek rulers, lovers of antiquities will be in heaven. As such, block off a half-day to ensure that you can make the most of your visit.
After the days of the Romans, Constantinople took over the region surrounding Thessaloniki. Learn about this period in its history by spending time at the Museum of Byzantine Culture. In eleven galleries, you'll learn about the origins of the Byzantine empire, its accomplishments, and the factors that led to its fall.
You'll find many incredible wall paintings, sculptures, mosaics, coins, and ancient books here. Buy a combined ticket, and you'll save on entry to this museum and other attractions, like the White Tower.
Other Attractions
Travel back in time to the days of the Roman Empire by visiting the Arch of Galerius and Rotunda. The Romans built this complex to commemorate their victory over the Sassanids. The arch, apart from being an attraction in itself, contains carvings that depict scenes from the primary battle.
The Rotunda, after the Roman Empire fell, served as a Christian church and a mosque. Look closely, and you'll see one of the minarets preserved from the Ottoman days.
Take in Thessaloniki locals as they enjoy their city by hanging out in Aristotelous Square. While the buildings surrounding this public space are modern in origin, this space is still worth visiting. During holidays, it is home to festivals and celebrations. At other times, people hang out in cafes and protest in its wide-open spaces. No matter when you go, you're sure to see something worth photographing.
Do you love sports? Take in a Super League Greece match at Toumba Stadium. Over the decades, it also hosted UEFA Champions League and Olympic tournament matches. However, even a home game for PAOK FC can get spirited, as fans often spark smoke flares.
Enjoy your final evening in Thessaloniki by spending it in the Ladadika District. Formerly known for olive oil shops, and as a red-light district, bars and restaurants dominate today. Unlike thoroughly westernized destinations, Thessaloniki is more authentic. As such, the restaurants and nightspots here are more faithful to the Greek way of life.