Trang Travel Guide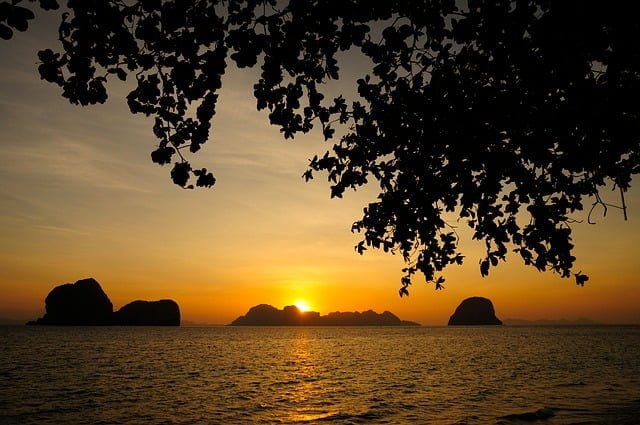 Introduction
A mostly rural place that many tourists pass through on their way to or from Malaysia, Trang province is a spot becoming increasingly popular among travellers who are beginning to tire of the crowds which have ruined places like Phuket and Koh Samui.
With empty beaches, cool caves, and just enough points of interest to keep cultural travellers interested, it is definitely worth a look on your next trip to Thailand.
Cultural Attractions
Learn a bit about the past history of Trang province by spending an hour exploring the exhibits contained within the halls of the Phraya Ratsadanupradit Mahison Phakdi Museum. Spread over two floors of the former home of the governor for which this museum is named), you'll find his personal effects, as well as a wax sculpture of the late political figure.
While the captions for the displays are all in Thai, the beautiful antique furniture, artifacts, and the wood panels of this grand home will make a trip here worth the time you'll spend under its roof.
Temple fans will want to make room in their schedule for a visit to Wat Phukhao Thong. Situated 20 kilometres from the centre of Trang Town, this wat is best known for its Reclining Buddha image, which is located in a limestone cave just outside Nam Phut village.
While the temple itself is rather humble, the jungle and limestone karsts which surround this place give it a special ambience. If you are into culture, it will make for a fun afternoon diversion.
Pay homage to the person who gave rise to the primary industry of Trang by stopping by the Phraya Ratsadanupradit Mahison Phakdi Monument. Named after the former governor of this province, he was the guy who started the first rubber plantation in the area.
After it enjoyed commercial success, others followed in his footsteps, paving the way for Thailand to become a major supplier of rubber to global markets. He also helped modernize what was a rural hinterland and vastly improved the local education system, making him a revered figure locally.
Knowing the background of this statue, it becomes more than just another sculpture – just be considerate of those paying their respects when taking photos here.
Want to connect with the locals in Trang? The Chan Chala Night Market is the best venue for doing this, as the cool evening air, along with multiple entertainment, food, and shopping opportunities draw young and old alike to this treasured weekly event.
Situated by the local railway station, it is easy to find, but there is one thing you'll have a hard time spotting: other foreigners. If you are looking to experience a night market in Thailand that is truly authentic, this is where you'll want to go.
In particular, see out the food court, as it is filled with all sorts of halal dishes, as this corner of Thailand is home to the greatest concentration of Muslims.
Other Attractions
There is more to Trang Province than what you'll find on the mainland – there are a number of offshore islands under its jurisdiction, including beautiful Koh Muk. Here, when you aren't busy lazing around on its beautiful beaches, you'll get a chance to paddle into the gorgeous confines of Emerald Cave.
Only accessible at low tide, it is a place you'll only want to visit with a tour, as getting the timing wrong can be hazardous for those determined to do it on their own.
Once you enter its 80-metre long tunnel, though, a hidden beach will be revealed. Surrounded by sheer limestone cliffs, it is a special place made even more so by booking a private tour – if you go with the mainstream providers, be prepared to have its special atmosphere tainted by dozens of fellow humans.
Khao Kob Cave is another subterranean wonder worth discovering during your time in Trang province. Like the Emerald Cave, it can only be accessed by boat. While it lacks the hidden beach which defines the former attraction, Khao Kob Cave will wow visitors with its sizable stalagmites and stalactites.
Note that the clearance of the cave can make the claustrophobic uncomfortable at times, so be sure to take this into account when planning your travels in Trang.
Green thumbs will love the wide assortment of tropical plants they'll find at the Peninsular Botanic Garden. From flowers to other specimens commonly found in the swampy forests commonly found in the Trang area, there is enough here to fill 2-3 hours worth of sightseeing. A canopy walk, made possible by rope suspension bridges, makes this attraction worth visiting for this feature alone.
While the beaches in Trang province lack the fanfare of the ones found in Phuket and Krabi province, there are still a pair of beauties worth a look during your travels here. Pak Meng Beach is the one that draws most of the attention of visitors due to its local atmosphere – with restaurants and beach bars catering mostly to Thais, those looking to get away from the foreign crowd will find blessed relief here.
Farang Beach is also worth a visit. Found on Koh Muk, its clear water, off-white sand, sea cliffs, swaying palm trees, and excellent snorkelling makes it the Thai island getaway for those disappointed in what has happened to Koh Lipe.