Trier Travel Guide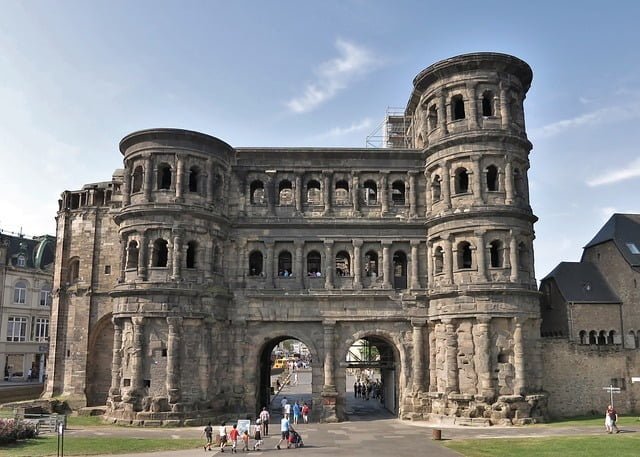 Introduction
When you think of German cities, Trier usually doesn't come to mind. But, it should, as it is the oldest city in the entire country. Founded during Roman times, its citizens have retained much of its ancient heritage.
From ruins to churches, there is much to explore here.
Top Attractions
Trier is overflowing with Roman monuments. But, if your schedule only allows time for one, ensure you check out Aula Palatina. Roman authorities built this structure in the early 4th century at the request of Emperor Constantine.
It's intended purpose was to serve as an imperial palace. However, after the fall of the Roman Empire, locals authorities converted it into a church. To this day, many in the German Evangelical Church know it as the Basilica of Constantine. Curators strictly enforce closing times, so go earlier in the day.
Before the age of running water, public baths were a hallmark of civilization. In Trier, the Kaiserthermen was slated to be a grand facility. Alas, due to political upheaval during Constantine's administration, this facility never opened. Shortly thereafter, authorities converted this complex into barracks.
Today, visitors can walk among this structure's extensive remains. Upon arrival, watch a short film, which explains the history of this ruin. Then, walk around a building that included in-floor heating, as well as thermal baths.
Trier sat on the northern fringes of the Roman Empire. Far from the amusements of Rome, Trier Amphitheater was its centrepiece of entertainment. From the 2nd century onward, gladiator battles were common, as were "animal shows". In the latter, prisoners were often made to face lions and other predators.
At its peak, this arena could host up to 20,000 spectators. As you walk here, imagine yourself in the crowd some 1,800 years ago, watching what people today would consider brutality.
Fill in knowledge gaps about Roman-era Trier by visiting the Rheinisches Landesmuseum. Here, you'll find numerous artifacts from that time, as well as prehistory and medieval times. To make the most of your visit, pick up an audio guide at the entrance.
Other Attractions
Trier is also home to more than its share of notable Christian churches. In addition to the Basilica of Constantine, there are two others worth your time. Start with the Trier Cathedral, as its builders laid its foundation in the 4th century.
Over the ages, armies razed this place of worship several times. Its oldest visible elements date from the 11th century, with renovations adding Gothic, Renaissance, and Baroque elements. However, this place has largely retained its Romanesque soul.
After admiring the artwork and pipe organ at Trier Cathedral, head over to Liebfrauenkirche next. With builders laying its cornerstone in 1209, this landmark is Germany's oldest-known Gothic church. As you walk through its interior, take note of its wall paintings and exquisite stained glass. If you can, attend a service to hear its organ play.
Don't leave Trier without walking through the Porta Nigra. Back in the late second century AD, this elegantly-sculpted piece of grey limestone was one of four city gates. Since that time, the walls that connected these four entryways have disappeared. Additionally, time has claimed the other three gates, leaving this as the sole survivor.
This attraction is more than just a quick photo op – you can actually climb to its upper levels. To do so, however, you'll have to pay a small 4 EUR fee. If you love photography, consider it an investment – the views of Trier are amazing from the top of Porta Nigra.
Mix with Trier locals – spend some quality time hanging out at Hauptmarkt. While it was a market during medieval times, it serves today as a town square. The buildings that line it represents many architectural styles, and in December, you'll find the city Xmas market here.
What To Eat
After a long day of sightseeing in Trier, satiate your hunger with a generous plate of Himmel und Erde. Translating literally as "Heaven and Earth," you'll feel like you've gone to the former after eating this meal. Consisting of black pudding, sausages, mashed potatoes, and apple sauce, it'll satisfy any appetite.
As you dine, be sure to have a glass of Riesling at the ready. This high-acid wine has a range of mouth-feels, from dry to sweet. For heavy, savoury meals, favour drier Rieslings. If you are eating dessert, blue cheese, or foie gras, though, go with a sweeter varietal.
Speaking of dessert, make room for some Kirschenmichel after your dinner. This treat is a bread pudding made with lots of butter, milk, and sugar. Depending on the recipe, it can have cherries, apple, and even vanilla sauce.