Trieste Travel Guide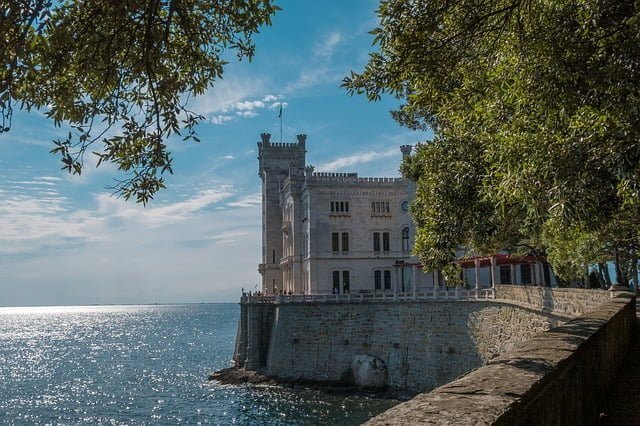 Introduction
At its heart, Europe is a tapestry of cultures. But these people groups often don't obey modern-day borders. Trieste is a classic example of this – despite being in Italy, it has strong Central European and Balkan influences.
This shouldn't be surprising to any student of history or geography. After all, Trieste was part of the Austro-Hungarian Empire before being included as part of Italy. And a short distance away lies the Slovenian border.
Together with this place's unique cultural mix, you'll find plenty to love about Trieste. From its unique karst landscape to its war history, you'll easily fill four days with nonstop sightseeing.
Top Attractions
Start your Trieste adventures by exploring Castello di Miramare. But unlike most European castles, this one actually looks modern. Unlike its Middle-Aged brethren, Castello di Miramare was built in the 19th century.
Initially, Austrian Archduke Ferdinand Maximilian lived here. But later, it was home to another Emperor Maximilian – Maximilian I of Mexico. In 1929, it reopened as a museum. From exquisite furniture to fantastic artwork, it'll be an attraction well worth your time.
As amazing as Trieste is, not all of its attractions are upbeat. So prepare yourself emotionally prior to visiting Risiera di San Sabba. That's because this building, originally a rice husking factory, became infamous for its role as a Nazi concentration camp.
During the Second World War, this facility mainly detained political prisoners. However, it was also used as a transshipment point for Jews en route to death camps like Auschwitz. Executions of detainees became common, with over 3,000 meeting their end here.
After that, make time in your schedule for a trip to Museo Revoltella. Since the 1870s, this building has housed one of Trieste's best collections of modern art. Baron Pasquale Revoltella gave this institution its start, leaving his collection (and his home) to the city upon his death.
In all, there are more than 350 paintings and sculptures to admire in this museum's galleries. In all, plan to spend a couple of hours enjoying this attraction.
Lastly, be sure to drop by the Cattedrale di San Giusto Martire. This minor basilica is notable in that it is a fusion of two preexisting churches. The oldest part of this complex dates to the 9th century, though the wing that joined the two churches was built in the 14th century.
Other Attractions
The landscape around Trieste is dramatic, as steep cliffs rise from the region's Adriatic coastline. It is known locally as the Carso Triestino, and for nature lovers, it's a wonderful place to explore. For starters, it offers many trails – be sure to check out the ones that follow the cliff tops along the coast.
Further inland, rolling terrain provides a stunning contrast with the many farms in the area. As you travel from one village to another, you'll encounter vineyards and local restaurants that serve amazing food.
The limestone cliffs that soar above the coastal lowlands of Trieste were perfect for the construction of WWII-era shelters. That's what Kleines Berlin was, as it served as a refuge from Allied air raids during the Second World War.
Today, local guides offer a glimpse into what life was like in these shelters. These damp, gloomy spaces set the mood for the entire wartime period, but due to their low temperature, it's a great attraction to visit on a hot summer's day.
If you'd rather chill out on the beach, though, you're in luck. Close to Trieste is Beach Barcola, which is a popular seaside getaway for locals. However, fans of sandy (or pebble) beaches will be disappointed, as there is neither here.
Instead, this place offers a space to enjoy the seacoast amidst its rockiness. There are sunbathing spots and ladders that allow access to the water. As well, there are numerous cafes, restaurants, and bars to choose from. All things considered, it's a lively spot and a great example of making do with what you have.
Lastly, spend some time hanging out in Piazza Unità d'Italia. This public square is among the largest in Europe and offers a spectacular view of the Adriatic Sea. Because of this, many locals come here during evenings and weekends.
What To Eat/Drink
Trieste may be in Italy, but its proximity to Central Europe and the Balkans has a strong influence on its food. For example, this tendency manifests itself with Goulash Triestino. This variant of the classic Hungarian recipe departs from the original with its choice of herbs. Featuring rosemary, thyme, and bay leaves, this stew takes on a markedly different character.
During your wanderings of Trieste, drop into a bakery. In there, search for a pastry that looks like a sausage. If you do, you'll have found some Presnitz. This curious cake was invented for Princess Sissi, the wife of Emperor Franz Joseph. But despite its savoury appearance, this lemon-flavoured treat will delight you.
Before turning in for the night, have some Gran Gala as a nightcap. Created by infusing VSOP brandy with orange zest, this rich liqueur will give you a reason to search for it in the duty-free shop.