Turku Travel Guide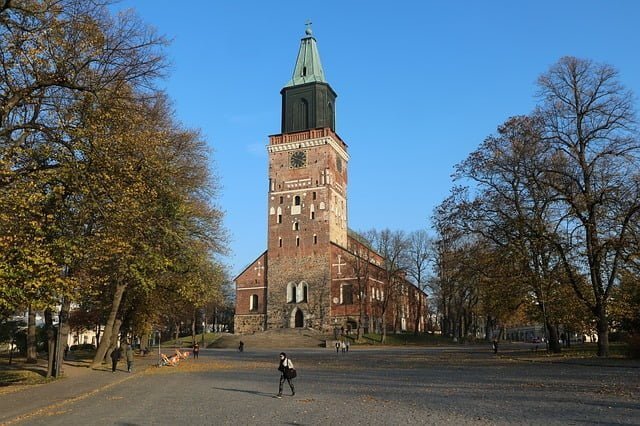 Introduction
When it comes to Finnish cities, Helsinki hogs most of the spotlight. But for over 500 years, Turku was Finland's most important centre. Then, in the 19th century, the Russians stripped Turku of its status, moving the capital to Helsinki.
A decade later, a massive fire dealt another blow to its status as a major city. Today, Turku remains a major centre in Finland. From castles to art galleries, there is much to see here.
Come check out our Turku travel guide as we cover the best things to do in Turku, Finland.
Top Attractions
Begin your trip to Turku by checking out Turku Castle. Local authorities built this fortification in the late 13th century to protect the surrounding area. It saw action decades later, as its defenders failed to prevent an invasion from what is now Russia.
Despite this, the structure managed to survive the encounter unscathed. In the ensuing centuries, it became a centre of local politics. Today, it is Finland's oldest surviving structure from medieval times. Every year, 200,000 people pay this grand castle a visit.
It helps that many literary works, and more recently, films have paid homage to this place. As such, you'll have plenty of company during peak season. As beautiful as all its chambers are, taking a guided tour will add much depth to your visit. Offered in English, your guides will offer knowledge that will breathe life and context into this castle's walls.
The entrance fee is 11 Euros. Considering that castles elsewhere in Europe often charge more, this is a great deal. Allow a minimum of three hours so you can make the most of your visit.
See how life was in Finland in past centuries with a visit to the Luostarinmäki Handicrafts Museum. This open-air, living history museum is not like others of its kind. Instead of its creators cobbling it together with relocated buildings, this place was an actual 19th-century neighbourhood.
In 1827, a massive fire consumed much of Turku. Luckily, the flames swept past the neighbourhood of Cloister Hill, sparing it. Ironically, urban planning accomplished what the fire couldn't, as many structures met the wrecking ball in the 20th century.
Fortunately, the intervention of preservationists saved the remainder of Cloister Hill. Thanks to their efforts, 18 wooden structures managed to survive to the present day. As you walk its streets, you'll get to see shoemakers, bakers, postmasters, and others go about their business.
Feel free to roam the streets – however, we recommend taking the guided tour if you don't speak Finnish. This way, you can make the most of the time you spend here. On your way out, have lunch at the cafe – locals swear by their sandwiches!
Learn about the seafaring past of Turku at Forum Marinum. Formed from the merger of two separate maritime museums, it features five main exhibits. As you peruse them, you'll gain a greater appreciation for this city's shipbuilding past, and the boats they built.
Its indoor displays are interesting to take in – however, the ships docked outside are the true highlight. In all, there are no less than 13 boats to look at and/or board. At the end of your visit, have lunch at the on-site restaurant. Admission is 10 Euro, making it an excellent value, especially on a rainy day.
Want to check out the local art scene? Ensure that Aboa Vetus & Ars Nova in on your Turku travel itinerary. This attraction has two parts – Ars Nova shows off contemporary artworks, while Aboa Vetus showcases its medieval streets.
Originally, this place was just going to be an art gallery. However, during its construction, excavators unearthed a trove of items dating back to the Middle Ages. Start by checking out the trendiest works in Finland, then gaze upon what Turku looked like centuries ago.
Other Attractions
Didn't satisfy your art cravings with your visit to Aboa Vetus & Ars Nova? Drop by Turku Art Museum as well! Within, you'll find a wide array of works from the Golden Age of Finnish Art. In its galleries, you'll find over 7,000 pieces which run the gamut from Finnish surrealism to pop art. Afterwards, join local art fans on its terrace, where a cafe serves coffee and alcoholic beverages.
If you have time, check out the Pharmacy Museum and Qwensel House while in Turku. Once the estate of a local pharmacist, it is the oldest wooden building in Turku. An English pamphlet will tell you all about pharmacy in centuries past, as well as the house's furnishings. Do eat at the cafe before leaving – its cakes are to die for!
Have time to explore the islands off Turku? Follow the Archipelago Trail. A popular track for cyclists, this path will take you along the beautiful coastline and through fishing villages. Its churches are particularly stunning. Note that accommodations book up fast, and, after August, many close. Plan well ahead!
Lastly, make room for a visit to Turku Market Hall. Built to move the wet market away from the town square, it continues to host vendors today. Inside this attractive brick building, you'll find everything from traditional (salmon soup) to foreign fare (sushi).