Ulm Travel Guide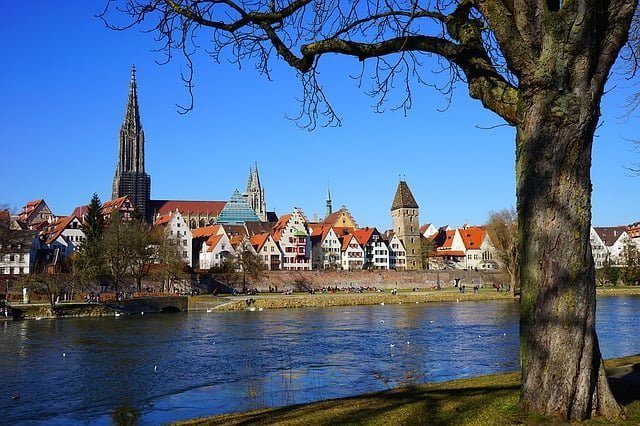 Introduction
As soon as you arrive, the biggest attraction in Ulm is obvious. Home to the world's tallest church, this city occupies a prominent place on Black Forest package tours. However, its Old Town and museums make Ulm worth a stay of at least two days.
Top Attractions
Begin your visit to Ulm by checking out the Ulmer Münster. Dominating the skyline at a vertigo-inducing 530 feet tall, this church is currently the tallest in the world. It has been a fixture here since the 14th century, but it was very nearly lost in World War II. In the conflict, Ulmlost 80% of its medieval centre, but the church escaped mostly unscathed.
Today, its stained glass windows, altar, and organ attract the attention of visitors. However, its greatest attraction is the views from its bell tower. From this perch, you'll enjoy some of the best vantage points in Ulm for photos.
Next, make your way over to the Kloster Wiblingen. Originally, this beautiful building served as a monastery of Benedictine monks from the 11th century. However, by the mid-19th century, the state converted the structure into barracks.
Today, this grand structure serves a number of purposes. First of all, much of the building is now a museum that relays its past. The local Catholic parish operates the church, and the University of Ulm and the city leases out other spaces.
If you're looking for a photogenic building to capture on film in Ulm, check out Ulmer Rathaus. Since the 14th century, the city has run its affairs from this amazing structure. But you don't have to care about local issues to appreciate it. Its astronomic clock, frescoes, and architecture are what attracts tourists.
Long ago, cities like Ulm needed structures like the Ulmer Stadtmauer to protect themselves from marauders. Today, that's no longer a concern. However, it does offer some of the best views of the Danube and the Old Town.
Other Attractions
Ulm has long been a centre for the creation of German-style bread. If you have time in your schedule, learn about that history at Museum Brot und Kunst. This place covers the creation of bread from the dawn of human civilization.
By the end, you'll learn how bread has been commonplace from prehistory to modern times. Exhibits show how this essential food has been made through the ages, and you'll get free samples throughout.
As you make your way through Ulm, you may see a building listing dangerously. Don't panic – the owners of The Leaning House have reinforced the structure. This building traces its origin to the 15th century, but its lean only became noticeable by the 17th century.
Thanks to a botched reno and soil subsidence, the structure listed by 10 degrees. In modern times, new owners took measures to shore up the building. If you dare, you can book a room in what is now a hotel.
If you're touring the Black Forest as a family, placate your kids with a visit to Tiergarten Ulm. This zoo is a bit on the smaller side, but it is a great place to see animals like bears and various reptiles. But that's not all – you'll also find an aviary, an aquarium, and a petting enclosure.
Across from the zoo, unwind in a park that has a well-provisioned playground. While your little ones blow off what energy they have left, admire modern sculptures created by local artists.
Finish off your stay in Ulm by spending a day exploring the Fishermen's Quarter. As you walk the streets here, you'll get to take in timber-framed buildings that have been around for centuries. These structures, which once housed freshwater fishers, are now home to exclusive boutiques and art galleries.
What To Eat
Looking for something local to have for lunch? In many Ulm restaurants, you'll find Kartoffelsalat on the menu. Also known as German potato salad, it consists of sliced potatoes prepared with beef broth, white vinegar, onions, mustard, sugar, and pepper. Topped with chives, this hearty meal will fuel your afternoon adventures.
Not into potato salad? Opt instead for some Schwäbische Maultaschen. This dish traces its origin to 17th-century monasteries. During Lent, leaders forbade monks from consuming meat. The cooks, however, had other ideas. Rather than comply, they created a pasta dish that appeared to be vegetarian.
These pasta dumplings were supposed to contain only spinach. However, within the spinach, cooks secretly inserted balls of meat. Over the years, this meal proved to be so popular, it now has a festival in its honour every Autumn.
End your day on a sweet note by having some Schwarzwälder Kirschtorte. Also known as Black Forest Cake, pastry chefs soak this dark chocolate dessert in brandy to give it a deep, memorable flavour. Don't rush through these slices of heaven!