Vang Vieng Travel Guide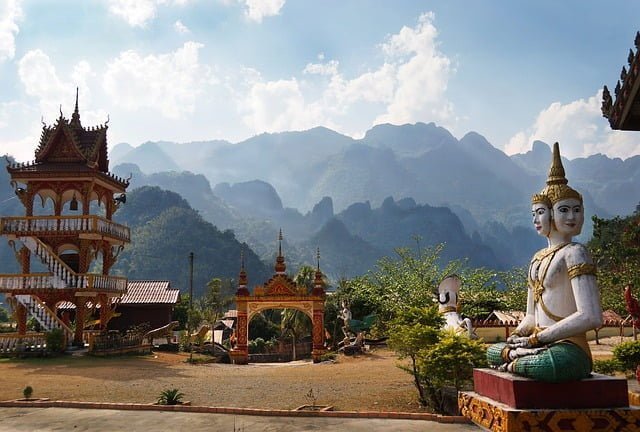 Introduction
In Southeast Asia, the reputation of Vang Vieng is known by backpackers old and young. While it does not boast the party scene it once did, it is still a place with plenty of amazing caves, lagoons, hiking trails, and climbing routes.
Tubing is still a thing but is tightly regulated – despite this, it is still a fun endeavour, and a must-do activity during your visit to this amazing town.
Natural and Cultural Attractions
There's more to the Vang Vieng area than its tubing scene. A number of limestone karsts surround the village – within, you'll find more than a few caverns. Tham Nam Cave is one of the most impressive of these, as its flooded passages attract tubers.
Using a guide rope and a flashlight, you'll get to explore its picturesque interior for an admission fee of only 10,000 kip. Be careful, though – the roof is really low in spots and unforgiving should you knock your head against it.
Want to stay dry during your spelunking adventure? Tham Chang Cave is another popular cavern in the Vang Vieng area. Serving as a place of refuge for villagers during the Laotian Civil War (timelines were similar to the Vietnam War), it caters to outdoor loving tourists in the present day.
Unlike the tight, dark passages of some of the other caves in the area, a considerable portion of Tham Chang's interior is lit up, with flattened pathways making it easy for less adventurous travellers to explore. With excellent views of surrounding rice fields and a swimming hole outside, it is a wonderful place to spend a day.
Looking for a place to spend a chill afternoon? Make plans to visit the Tham Phu Kham Cave and Blue Lagoon. While the cavern is home to a Buddha statue and boasts many spectacular stalactites and stalagmites, it is this attraction's pool which draws the most attention.
Powder blue in colour and cool in temperature (but not cold), it is a great place to have fun if you are in the local party scene. With rope swings and plenty of places to jump off into the refreshing water, spending a day here is a must while in Vang Vieng.
While Vang Vieng isn't exactly a cultural hotspot, it is home to a few Buddhist temples. Wat Kang is the most significant of the lot, as it is home to a number of Buddha idols within its compact footprint.
A Sitting Buddha, several Standing Buddhas, and a Reclining Buddha can be found within, and many of the monks are willing to converse with visitors. Eager to practice their English, you'll have an opportunity to gain some insight into their daily lives – don't miss this opportunity.
Other Attractions
Most travellers who include Vang Vieng on their itineraries are here to go tubing. A special water sports activity made popular in the late 1990s, a party scene grew up around it in time. By the time 2011 came around, the edge of the Nam Song river was lined with bars, each crammed with patrons determined to get as messed up as possible.
With injury and deaths piling up as careless patrons drank themselves into comas or slammed into shallow riverbeds head first while diving, the Laotian government, finally stepped in, imposing a moratorium on tubing on the Nam Song.
After a period of restructuring, the activity was once again permitted, but with fewer bars, no more deadly swings, and regular oversight by government officials. This has returned tubing in Vang Vieng to what it once was – a leisurely float down one of the most beautiful rivers in Laos.
Note well: on top of the charge for renting a tube in town, you are also required to post a 60,000 kip deposit – if you return it by 6 pm, you get your money back, so don't be late!
The abundant karsts in the Vang Vieng area aren't just good for spelunkers – the rock climbing is also excellent. Many guides in town provide all the essential climbing equipment and employ experienced rock scalers who are well versed in safety practices.
With a variety of routes to scale throughout the region, you'll have plenty to challenge you during your stay in Vang Vieng.
After a long day spelunking, climbing, or floating down the Nam Song river on a tube, you'll want to check out this town's nightlife. While its notoriety factor has decreased from the boom days of Vang Vieng, you'll still find a few 'Friends' and 'Family Guy' bars which broadcast these popular shows while travellers nurse the hangover they suffered the night before.
After the sun sets, places like Sakura Bar and Lalaland Bar take over with their experienced staff and DJs, playing tunes deep into the night.
Get one last panoramic photo of the Vang Vieng area by ascending to the crest of Pha Ngern View Point. This is not an easy walk – bring proper shoes and plenty of water. After a strenuous climb, though, you'll come across a sweeping vista of rice fields, karsts, and the Nam Song river that will make your sweat worth it.