Vigan Travel Guide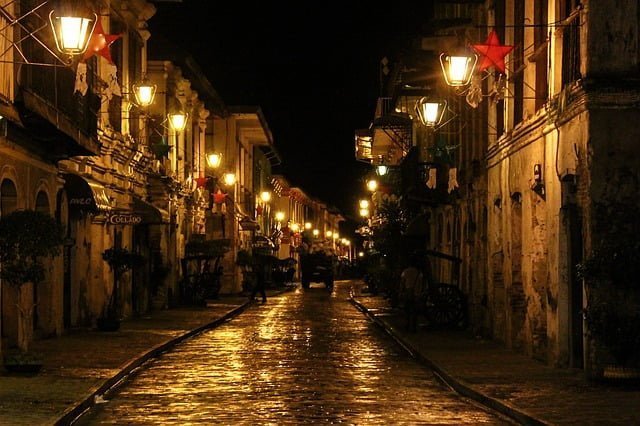 Introduction
Situated in the far north of the island of Luzon, the historic city of Vigan doesn't get as many visits from foreign tourists due to its out of the way location. Given that it has enough Spanish Colonial architecture to warrant recognition from UNESCO, it should find room on your Philippines travel itinerary if you are planning on spending a lot of time on Luzon.
Cultural Attractions
Start your adventures in town by checking out Vigan Cathedral. Around since the dawn of the 19th century, its architecture is a big reason why the Old Town of Vigan has its UNESCO World Heritage Site designation.
Crafted in the Baroque style with Neo-Gothic, Romanesque, and Chinese design elements found throughout, its 82-metre high bell tower and silver panelled altar are stand out highlights. Attend a mass just to hear the choir – just be sure to show up early if you are travelling during Holy Week.
Bantay Church is another Christian hall of worship worth checking out on your visit to Vigan. Completed in 1590, it is the oldest church in town and is best known for its bell tower. Standing tall above the South China Sea it overlooks, it used to serve as a crow's nest for spotting incoming pirates.
These days, tourists climb to its apex to capture amazing panoramic views of the area – if you are afraid of heights, however, its Neo-Gothic and Romanesque architecture will offer plenty of photographic opportunities at a much less scary height.
Check out the home of one of the Philippines' most prominent past politicians by dropping by Syquia Mansion. Within, you'll get to see the beautiful abode that Elpidio Quirino, the sixth president of the Philippines, called home.
His story is a unique one, as he was originally born in prison to a mother who was employed there. As his life progressed, though, he was fortunate enough to marry into a wealthy family (the Syquias). Boosted by their financial reserves and influence, he rose through the ranks before eventually being elected president of the Philippines.
Tour guides are available to show you around this Chinese-style mansion – 100 pesos will give you added background to the antique furniture and other artifacts you'll find lying around this place, so don't hesitate to spend a little cash to enhance your experience here.
Learn more about another of the former leading families of Vigan by spending some time exploring the Crisologo Museum. Housed in the former mansion which used to play host to the Crislogo clan, it is home to the usual assortment of photos, personal effects, and the odd exhibit about local culture.
However, you'll want to be sure to check out the bloody trousers worn by Floro Crisologo when he was assassinated by rivals in 1972, and the convertible Governor Carmeling Crisologo was riding in when she was attacked by gunners in 1961. These two incidents are just two events in a chain of politically motivated violence which has wracked this island nation to the present day.
Other Attractions
Tour some of the most captivating historic buildings in Vigan by taking a stroll down Calle Crisologo. Filled with cobblestones and lined with charming Spanish houses, this pedestrian-only street feels like it could be in Europe if it weren't for the humid tropical air shattering that illusion.
Those looking for unique products made in the Vigan area will not be disappointed, as there are plenty of woven goods, wooden crafts, and food products like chichacorn (a snack unique to Vigan) and vinegar.
Check out some products that are made locally in Vigan by stopping by Pagburnayan during your time in the area. This is a pottery shop located on Calle Crisologo where you can watch as some of the best artisans in town create amazingly elaborate ceramics.
Not only will you get a chance to observe these goods being made, but you will also be able to buy some at the end of your tour if you so desire, so bring plenty of pesos with you.
Watch Vigan pass all around you by taking a break from sightseeing in Plaza Burgos. Built to commemorate the sacrifice of priest Jose Burgos when he dared to defy the colonial Spanish, it is a peaceful place to sit down and eat your lunch as you watch local kids play, and adults relaxing in the beautiful surroundings along with you.
Looking for the perfect way to end your evening? Head over to Plaza Salcedo after dark. Best known for its Dancing Lights that illuminate a beautiful fountain in various colours as soon as the sun sets, it is one of the most popular public gathering spots in the city of Vigan.
While there, be sure to stop by a food cart to try an empanada, a snack food this city has become famous for around the country.