Wurzburg Travel Guide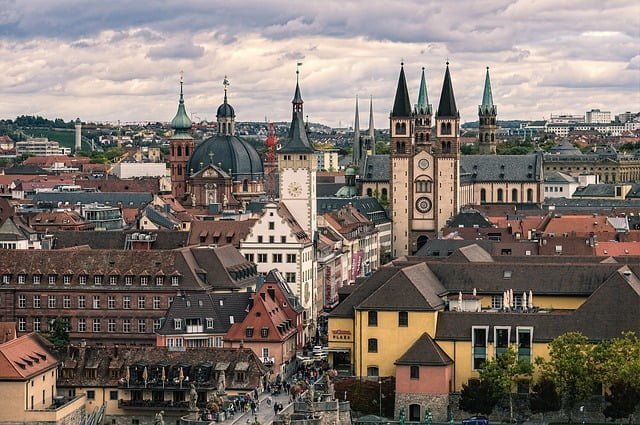 Introduction
Wurzburg is one of the most beautiful and romantic cities in Germany. On top of this, it also has a long history as a centre of culture, defence, and politics. From fortresses to churches, there are many interesting things to see and do in Wurzburg. We'll highlight its best attractions below.
Top Attractions
Begin your visit to Wurzburg by exploring Fortress Marienberg. For five hundred years, this fortification didn't just defend Wurzburg – it also served as a home for prince-bishops. However, by the 18th century, these nobles ditched this fort for cosier digs.
From the 18th century to the Second World War, Fortress Marienberg saw action in numerous conflicts. Today, it is a popular tourist attraction that appeals to history and photography buffs. The second group loves the views of Wurzburg, as well as its photogenic gardens on-site.
After seeing the fortress, make your way down to The Residenz. In the mid-18th-century, the prince-bishops commissioned the building of this palace. The architects brought German, Austrian, and French influences to the project.
The result was a palace with Baroque, Neoclassical, and Rococo highlights. Because of this UNESCO added this attraction to their World Heritage list in 1981. As you tour this grand building, don't miss its ceiling paintings, mirror room, or wine cellar.
Wurzburg has more than its share of amazing churches. Start by paying a visit to St. Kilian Cathedral. This imposing Romanesque structure has been a fixture in this city since the 11th century. As the top church in Wurzburg, the local royal court has laid numerous prince-bishops to rest here.
As impressive as the exterior is, the interior matches it in brilliance. Upon entering, the nave will impress you with the inlaid decorations on its ceiling. In addition to that, make time to take in the main altar. Try to arrive at Noon, as church musicians often play organ music at this time.
Also, try to include Neumuenster in your plans. Like St. Kilian, it also is a Romanesque church that dates to the 11th century. Its main highlight: colourful paintings that line both sides of its nave.
Other Attractions
Still haven't got your fill of churches? If you have extra time while you're in Wurzburg, check out Marienkapelle. Unlike the other churches in this guide, Marienkapelle isn't technically a church – it's a chapel. However, its massive size fools many visitors – Germans among them.
Its star attraction is a pair of statues. In the 15th century, famed sculptor Tilman Riemenschneider crafted a rendition of both Adam & Eve. Today, you'll find Adam & Eve inside Marienkapelle, but they are copies. If you want to see the originals, drop by Museum für Franken.
You'll find Wurzburg in a particularly picturesque corner of Bavaria. Outside the city, there are numerous postcard-perfect towns. Discover them by taking the Romantische Strasse. This route translates to "Romantic Road" in English, as many German newlyweds have toured it on their honeymoon.
Along this 460 kilometre road, you won't just find towns – there are numerous iconic castles as well. Of these, Neuschwanstein Castle is by far the most popular. In any season, this world-famous attraction will give you an amazing hero shot to brag about.
While walking around Wurzburg, don't miss your chance to cross Alte Mainbruecke. Translated in English as Old Man's Bridge, local authorities ordered this span built back in the 12th century. Until 1886, it was the only way to cross the Rhine River.
Today, this Romanesque classic is a popular selfie destination for both locals and tourists. Decorated with statues of angels along its length, it draws favourable comparisons to the Charles Bridge in Prague.
End your trip to Wurzburg by hanging out in Market Square. On evenings and weekends, the people-watching here is great, as cafes line its perimeter. During the holiday season, this space also plays host to the Wurzburg Christmas Market.
What To Eat
Germans know Wurzburg as a great place for beer. While you're here, be sure to grab a pint of Mainfranken Bier. This designation doesn't refer to a single beer, but a method of brewing that has endured since the 15th century. As such, local water and barley crops give these pilseners and lagers their distinct flavour profile.
At dinner, order a bowl of Pichelsteiner. This stew can contain a variety of meats and vegetables. In general, you may find beef, pork, mutton, cabbage, potatoes, and carrots in this hearty meal. Sometimes, you'll also find garlic, onions, and leeks.
If you're looking for a side to go with your Pichelsteiner, get some Serviettenknödel. These are steamed dumplings made with bread, onions, lard, milk, and eggs. Seasoned with salt, pepper, and nutmeg, they're a great companion to stews and soups.