Xiamen Travel Guide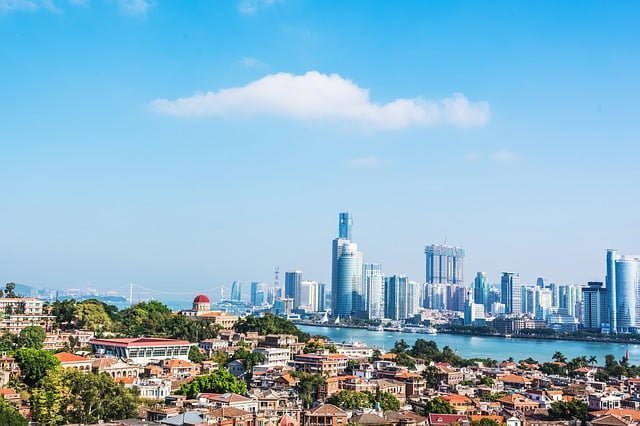 Introduction
A long time port used by western traders to access the Chinese market, Xiamen has maintained its open-door policy with the world, as it now serves as the hub of China's newest airline – Xiamen Airlines.
With a variety of museums, temples, botanical gardens, and more, it is an interesting place to begin your adventures in China.
Come check out our Xiamen travel guide as we cover the best things to do in Xiamen, China.
Top Attractions
Begin your time in Xiamen by touring the exhibits and galleries contained within the Huaijiu Gulangyu Museum. Opened in 2006, this institution chronicles this city's long-standing association with the westernization movement which started during the Qing Dynasty.
Housed within the walls of a former German bank, it contains memorabilia dating back to the times when western powers began to push for formalized trade relations with China. As you walk through this institution, you'll find over 2,000 pieces, including clocks, grand pianos, dinnerware, and all sorts of antique western furniture dating back to the 18th and 19th centuries.
Walk back into Xiamen and southern China by making the South Putuo Temple next on your tour of this city. Originally built during the Tang Dynasty, it was destroyed twice during ancient wars. The most recent reconstruction was during the 17th century, managing to remain standing in the years since.
Covering over 30,000 square metres, this Buddhist complex is made up of four main buildings and contains a number of highlights which make it worth a visit. In one of the pavilions, you'll find statues of the Buddha which have been imported from Burma, scriptures, and other artworks related to this Eastern religion.
While Xiamen was undergoing modernization during the 19th century, part of its re-imagining involved the shoring up of its defences to stand up to the threats posed by the technology of the day. The end result of these preparations was the Hulishan Canon Platform, a fortification armed to the teeth with powerful guns.
Created to fend off a naval attack, this hilltop fortress is littered with dozens of normal cannons, but as you'll see not long after your arrival, its massive centrepiece was its biggest threat. German built and designed, it was installed to keep up advances in military technology. While it was capable of punching holes in the reinforced steel ships that were dominating naval battles in that time period, it never had to test its might in battle during its operational lifespan.
Together with the pillboxes and barracks, this spot will take up more than an hour of your time, and comes with excellent views of the city of Xiamen.
Captivated by Chinese calligraphy? Make time during your visit to Xiamen to drop by the International Lettering Museum. While people in Western cultures view the alphabet as a utilitarian way to communicate, the Chinese have treated theirs like an art form, crafting its thousands of symbols with a unique flair.
Here, you'll get to see the take of numerous artists from across China on their own alphabet – for only 10 Yuan (roughly $1.50), it is definitely worth a look.
Other Attractions
Situated in the subtropics, the city of Xiamen has a climate and the soil needed to support a wide variety of plant life. Visiting the Xiamen Botanical Garden will give you an idea of what is possible here, as it sprawls over 4.5 square kilometres.
Highlights include gardens which show off fir trees, cacti, roses, and a bevvy of flowers, as well as granite outcroppings containing the sayings of well-regarded Chinese philosophers.
Have you still not had your fill of greenery during your visit to Xiamen? Make the Shuzhuang Garden your next stop on your tour of this city. Situated on Gulang Island, this park shows off several popular Chinese gardening techniques, combining lakes, waterfalls, hills, and ocean views to create an experience you won't soon forget.
If you are travelling with kids, don't miss the Twelve Cave Paradise, as this series of small caverns have been connected to each other and have been refurbished to create an environment conducive to creative play.
Relax after a long day of sightseeing in Xiamen by spending an evening shopping, dining, and drinking along Zhongshan Road Pedestrian Street. Throughout its kilometre-long length, you'll find plenty of street food stalls serving local Hokkien food, a mix of shops dating back to previous generations as well as those offering more modern concepts, and no shortage of tea houses.
After all that walking around Xiamen, your muscles are bound to be sore. Let all of that tension melt away in a steamy pool of mineral water at Riyuegu Hot Springs Resort. Bubbling out of the ground for centuries, it was only a matter of time before this resource was developed for the good of the people.
Linked to the ferry terminal by a free shuttle bus, you owe it to yourself to visit this delightful spot during your trip to Xiamen.