Yazd Travel Guide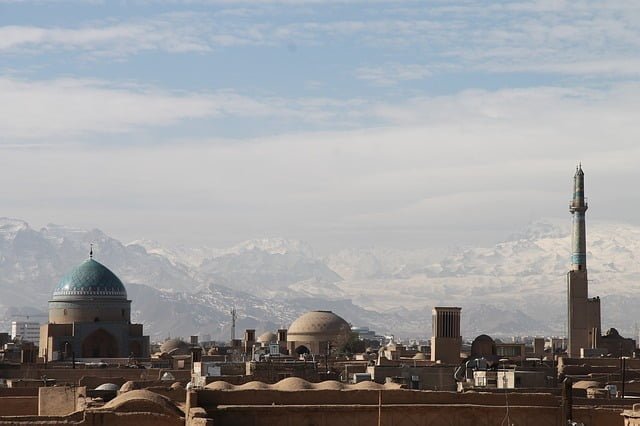 Introduction
Yazd is a stunning desert city situated almost 700 kilometres southeast of Tehran. Visiting is an experience in itself, as its adobe mud homes blend in with the surrounding landscape.
As a centre of Zoroastrianism, this place is worth a visit by those interested in this obscure religion.
Come check out our Yazd travel guide as we cover the best things to do in Yazd, Iran.
Top Attractions
Start your visit to Yazd with a trip to its Zoroastrian Fire Temple. Inside its inner sanctum, a flame has burned for over 1,500 years. However, this hall of worship has only been around since 1934 – the faithful transferred the fire from other temples in the region. It was originally started by Sassanian Shah in the 5th century in the Pars Karyan Fire Temple. Since then, it had three different homes before finding its current home.
Religious authorities only lifted the prohibition on non-believers in 1960. Even still, note you will only be able to view the flame through a window. Only practising Zoroastrians can enter the chamber.
Learn about Zoroastrian customs surrounding death by visiting the Towers of Silence. You'll find these concentric stone towers on the outskirts of Yazd. Zoroastrianism considers human corpses to be at risk of demonic possession.
To purify these remains, they placed them atop "towers of silence". Here, vultures and the bright sun would cleanse the bodies, leaving behind hygienic bones. These remains were then collected and taken to ossuaries. The practice only stopped in the 1970s, when the government of the day banned it. Devout Zoroastrians adapted by coating graves in concrete to avoid corpse contact with the sacred earth.
The hike up to these landmarks can be difficult for those out of shape. However, not only is this place culturally significant, it offers awesome photo ops over Yazd.
Back in town, make sure The Jameh Mosque of Yazd is next on your list. The beauty of this prominent Shia mosque landed it on the 200 rial note, so try not to miss it. Ala'oddoleh Garshasb, a ruler from the Al-e Bouyeh dynasty, ordered its construction in the 12th century.
Architects punctuated its design with a pair of stunning minarets. Standing 52 metres high, they are the tallest of any masjid in Iran. Everywhere you go, tiles in alternating shades of light and deep blue will dazzle the senses. Of particular note is the Mihrab, an edifice which indicates the direction of Mecca. Its intricate tilework and recessed nature make it stand out from others, so don't forget to check it out.
No matter where you live, water is life. Without a consistent supply, civilization is not possible. Yazd was able to rise from the desert, despite getting next to no rainfall. Its Water Museum shows how engineers took advantage of underground aquifers to supply H20 to city residents.
Called qanats, they created underground channels that supplied water starting 2,000 years ago. The museum, located in a mansion in Yazd, shows why the rich lived in the hills. It wasn't for the view – it was for the cleanest water and to get the best pressure. Distribution centres in the city sold water to everyday people. Authorities fitted the taps with "water clocks". A bowl with a hole in its base, it allowed sellers to measure 15 minutes of H20 for sale.
Other Attractions
After finishing the major sights, take a day to lazily wander through the Old City of Yazd. As you stroll through its narrow lanes, you'll see curious chimneys sticking up from the adobe homes. These are wind towers – in short, they capture wind, sending it down into buildings, cooling them naturally.
In the centre, you'll find many artisans, atmospheric hotels, and generations-old tea houses. Wander from one to the next without a care, so you can take in the feel of this place.
If you plan on extending your stay in Yazd, make room in your schedule to check out the Amir Chakhmagh. This complex includes a mosque, a caravanserai (inn for travellers), and a bathhouse, among other things.
Although many associate these centres with Iran's Silk Road past, it hosted unexpected guests in recent years as well. The Iran-Iraq & Afghan Wars sent streams of refugees into Iran – some settled here in Yazd.
There's nothing more striking than greenery set against the austerity of a desert. That's what you'll get to see at the Dolat Abad Garden. Once the private reserve of Karim Khan Zand, a Persian nobleman, it is now open to the public.
Here, you'll find a magnificent reflecting pool surrounded by flower beds, fruit-bearing orange and pomegranate trees, and tall evergreens. Take your time – the dusty streets of Yazd can wait a little longer.
Finally, take time to plan a day trip out to the ghost village of Kharanagh. Until just a decade ago, families inhabited these adobe buildings. Its current state reminds us of how fast urbanization is transforming society. Lured by jobs in the city, the current generation has left the country life behind.
It is like a miniature Yazd but without the people. Enjoy the peace of the countryside, but respect the properties here, as locals still visit them.