Ah, Austria! The very mention of its name conjures up images of towering snow-capped peaks, the romantic melodies of Mozart, Strauss, and Haydn, and grandiose palaces reminiscent of a time when emperors and empresses ruled vast territories. Austria, a landlocked gem in the heart of Europe, is a harmonious blend of the historical and the contemporary, the natural and the cultivated. It is a country where old-world charm coexists seamlessly with modern vibrancy. Embarking on a journey here is like diving into a tale that unfolds the intricate tapestry of Europe's cultural, historical, and natural lineage.
Geographical Allure
Austria's terrain is predominantly alpine, and it's this mountainous landscape that has drawn visitors for centuries. Nestled within the imposing folds of the Alps, you'll find verdant valleys, pristine lakes, and forests so dense they seem to whisper secrets of legends gone by. Regions such as Tyrol and Salzburg are not just winter havens for skiers and snowboarders; they're year-round destinations with hiking trails that promise breathtaking panoramas, and quaint villages where traditions still hold strong.
Historical Tapestry
Austria's history is one of empires, artists, and revolutionaries. Vienna, its capital, was once the epicenter of the mighty Habsburg Empire which stretched across much of Europe. As you wander the city's cobbled streets, you're walking in the footsteps of emperors and empresses, composers, and painters. Majestic structures such as the Hofburg and Schönbrunn Palaces, the State Opera, and Belvedere Palace stand as testimony to a bygone era of splendor and magnificence.
Beyond Vienna, cities like Salzburg, birthplace of Mozart and the backdrop for the iconic film 'The Sound of Music', and Graz, with its blend of Renaissance and Baroque architecture, offer glimpses into Austria's rich tapestry of history and culture.
Cultural Mélange
It's impossible to speak of Austria without mentioning its deep-rooted musical traditions. Often referred to as the 'Land of Music', Austria has given the world some of its most celebrated composers. Classical music festivals, operatic performances, and waltzing balls continue to be an integral part of the Austrian way of life.
But music is just one facet. Austrian literature, art, and even culinary traditions (think sachertorte and schnitzel) are equally rich and influential. The country's coffee house culture, a UNESCO intangible cultural heritage, is not just about sipping coffee but an age-old tradition of socializing, reading, and discussing the pressing issues of the day.
Nature's Bounty
For the nature enthusiast, Austria is a veritable paradise. National parks such as Gesäuse and Donau-Auen offer unparalleled experiences of Europe's diverse flora and fauna. The Danube River, Europe's second-longest, meanders through picturesque towns, vineyards, and castles, offering some of the continent's most scenic cycling routes. And for those who seek tranquillity, the serene beauty of lakes like Wolfgangsee or Neusiedler See is just the remedy.
Austria, though geographically modest in size, is grand in its offerings. It beckons with the promise of unforgettable experiences, whether they be in the embrace of its natural wonders, the corridors of its historical landmarks, or the very soul of its vibrant cultural life. Every journey here is a passage through time, a symphony of sights and sounds, and an ode to the enduring spirit of European civilization. Welcome to Austria – where every visit is a story waiting to be discovered.
Austria Country Guide: A Brief History Of Austria
Early Beginnings (500 BC – AD 800)
Austria's history stretches back to ancient times. The Celtic kingdom of Noricum, known for its ironworks and metal trade, was the earliest recorded civilization in the region. By 15 BC, the Romans, always expanding their vast empire, annexed Noricum. The region then became a province, with the town of Vindobona, present-day Vienna, becoming an important military base.
The Middle Ages (800-1278)
After the fall of the Western Roman Empire, the region witnessed a series of migrations and invasions, including by the Huns and the Lombards. By the 8th century, the territory that would become Austria was incorporated into the Carolingian Empire.
The term "Ostarrichi" (Eastern Kingdom) first appeared in an official document in AD 996, from which the name Austria is derived. This period also saw the rise of the Babenberg Dynasty, which ruled the region until the mid-13th century.
Habsburg Dynasty (1278-1918)
In 1278, the Habsburgs came to power, marking the beginning of a 640-year reign that would shape Austria's identity. Under the Habsburgs, Austria transformed from a duchy to an archduchy and then to the center of the Holy Roman Empire.
The 16th century witnessed a series of Ottoman-Habsburg wars as the Ottomans sought to expand into Europe. Austria successfully resisted, further solidifying its power. The subsequent centuries were marked by religious tensions, most notably the Thirty Years' War, which was partly rooted in the Catholic-Protestant divide.
The 18th century brought the illustrious reigns of Maria Theresa and her son Joseph II, who introduced various reforms. This period also saw the development of the Austro-Hungarian Empire, a dual monarchy system in Central Europe.
The 19th century was one of upheaval, with the forces of nationalism and liberal revolution sweeping across Europe. The Austro-Prussian War of 1866 weakened Austria's standing, but it rebounded with the Compromise of 1867, giving rise to the Austro-Hungarian Empire.
World War I signaled the end of this empire. The assassination of Archduke Franz Ferdinand in Sarajevo in 1914 is often cited as the catalyst for the war. By its end in 1918, the empire had disintegrated.
Interwar Period and World War II (1918-1945)
Post-WWI Austria was declared a republic, known as the First Republic. However, economic hardships and political unrest, coupled with the rise of Nazi ideology in neighboring Germany, paved the way for the Anschluss in 1938, where Austria was annexed into Nazi Germany.
During WWII, Austria was both a battleground and an accomplice, given its incorporation into the Third Reich. The country was liberated in 1945 by the Allied forces and was subsequently divided into zones of occupation by the US, UK, France, and the Soviet Union.
Post-War Era to Present
The State Treaty of 1955 ended the Allied occupation, reestablishing Austria as a sovereign state and declaring its perpetual neutrality. This neutrality played a key role during the Cold War, with Vienna serving as a diplomatic hub.
In recent decades, Austria has undergone significant transformations. It joined the European Union in 1995, adopting the Euro in 1999. While its history is complex, today's Austria is known for its stability, prosperity, and as a center for art, culture, and diplomacy.
A visit to Austria is akin to walking through the pages of a European history book. From its Roman roots, through the golden age of the Habsburgs, the tumultuous 20th century, and into its contemporary role in European affairs, the echoes of the past are ever-present. For the visitor, understanding this history adds immeasurable depth and appreciation to the Austrian experience.
Austria Top Attractions: Best Places to Visit in Austria
With two thirds of this Central European nation nestled within the snow-capped confines of the European Alps, Austria is a mountain and outdoors lovers dream. By summer, hikers scour the lofty heights that can be found in great abundance here, and the winter season has many of those same people, gliding down these heights with reckless abandon.
Not all of Austria is defined by these rocky peaks though, as the capital city of Vienna lie in the flatter lands to the east, with a rich, sophisticated culture forming the second prong that rounds out the appeal of this nation to visitors from abroad. Demographically, Austria is a Germanic nation, with most citizens speaking Deutsch (German in German), so those brushing up on this language for an extended visit in neighboring Germany will be able to leave their Google translator in their pocket during their time in Austria.
Overall, those looking for a well-rounded experience during their trip through Europe would be crazy to leave this country off their itinerary, as it has something in store for nature lovers, urbanites, and culture hounds alike.
Currency: Euro
Languages: German
Starting out in the deeply cultural Austrian capital of Vienna, the one sight you need to spend time in before departing for the mountains is Schönbrunn Palace. This massive former summer residence of the Austrian royal family is both known for its immense beauty in terms of its baroque architecture and the extensive gardens, and its overwhelming decadence, as this gargantuan palace has no less than 1,441 rooms. Those looking to enjoy classical music while in Vienna can do it here as well, as concerts are put on here on a regular basis, making use of its spectacular ornate halls contained within.
Other Cultural Attractions: Trip to Austria
Heading on to Salzburg, the mountains surrounding this charming Austrian city will be the first thing that you will notice about this place, but culturally-attuned travelers should know that Salzburg is the birthplace of one of the greatest composers in human history. As such, you should take time to stop by Mozarts Geburtshaus, the birth place and the house where Mozart grew up during his childhood. Because of this, it has been transformed into a museum of all things Mozart, as it contains musical instruments, letters that we wrote over the years, and exhibits detailing his love of opera.
Those interested in religious sites should make sure to make a trip to the Mariazell Basilica in Mariazell. A popular pilgrimage destination for Roman Catholics, the highlight of this church is a wooden image of the Virgin Mary that has been said to cure medical conditions, and apparently, caused a large boulder blocking the path of a minister to be obliterated in the days before the basilica existed (it was that occurrence that allegedly led to the building of the shrine in the first place).
At this point you might be saying, "Enough with the culture!", as you can't bear to look at the mountains and not be in them any longer. If this is you, then beating a path to High Mountain National Park should be the first thing you do. With over 1,000 kilometers of trails, summer time is a joyous time to be there, as these routes will take you through high alpine terrain featuring glaciers, steep rock walls that will tempt avid rock climbers, and brilliantly colored meadows filled with countless varieties of flowers.
Finally, if your visit has you traveling through Austria during the winter months, taking time to strap on a board or planks at one of Austria's various world class winter resorts will yield you a day filled with fun and excitement. While there are many hills and mountain resorts to choose from, St. Anton and Zell Am See are considered by many reviewers to be among the best options for those beset by indecision. Those with experience should choose the former, as its steep pistes and abundant snow will make for tons of action packed runs, while those intimidated by narrow runs and precipitous drops will find Zell Am See to be the better choice, as it has a better selection of more gradually sloped gradients.

source: Samuel and Audrey on YouTube
What To Eat in Austria For Visitors
Being located in the area of Europe influenced by Germany, many dishes commonly found in Austria can be found in its bigger brother to the north and west. One dish that is relatively distinctive in Austria however is Tafelspitz, a main dish that is comprised of beef boiled in broth containing root vegetables and various spices. Served with horseradish, this main plate has had a loyal following over the years, most prominent of which was none other than Franz Joesph I, emperor of Austria during the early 20th century.
Well loved in Germany, but originating in Austria is Wiener Schnitzel, which is a boneless cut of meat that has been pounded flat with a mallet, then breaded and deep fried in a pan filled with grease (so that it can "swim" around in it) until it reaches its characteristic golden and crunchy disposition.
If you're not done clogging your arteries, then moving on to dessert will undoubtedly finish the job. There are many calorie-laden temptations that sing a siren song to you, imploring you to cheat on your diet with them, but none quite compares to the Apfelstrudel (Apple Strudel in English).
This pastry combines cooked tart apple slices with raisins, sugar, cinnamon, and bread crumbs together in a thin pastry shell to create a delectable experience that will have you reaching for the next one before you've barely had the chance to swallow the remains of the first. The coup de grace of this dessert: some versions are served topped with ice cream, whipped cream and vanilla sauce. If this ends up killing you, it will be a beautiful death indeed!

source: touropia on YouTube
Top 101 Things To Do in Austria For Visitors
Here is a complete list of 101 things to do in Austria:

source: Samuel and Audrey on YouTube
Vienna
Schönbrunn Palace: Walk through the opulent rooms of this Habsburg summer palace and stroll in its vast gardens.
Belvedere Palace: Admire the Baroque architecture and explore its art collection, especially Gustav Klimt's "The Kiss."
Vienna State Opera: Attend an opera or ballet performance in this world-renowned venue.
St. Stephen's Cathedral: Marvel at the Gothic architecture and ascend its tower for a panoramic view.
The Hofburg: Explore the imperial winter residence, which today serves as the official residence of the Austrian President.
MuseumsQuartier: Experience contemporary art and culture in this buzzing complex.
Naschmarkt: Shop for fresh produce and indulge in local and international delicacies.
Attend a Viennese Ball: Experience a waltz dance in its birthplace.
Vienna's Coffeehouses: Unwind in iconic coffeehouses like Café Central or Café Sacher.
Prater Amusement Park: Ride the Giant Ferris Wheel and enjoy other attractions.

source: Samuel and Audrey on YouTube
Salzburg
Hohensalzburg Fortress: Overlook the city from this 11th-century fortress.
Mozart's Birthplace: Visit the home where the legendary composer was born.
Mirabell Palace and Gardens: Wander through the Baroque gardens and palace.
Salzburg Cathedral: Admire its splendid interiors and historical significance.
Hellbrunn Palace: Witness the playful water games and explore its expansive gardens.
Salzburg Festival: Attend this renowned music and drama festival.
Getreidegasse: Shop in this historic street known for its unique signages.
St. Peter's Abbey: Explore one of the oldest monasteries in the German-speaking world.
The Sound of Music Tour: Relive scenes from the iconic movie.
Salzburger Nockerl: Try this sweet soufflé, a culinary specialty of Salzburg.

source: Samuel and Audrey on YouTube
Tyrol
Innsbruck's Golden Roof: See the city's most famous landmark.
Swarovski Crystal Worlds: Delight in the shimmering exhibitions.
Ski in Kitzbühel: Enjoy one of the world's most famous ski resorts.
Alpine Zoo: Meet the animals of the Alpine region.
Grossglockner High Alpine Road: Drive this scenic route for stunning mountain vistas.
Nordkette: Ride the funicular and cable car for panoramic views.
Ambras Castle: Explore the Renaissance castle and its fascinating collections.
Tyrolean Folk Shows: Experience local music, dance, and yodeling.
Zillertal Valley: Hike, ski, or just enjoy the beauty.
Stubai Glacier: Go skiing or snowboarding even in the summer.
Styria
Graz Old Town: Wander through this UNESCO World Heritage site.
Eggenberg Palace: Visit this Baroque palace with its lovely gardens.
Green Lake: Experience this natural wonder which fills up annually.
Schlossberg: Ascend the hill for views of Graz and see the clock tower.
Styrian Wine Routes: Sip local wines and enjoy the scenery.
Thermal Spas: Relax in Bad Blumau or other thermal baths.
Zotter Chocolate Factory: Delight in a chocolate tasting tour.
Dachstein Sky Walk: Experience breathtaking views on this observation platform.
Riegersburg Castle: Visit this medieval fortress and learn about witch trials.
Murinsel in Graz: Discover this artificial floating island.
Carinthia
Wörthersee: Enjoy the lake's blue-green waters and surrounding attractions.
Hochosterwitz Castle: Climb to this hilltop medieval fortress.
Minimundus: Visit the miniature world.
Pyramidenkogel Observation Tower: Ascend the world's tallest wooden observation tower.
Nockalm Road: Drive this panoramic route.
Grossglockner: Hike Austria's highest mountain.
Magdalensberg: Explore archaeological sites and enjoy panoramic views.
Terra Mystica: Venture into a mine and learn about its history.
Villach Carnival: Experience Austria's traditional carnival festivities.
Ossiacher See: Relax, swim, or paddleboard on this serene lake.
Lower Austria
Wachau Valley: Explore this picturesque UNESCO-listed stretch along the Danube, known for its vineyards.
Melk Abbey: Tour this stunning Benedictine abbey overlooking the Danube.
Krems: Visit this charming town and its medieval architecture.
Ruin of Aggstein: Explore the remnants of this historic castle.
Dürnstein: Wander through the town where Richard the Lionheart was once imprisoned.
Loisium Wine & Spa Resort: Indulge in wine-themed treatments.
Schallaburg Castle: Attend exhibitions in this Renaissance masterpiece.
Carnuntum: Experience Roman history in this archaeological park.
Grafenegg Castle: Attend music festivals and concerts in its grounds.
Lunz am See: Relish the tranquil beauty of this Alpine lake.
Burgenland
Neusiedler See: Europe's largest steppe lake, ideal for bird watching and sailing.
Esterházy Palace: Marvel at the grandeur of this Baroque palace.
Forchtenstein Castle: Discover the treasures and stories of this medieval fortress.
Opera Festival St. Margarethen: Enjoy opera performances in a Roman quarry.
Pannonian Salt Lakes: Bathe in therapeutic waters.
Rust: Visit this town known for its storks and wine.
Liszt Festival Raiding: Celebrate the music of Franz Liszt.
Sonnenland Camel Theatre: Experience unique camel performances.
Mörbisch Lake Festival: Attend musicals on a floating stage.
Bike around Lake Neusiedl: Explore the scenic lakeside.
Upper Austria
Linz: Wander around the capital, especially the Hauptplatz and Old Cathedral.
Hallstatt: Explore the picturesque lakeside village.
Dachstein Ice Caves: Discover the wonders inside the mountain.
Ars Electronica Center: Dive into the world of art, technology, and society.
Gmunden: Visit this charming town on the Traunsee lake.
Mauthausen Concentration Camp: Learn about WWII history.
Höllengebirge: Hike in this limestone mountain range.
St. Florian Monastery: Experience the majesty of Austria's largest monastery.
Göstling Alpine Spa: Relax in natural hot springs surrounded by Alpine beauty.
Freistadt: Walk through this medieval town, known for its preserved walls and towers.
Kremsmünster Abbey: Marvel at the centuries-old monastery and its astronomical observatory.
Tree-Top Walk in Kopfing: Experience nature from an elevated perspective in the Baumkronenweg.
Vorarlberg
Bregenz: Explore the capital city, known for its lake-stage performances at the Bregenz Festival.
Vorarlberg Museum: Dive deep into the region's history and culture.
Pfänder Mountain: Take a cable car to the summit for panoramic views of Lake Constance.
Silvretta High Alpine Road: Drive one of the most scenic routes in Austria.
Kunsthaus Bregenz: Visit this architectural masterpiece that showcases contemporary art.
Arlberg: Ski or hike in one of the world's premier mountain resorts.
The Rolls-Royce Museum: Admire the world's largest collection of Rolls-Royce cars in Dornbirn.
Montafon Valley: Enjoy outdoor activities, from skiing to mountain biking.
Vineyards and Wineries
Heiligenstein in Kamptal: Sample Rieslings from this esteemed vineyard.
Sepp Moser Winery: Taste biodynamic wines in Rohrendorf.
Domaine Wachau: Explore one of Austria's most renowned wine co-operatives in Dürnstein.
Adventure and Nature
Zell am See: This beautiful lake town offers skiing, hiking, and a picturesque lake.
Austrian National Parks: Explore Gesäuse or the National Park Hohe Tauern.
Krimml Waterfalls: Marvel at Europe's highest waterfalls.
Wildlife Parks: Visit Alpenzoo in Innsbruck or the Wildpark in Feldkirch.
Grossarler Valley: Known as the Valley of Alpine Meadows, it's perfect for hiking.
Caving in Werfen: Experience the world's largest accessible ice cave, Eisriesenwelt.
Hot Air Ballooning: Drift over scenic Austrian landscapes in the early morning or late afternoon light.
Austria, with its rich tapestry of history, culture, architecture, and natural beauty, offers something for everyone. Whether you're seeking the tranquillity of Alpine meadows, the thrill of winter sports, a dive into the annals of European history, or the sophisticated pleasures of opera, art, and gastronomy, Austria welcomes you with open arms. Each region holds its unique charm, ensuring that every visitor leaves with memories to cherish for a lifetime.

source: Samuel and Audrey on YouTube
What To Eat and Drink in Austria: Austrian Cuisine Guide
Austrian cuisine is a rich blend of imperial decadence and hearty peasant fare. Infused with influences from various European regions, Austrian dishes have a charm of their own. From the decadent cakes of Vienna to the hearty casseroles of Tyrol, let's embark on a culinary journey through Austria.
Appetizers & Snacks
Brettljause: A traditional cold platter usually consisting of cold cuts, cheeses, pickled vegetables, and rye bread, often enjoyed at Austria's many Heurigers (wine taverns).
Belegtes Brot: Open-faced sandwiches topped with various ingredients like ham, pickled cucumbers, or boiled eggs.
Kasnudeln: Carinthian cheese dumplings, akin to ravioli, often filled with a mixture of quark, potatoes, onions, and mint.
Main Courses
Wiener Schnitzel: Perhaps the most famous Austrian dish, it's a breaded and fried veal or pork cutlet. Crispy on the outside, tender inside.
Sacherwurst: Sausages boiled and then optionally grilled or fried, usually served with mustard and fresh bread.
Tafelspitz: Boiled beef served in its broth with horseradish, apple sauce, and roasted potatoes. It was a favorite dish of Emperor Franz Josef.
Gulasch: A spicy stew of meat and onions, usually seasoned with paprika, influenced by neighboring Hungary.
Selchfleisch: Smoked meat, typically pork, served with sauerkraut and dumplings.
Zwiebelrostbraten: Roast beef topped with crispy fried onions.
Kärntner Laxn: A traditional Carinthian salmon trout dish.
Side Dishes
Erdäpfelsalat: Austrian potato salad seasoned with broth, onions, vinegar, and oil.
Knödel: Dumplings made from bread or potatoes, sometimes filled with sweet or savory mixtures.
Sauerkraut: Fermented cabbage, a staple in many Austrian dishes.
Kartoffelgröstl: A hearty dish made of roasted potatoes, often with bacon and onions, typically topped with a fried egg.

source: Samuel and Audrey on YouTube
Desserts & Sweets
Sachertorte: A decadent chocolate cake with a layer of apricot jam, typically served with unsweetened whipped cream.
Apfelstrudel: Thin pastry rolled with a filling of tart cooking apples, sugar, cinnamon, raisins, and breadcrumbs.
Kaiserschmarrn: A fluffy shredded pancake, named after Emperor (Kaiser) Franz Josef, served with powdered sugar and plum or apple compote.
Palatschinken: Thin crepes filled with jam, chocolate, or sweet cheese.
Marillenknödel: Sweet dumplings filled with apricots or plums, rolled in breadcrumbs and sugar.
Mohnnudeln: Potato noodles with poppy seeds, sugar, and melted butter.
Beverages
Wiener Melange: Similar to a cappuccino, it's espresso with steamed milk and froth.
Almdudler: A popular soft drink made of grape and apple juice concentrate with herbal extracts.
Schnapps: A strong spirit, typically fruit-branded, often enjoyed after a meal.
Grüner Veltliner & Zweigelt: Among Austria's most popular white and red wines, respectively.
Sturm: A slightly fermented, semi-sparkling young wine, available in the autumn.
Einspänner: Strong black coffee served with a dollop of whipped cream on top.
Heiße Schokolade: Creamy Austrian hot chocolate, sometimes with a shot of rum or brandy.
Street Foods and Delicacies
Leberkäsesemmel: Essentially a meatloaf sandwich. A thick slice of Leberkäse (which doesn't actually contain liver despite its name) is placed inside a semmel (roll), often served with mustard.
Würstelstand: Literally translating to "sausage stand", these are ubiquitous in Austrian cities, especially Vienna. They serve a variety of sausages, including Frankfurter, Käsekrainer (filled with cheese), and Currywurst.
Bosna: A spicy bratwurst with onions in a bread roll, primarily found in Salzburg.
Langos: Fried dough, of Hungarian origin, often topped with garlic, cheese, and sour cream.
Dairy and Cheeses
Heumilchkäse: A cheese made from hay-milk, found mainly in the Alpine regions.
Bergkäse: Literally 'mountain cheese', it's aged for several months and has a firm texture.
Topfen: Also known as Quark in other countries, it's a type of fresh dairy product often used in desserts and fillings.
Buttermilch: Buttermilk, often enjoyed as a refreshing drink.
Vegetarian Delights
Spinatknödel: Spinach dumplings, often served with melted butter and Parmesan.
Kartoffelkas: A spread made from mashed potatoes, onions, and various seasonings.
Eierschwammerlgulasch: A 'goulash' made from chanterelle mushrooms, it's a delightful vegetarian alternative to the meaty version.
Festive Foods
Martinsgans: Roast goose traditionally eaten on St. Martin's Day.
Vanillekipferl: Crescent-shaped vanilla cookies, popular during Christmas.
Stollen: A dense, fruit-filled loaf, often eaten during the Christmas season.
Faschingskrapfen: Doughnuts filled with apricot jam, traditionally consumed during the carnival season.
Traditional Austrian Bakeries
Bauernbrot: A dense and crusty farmer's bread, usually made from rye and sourdough.
Mohnflesserl: A braided bread roll with poppy seeds.
Buchteln: Sweet rolls filled with jam, often served warm with vanilla sauce.

source: Samuel and Audrey on YouTube
Local Markets & Ingredients
Naschmarkt in Vienna: Austria's most famous market, where you can find a variety of fresh produce, spices, and international foods.
Styrian Pumpkin Seeds: These are larger and richer than regular pumpkin seeds and are the source of the region's famous pumpkin seed oil.
Mountain Herbs: Collected from the Alpine meadows, these herbs are known for their potency and are often used in teas and medicinal preparations.
Traditional Austrian Dining Etiquettes
Gemütlichkeit: This word embodies the warm, cozy feeling Austrians cherish, especially during meals.
Toast by looking in the eyes: When clinking glasses in Austria, it's polite to make eye contact.
Cutting Dumplings: Use the side of your fork rather than a knife. It's the traditional way.
Say "Mahlzeit" before eating: It's a way to wish someone a good meal.
Austrian cuisine is an enticing blend of traditions, flavors, and techniques. Whether you're nestled in a cozy Viennese cafe savoring a slice of Sachertorte, or high up in the Alps enjoying a hearty Brettljause after a hike, Austrian food has the power to create lasting memories. So, immerse yourself in the delectable world of Austrian gastronomy and let every bite or sip transport you to the heart of Europe.

source: Samuel and Audrey on YouTube
Top Restaurants In Austria: Austrian Food Guide
Austria, with its illustrious history, alpine landscapes, and rich cultural heritage, is also a powerhouse when it comes to gastronomy. Austrian cuisine has transcended beyond Wiener Schnitzel and Sachertorte. Modern Austrian cuisine is a symphony of flavors, textures, and techniques. The country's top restaurants perfectly balance tradition and innovation, offering a culinary experience par excellence. Here are some of the best places to eat in Austria:
Steirereck (Vienna):

Overview: Nestled in Stadtpark, Steirereck is a family-run establishment that frequently ranks among the world's top 50 restaurants.
Cuisine: Modern Austrian, with a focus on local, rare ingredients.
Signature Dish: Char with beeswax, yellow carrot 'Pollenta', and sour cream.

Konstantin Filippou (Vienna):

Overview: Chef Konstantin's dual Austrian and Greek heritage shines in his creations.
Cuisine: A blend of Austrian and Mediterranean.
Signature Dish: Oyster with cucumber, wasabi, and dill.

Silvio Nickol Gourmet Restaurant (Vienna):

Overview: Located in Palais Coburg, it boasts an opulent ambiance and offers a sublime dining experience.
Cuisine: Innovative European.
Signature Dish: Pigeon from Bresse with elderflower, green strawberry, and fermented garlic.

Tian (Vienna):

Overview: A rare Michelin-starred vegetarian restaurant.
Cuisine: Vegetarian gourmet.
Signature Dish: Eggplant with miso glaze and Wasabi pea cream.

Landhaus Bacher (Mautern):

Overview: A renowned establishment run by the Bacher family, located near the Danube.
Cuisine: Modern Austrian with international influences.
Signature Dish: Backed pike-perch with artichokes, olive gnocchi, and saffron.

Pfefferschiff (Salzburg):

Overview: Situated in a renovated farmhouse, it offers a quaint, romantic setting.
Cuisine: Classic Austrian with modern touches.
Signature Dish: Deer with elderberries and celeriac.

Restaurant Ikarus (Salzburg):

Overview: Located in Hangar-7, the restaurant hosts a different top international chef each month.
Cuisine: Global, rotating based on the guest chef.
Signature Dish: Changes monthly, reflecting the visiting chef's style.

Obauer (Werfen):

Overview: Helmed by the Obauer brothers, it's a renowned gourmet destination.
Cuisine: Alpine with international techniques.
Signature Dish: Trout with rhubarb and oxalis.

Griggeler Stuba (Oberlech):

Overview: Located in the Burg Vital Resort, this restaurant offers panoramic alpine views.
Cuisine: Modern Alpine.
Signature Dish: Wild salmon with alpine herbs.

Aend (Vienna):
Overview: A modern and intimate spot, Aend has quickly made a name for itself in the culinary world.
Cuisine: Modern European with a twist.
Signature Dish: Mackerel with pickled radishes and horseradish.

source: Samuel and Audrey on YouTube
Beyond Vienna and Salzburg: Culinary Delights Across Regions
Restaurant Simon Taxacher (Kirchberg in Tyrol):
Overview: Located in the Rosengarten hotel, it's the first restaurant in Tyrol to be awarded two Michelin stars.
Cuisine: French-Mediterranean with a Tyrolean twist.
Signature Dish: Brittany lobster with carrot, ginger, and pomelo.
Die Forelle (Weissensee):
Overview: A lakeside gem offering dishes made from freshly caught fish and locally sourced ingredients.
Cuisine: Modern Austrian with an emphasis on fresh fish.
Signature Dish: Weissensee fish in all its variations.
Restaurant Pawlatschen (Pörtschach am Wörthersee):
Overview: Offers a lakeside dining experience with views of the Wörthersee.
Cuisine: Regional Carinthian with a modern touch.
Signature Dish: Carinthian cheese noodles with brown butter.
Esszimmer (Salzburg):
Overview: A unique, intimate dining experience with just a few tables, ensuring personalized service.
Cuisine: Innovative European.
Signature Dish: Veal tartare with imperial caviar and oyster cream.
Taubenkobel (Schützen am Gebirge):
Overview: A rustic yet luxurious setting in a renovated farmhouse.
Cuisine: Avant-garde with a focus on regional ingredients.
Signature Dish: Goose liver with elderflower, apple, and brioche.
Cafes and Patisseries:
Austria, particularly Vienna, is renowned for its coffeehouse culture. These are not just places to sip coffee but to immerse oneself in the soul of Austrian society.
Café Central (Vienna): A historic café that has hosted the likes of Freud and Trotsky, it's a must-visit for its ambiance, coffee, and pastries, especially the Apfelstrudel.
Café Sacher (Vienna): Famous for its Sacher-Torte, a decadent chocolate cake, this café is an epitome of Viennese luxury.
Tomaselli (Salzburg): The oldest café in Salzburg, it offers delicious pastries, especially the Mozarttorte.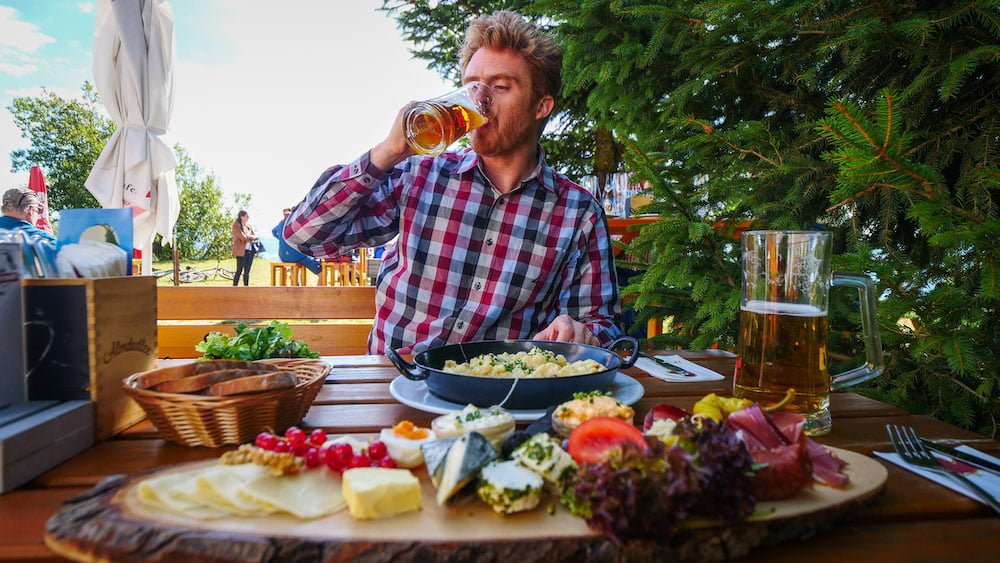 Craft Beers and Breweries:
Austria also boasts a growing craft beer scene, with breweries offering a range of beers from traditional Märzens to IPAs.
Brauerei Hofstetten: Known for reviving ancient beer recipes, including the delicious Granitbock, which is heated using granite stones.
Bevog Brewery: Located in Bad Radkersburg, it offers innovative brews and has garnered attention for its unique flavors and creative labels.
Farm-to-Table & Local Produce:
Many Austrian chefs and restaurants emphasize the farm-to-table approach, ensuring the freshest ingredients possible.
Bio Gasthaus Leibspeis' (Bad Mitterndorf): Focused on organic ingredients, it offers traditional dishes with a modern, health-conscious twist.
Ludwig's (Vienna): Serving dishes made from locally sourced ingredients, they also host events to promote sustainable gastronomy.
Wine and Dine:
Many of these restaurants offer wine pairings, highlighting Austria's rich wine heritage. Regions like Wachau, Burgenland, and Styria produce some of Europe's most refreshing whites and intriguing reds. From the crisp Grüner Veltliner to the robust Blaufränkisch, Austrian wines elevate every dish.
Local and Sustainable:
What's evident in most top Austrian restaurants is a commitment to sustainability and the use of locally-sourced ingredients. Whether it's freshwater fish from Austrian lakes, game from local forests, or vegetables from organic farms, the focus on freshness and quality is unparalleled.
Austria's top restaurants are a testament to its evolving culinary landscape. They reflect a deep respect for tradition while embracing modernity, offering diners a palette of flavors, textures, and experiences that are both familiar and innovative. Whether you're a seasoned gourmand or a curious traveler, Austrian cuisine promises a journey that tantalizes the taste buds and warms the soul.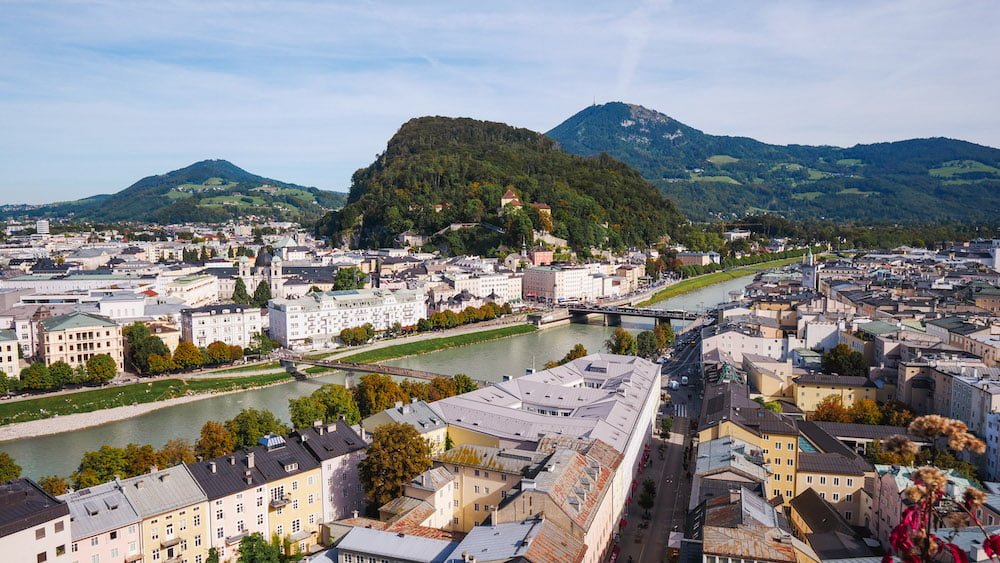 Must-Visit Destinations And Cities in Austria
Austria, nestled in the heart of Europe, offers a blend of natural beauty, historical depth, and cultural richness. From the timeless allure of its cities to the untouched beauty of its countryside, Austria promises diverse and unforgettable experiences. Here's a deep dive into Austria's must-visit destinations and cities:
Vienna (Wien):

Overview: The capital and the largest city, Vienna is the epitome of Austria's imperial grandeur and cultural sophistication.
Highlights: Schönbrunn Palace, Belvedere Palace, Hofburg Imperial Palace, St. Stephen's Cathedral, Vienna State Opera, and the MuseumsQuartier.
Cultural Tip: Spend an afternoon in one of Vienna's iconic coffeehouses, such as Café Central, experiencing the famed "Kaffee und Kuchen" (coffee and cake) tradition.

Salzburg:

Overview: Mozart's birthplace, Salzburg is a Baroque jewel with an enviable setting along the banks of the Salzach River, framed by mountains.
Highlights: Hohensalzburg Fortress, Mirabell Palace and Gardens, Salzburg Cathedral, Mozart's Birthplace, and the Hellbrunn Palace.
Cultural Tip: If visiting in summer, don't miss the Salzburg Festival, a world-class music and drama festival.

Innsbruck:

Overview: The capital of Tyrol, Innsbruck is a historic city with a mountainous backdrop, making it a winter sports haven.
Highlights: The Golden Roof, Hofburg Palace, Court Church, Bergisel Ski Jump, and Nordkette Mountain.
Cultural Tip: Visit during Christmas to experience one of the most enchanting Christmas markets in Europe.

Graz:

Overview: Capital of Styria, Graz combines Renaissance and Baroque architecture with modern design and youthful energy.
Highlights: Graz Old Town, Schlossberg, Eggenberg Palace, Kunsthaus Graz, and the Murinsel.
Cultural Tip: Dive into the culinary scene with a visit to the local farmers' market in the city center.

Linz:

Overview: Situated by the Danube, Linz offers a mix of rich history and a forward-looking approach to arts and technology.
Highlights: Linz Castle, St. Martin's Church (Austria's oldest church), Ars Electronica Center, and the Lentos Art Museum.
Cultural Tip: Taste the Linzer Torte, the world's oldest known cake, in one of Linz's cozy cafes.

Klagenfurt:

Overview: A southern city known for its beautiful old town and proximity to the Woerthersee, one of Europe's largest alpine lakes.
Highlights: Lindwurm Fountain, Klagenfurt Cathedral, Minimundus, and the City Theatre.
Cultural Tip: In summer, indulge in water activities on the Woerthersee or take leisurely lakeside strolls.

Hallstatt:

Overview: A picturesque village on Lake Hallstatt in the Dachstein Alps, it's often termed the most beautiful village in the world.
Highlights: Hallstatt Salt Mines, Dachstein Ice Caves, Hallstatt Museum, and the breathtaking views from the World Heritage Viewpoint.
Cultural Tip: Take a boat ride on the lake for an unparalleled view of Hallstatt against its alpine backdrop.

Bregenz:

Overview: Located on the eastern edge of Lake Constance (Bodensee), Bregenz offers a rich cultural experience coupled with nature's beauty.
Highlights: Bregenz Festival, Pfänder Mountain, Kunsthaus Bregenz, and the Vorarlberg Museum.
Cultural Tip: Attend an opera or play on the floating stage during the Bregenz Festival.

Bad Gastein:

Overview: A spa and ski town set in the High Tauern mountains, known for its Belle Époque buildings and therapeutic waters.
Highlights: Gastein Waterfall, Felsenbad thermal spa, Stubnerkogel suspension bridge, and winter sports facilities.
Cultural Tip: Soak in the thermal baths after a day of skiing or hiking for the perfect relaxation.

Wachau Valley:

Overview: A UNESCO World Heritage site, this is a picturesque stretch along the Danube River, known for its vineyards, medieval towns, and historic landmarks.
Highlights: Melk Abbey, Dürnstein Castle ruins, vineyard tours, and apricot orchards.
Cultural Tip: Sample the region's Grüner Veltliner wines and fresh apricot jams.
Seefeld in Tirol:

Overview: Located on a plateau amid the Wetterstein mountains, Seefeld is a year-round destination, popular for winter sports and summer hikes.
Highlights: Seekirchl church, Wildsee lake, Rosshütte ski resort, and the Seefeld Golf Academy.
Cultural Tip: Visit during the winter for cross-country skiing, as Seefeld is a Nordic skiing mecca.

Zell am See:

Overview: A picturesque town beside Lake Zell, nestled between mountains.
Highlights: Schmittenhöhe Mountain, Kitzsteinhorn Glacier, Pinzgau Local Railway, and St. Hippolyte's Church.
Cultural Tip: Cruise Lake Zell in the summer and explore the snowy slopes of Schmittenhöhe in the winter.

Eisenstadt:

Overview: The capital of Burgenland, Eisenstadt has a rich history influenced by the Esterházy princely family.
Highlights: Esterházy Palace, Bergkirche (Haydn's Church), and the Jewish Museum.
Cultural Tip: Attend a concert during the Haydn Festival, which pays homage to the great composer Joseph Haydn.

Alpbach:

Overview: Often termed Austria's most beautiful village due to its unified architectural style and floral beauty.
Highlights: Alpbach Valley, the Congress Centre (venue for the European Forum Alpbach), and the nearby Wiedersbergerhorn.
Cultural Tip: Join the discussions and events during the European Forum Alpbach, a leading interdisciplinary conference.

St. Anton am Arlberg:

Overview: Renowned as a "cradle of alpine skiing", it's a top destination for winter sports enthusiasts.
Highlights: Valluga Mountain, St. Anton Museum, and the vast skiing area.
Cultural Tip: After skiing, indulge in 'après-ski', the social activities and entertainment following a day on the slopes.

Gmunden:

Overview: A town on Lake Traunsee, surrounded by mountains and known for its ceramics.
Highlights: Gmunden Castle, Town Square with its ceramic bell tower, and Traunsee lake cruises.
Cultural Tip: Purchase some traditional Gmundner Keramik – hand-painted ceramics that have been produced in the town for centuries.

Mariazell:

Overview: Austria's most important pilgrimage site, attracting thousands of pilgrims and visitors annually.
Highlights: Mariazell Basilica, Bürgeralpe mountain, and Hubertus Lake.
Cultural Tip: Taste the famous Mariazeller gingerbread, a regional specialty.

Lienz:

Overview: Capital of East Tyrol, Lienz offers a unique blend of southern flair due to its proximity to Italy.
Highlights: Bruck Castle, Lienz Dolomites, and Aguntum (Roman city remains).
Cultural Tip: Join the locals during the Tyrolean Evening events in the summer for a showcase of local music, dance, and traditions.

Riegersburg:

Overview: Dominated by the imposing Riegersburg Castle, perched atop a volcanic rock.
Highlights: Riegersburg Castle, Zotter Chocolate Factory, and Styrian Volcano Land.
Cultural Tip: Dive into the world of chocolate-making at the Zotter factory, one of the world's best chocolate producers.

Neusiedler See:

Overview: Central Europe's largest endorheic lake, offering vast reed beds and unique birdlife.
Highlights: Rust town with its stork nests, Mörbisch am See (known for its outdoor operetta festival), and Seewinkel National Park.
Cultural Tip: Cycle around the lake, stopping at local vineyards for wine tasting, as the region is known for its excellent red wines.
Austria, often overshadowed by its larger European neighbors, is a tapestry of delightful contrasts. From the bustling boulevards of Vienna, echoing with centuries of music and culture, to the silent peaks of the Alps; from the gentle waves of Lake Constance to the sprawling vineyards of the Wachau Valley, Austria invites visitors to a world where tradition meets modernity, nature complements architecture, and every journey becomes a story.
Off The Beaten Path Destinations And Small Towns in Austria
Austria, often associated with its iconic cities like Vienna and Salzburg, also holds secret treasures in its lesser-known corners. Tucked away between majestic mountains, alpine meadows, and serene lakes, these off-the-beaten-path destinations and small towns beckon travelers looking for a more intimate and authentic Austrian experience.
Gößl:

Overview: A tiny lakeside hamlet located at the southern tip of the Grundlsee lake.
Highlights: Picturesque Grundlsee, nearby Toplitzsee with its sunken treasures, and the Kammersee – Austria's deepest lake.
Travel Tip: Embark on a boat trip to experience the three interconnected lakes and their legends.

Reinegg:

Overview: A secluded village nestled amidst thick woods in Styria.
Highlights: Ancient castle ruins, verdant hiking trails, and a sense of untouched tranquility.
Travel Tip: Ideal for travelers seeking solitude and a connection with nature.

Spitz an der Donau:

Overview: A picturesque town in the heart of the Wachau Valley, yet often overshadowed by its more famous neighbors.
Highlights: Red Gate tower offering panoramic views, Aggstein Castle ruins, and quaint vineyards.
Travel Tip: Visit during grape harvest season to experience the winemaking process and taste the renowned Wachau wines.

Eisenerz:

Overview: Located in Styria, this mining town is surrounded by the Erzberg mountain.
Highlights: Erzberg mine tours, the Leopoldsteiner Lake, and the Eisenerzer Ramsau ski resort.
Travel Tip: The annual Erzbergrodeo is a motorcycle enduro event that attracts adventure enthusiasts from around the world.

Feldkirch:

Overview: Situated near the borders of Switzerland and Liechtenstein, this medieval town has a rich history.
Highlights: Schattenburg Castle, the Wildpark animal preserve, and St. Nikolaus Cathedral.
Travel Tip: Explore the town's cobbled streets and attend the annual Feldkirch Festival, celebrating music and theater.

Mistelbach:

Overview: Located in Lower Austria, Mistelbach is a delightful mix of culture and viniculture.
Highlights: The MZM Museumszentrum, scenic wine trails, and local wine cellars.
Travel Tip: Join a wine tasting session and savor the flavors of the region's unique terroir.

Gmünd:

Overview: Nestled in Lower Austria, Gmünd offers a blend of art and history.
Highlights: The city's fortifications, artist ateliers, and the nearby Blockheide Nature Park with its distinctive stone formations.
Travel Tip: Attend the annual art and handicraft market which showcases regional talents.

Altenmarkt-Zauchensee:

Overview: A dual-season destination located in the Salzburger Sportwelt region.
Highlights: Ski slopes, thermal spas, and hiking trails.
Travel Tip: After a day of skiing, relax in the Therme Amadé spa, which features an Austrian sauna world.

Poysdorf:

Overview: Often termed Austria's Wine City, Poysdorf lies in the Weinviertel region.
Highlights: Wine museum, local taverns, and sprawling vineyards.
Travel Tip: Participate in the local wine festivals and explore the wine-themed walking trails.

Grossgerungs:

Overview: Located in the Waldviertel region, this town has unique geological formations and therapeutic offerings.
Highlights: The "Wackelsteine" – naturally occurring balancing rocks, and the town's health and wellness focus using the region's herbs.
Travel Tip: Engage in a guided herb walk to understand the region's medicinal plants and their uses.
St. Gilgen:

Overview: A lakeside jewel situated on Wolfgangsee, known for its links to Mozart's family.
Highlights: Mozartplatz and Mozart's mother's birth house, Cable car to Zwölferhorn, and boat rides on Wolfgangsee.
Travel Tip: For a panoramic view of the lake and the Alps, hike up the Zwölferhorn mountain.

Mauthausen:

Overview: Historically significant, it's known for the Mauthausen concentration camp, a somber reminder of WWII atrocities.
Highlights: Mauthausen Memorial, picturesque Danube views, and ancient town architecture.
Travel Tip: When visiting the memorial, opt for a guided tour to fully understand the historical context.

Weissenkirchen in der Wachau:

Overview: A wine-growing village nestled in the heart of the Wachau Valley.
Highlights: Historic Teisenhoferhof courtyard, fortified church, and renowned local wineries.
Travel Tip: Explore the vineyards on a bike and stop at the traditional Heurigers (wine taverns) to sample the local wines.

Hohenwerfen Castle, Werfen:

Overview: Perched atop a hill, this castle offers a journey into medieval Austria.
Highlights: Falconry shows, castle tours, and views of the Eisriesenwelt ice caves in the distance.
Travel Tip: Attend the daily bird of prey demonstrations, showcasing the castle's falconry center.

Aggsbach Dorf:

Overview: A quaint village in the Wachau Valley, known for its scenic beauty.
Highlights: Ruine Aggstein (castle ruins) with panoramic views and charming local taverns.
Travel Tip: Visit in spring to witness the apricot blossoms that the Wachau region is famous for.

Kitzbühel:

Overview: Beyond its reputation as a ski hub, Kitzbühel is a medieval town with much to offer year-round.
Highlights: Hahnenkamm ski race, Kitzbüheler Horn, and the town's historic center.
Travel Tip: If visiting in summer, enjoy the numerous hiking and mountain biking trails.

Rattenberg:

Overview: The smallest town in Austria, known for its medieval architecture and glass craftsmanship.
Highlights: Augustinian Museum, glass workshops, and the annual medieval festival.
Travel Tip: During Advent, Rattenberg's Christmas market offers a unique experience with its emphasis on candlelight.

Heiligenblut:

Overview: Located at the base of the Grossglockner (Austria's highest mountain), this village is steeped in legends.
Highlights: Gothic pilgrimage church, Grossglockner High Alpine Road, and National Park Hohe Tauern.
Travel Tip: Engage in guided hikes to explore the alpine flora and fauna of the Hohe Tauern National Park.

Rust:

Overview: On the western shore of Neusiedler See, Rust is famed for its birdlife and wines.
Highlights: Free-flying storks that nest on chimneys, local vineyards, and Fischerkirche (Fishermen's Church).
Travel Tip: Enjoy a boat trip on Neusiedler See to appreciate the reed landscapes and birdwatching opportunities.

Vorau:

Overview: A spiritual and cultural hub located in Styria.
Highlights: Vorau Abbey with its impressive library, hiking routes, and traditional Styrian architecture.
Travel Tip: Participate in a guided tour of the Abbey to discover its hidden treasures.
Austria's charm isn't limited to its famed cities and popular tourist spots. Delve deeper, and you'll discover quaint towns, hidden hamlets, and untouched landscapes, each offering unique stories and experiences. These destinations allow visitors to connect more deeply with Austria's rich traditions, its land, and its people. Here, in these off-the-beaten-path locales, you can find the heart and soul of Austria, waiting to share its secrets with those willing to explore just a little further.

source: Samuel and Audrey on YouTube
Tours For Visitors To Austria
Austria, with its vast landscapes, rich history, and compelling culture, offers a wide range of tours for all types of travelers. Whether you're looking for a deep dive into the country's imperial past, a journey through its stunning nature, or a taste of its world-class culinary delights, Austria has a tour for you. Here's a comprehensive guide to some of the best tours available in the heart of Europe.
Vienna's Imperial Tour:

Overview: Explore the grandeur of the Austro-Hungarian Empire and the footsteps of legendary monarchs.
Highlights: Schönbrunn Palace, Hofburg Palace, Belvedere Palace, and the Ringstrasse with its historic buildings.
Duration: Half-day to full-day.
Travel Tip: Many tours provide skip-the-line access, particularly beneficial during peak tourist seasons.

Salzburg's Sound of Music Tour:

Overview: Discover the iconic film locations and revel in the story of the von Trapp family.
Highlights: Mirabell Gardens, Leopoldskron Palace, Hellbrunn Palace, and the Nonnberg Abbey.
Duration: Half-day to full-day.
Travel Tip: Listen to the film's soundtrack during the tour for added nostalgia.

Danube Valley Wine Tour:

Overview: Experience Austria's renowned wine culture in the picturesque Wachau Valley.
Highlights: Wine tasting sessions in traditional wineries, visits to historic towns like Dürnstein, and views of the scenic Danube River.
Duration: Full-day.
Travel Tip: Pair wine tasting with regional culinary specialties like apricot dumplings.

Tyrolean Mountains and Valleys Tour:

Overview: Dive into the scenic beauty of Tyrol, with its alpine landscapes and traditional villages.
Highlights: The Krimml Waterfalls, Zillertal Valley, Swarovski Crystal World, and the Alpine town of Innsbruck.
Duration: Full-day.
Travel Tip: Wear comfortable shoes, as some terrains might be rugged.

Viennese Culinary and Coffeehouse Tour:

Overview: Savor Vienna's renowned culinary and coffee culture.
Highlights: Historic coffeehouses, tastings of local pastries like Sachertorte and Apfelstrudel, and visits to traditional markets.
Duration: Half-day.
Travel Tip: Engage with local baristas and bakers to learn about Viennese coffee and baking traditions.

Salzkammergut Lakes and Mountains Tour:

Overview: Journey through Austria's lake district, renowned for its pristine lakes and majestic mountains.
Highlights: Towns of St. Gilgen and St. Wolfgang, boat ride on Wolfgangsee, and the soaring Dachstein Alps.
Duration: Full-day.
Travel Tip: Bring a camera; the landscapes are breathtaking.

Mozart's Salzburg Tour:

Overview: Dive into the life and times of Wolfgang Amadeus Mozart.
Highlights: Mozart's birthplace, Mozart's residence, and landmarks associated with his life in Salzburg.
Duration: Half-day.
Travel Tip: Combine this tour with a classical concert in the evening for a complete Mozart experience.

Graz Historic City Walking Tour:

Overview: Explore Styria's capital, a UNESCO World Heritage Site.
Highlights: Graz Clock Tower, Landhaus courtyard, and the double-spiral staircase in Burg Graz.
Duration: Half-day.
Travel Tip: Visit the local farmers' market to sample Styrian delicacies.

Hallstatt and Dachstein Ice Caves Tour:

Overview: Visit the iconic village of Hallstatt and the mesmerizing Dachstein Ice Caves.
Highlights: Hallstatt Skywalk, Salt Mines, and the Dachstein Ice Caves.
Duration: Full-day.
Travel Tip: The ice caves can be cold even in summer; dress appropriately.

Vienna Woods and Mayerling Tour:

Overview: Delve into the natural beauty surrounding Vienna and the tragic story of Crown Prince Rudolf at Mayerling.
Highlights: Mayerling hunting lodge, Heiligenkreuz Abbey, and Seegrotte (Europe's largest underground lake).
Duration: Half-day to full-day.
Travel Tip: Opt for a boat ride in Seegrotte to experience the underground lake's magic.
Austrian Alpine Road Trip:

Overview: Traverse Austria's most scenic alpine roads, taking in breathtaking views and mountain air.
Highlights: Grossglockner High Alpine Road, Gerlos Alpine Road, and Silvretta High Alpine Road.
Duration: 2-3 days.
Travel Tip: Best undertaken in summer and early autumn. Ensure your vehicle is in good condition for mountain roads.

Bregenz and Lake Constance Cycle Tour:

Overview: Embark on a cycling journey along the shores of Lake Constance.
Highlights: Bregenz's floating stage, the Pfaender mountain, and the serene lakeside towns.
Duration: Half-day to full-day, depending on route.
Travel Tip: Stop at the lakeside eateries for regional fish dishes.

Underground Vienna: Roman Ruins to Bunkers:

Overview: Delve beneath Vienna's streets to discover its hidden history.
Highlights: Roman archaeological sites, medieval cellars, and World War II air-raid shelters.
Duration: Half-day.
Travel Tip: Wear comfortable shoes and be prepared for narrow and dark passages.

Tyrolean Folk Show in Innsbruck:

Overview: Experience Tyrol's rich cultural heritage with traditional music, dance, and folklore.
Highlights: Authentic Tyrolean songs, Schuhplattler dances, and yodeling performances.
Duration: Evening.
Travel Tip: Engage with performers post-show for a deeper understanding of Tyrolean traditions.

Eagle's Nest Historical Tour:

Overview: Visit the Kehlsteinhaus (Eagle's Nest), once a retreat for Adolf Hitler, now a mountaintop restaurant.
Highlights: The panoramic views, the historical significance, and the engineering marvel of its elevator system.
Duration: Half-day.
Travel Tip: Due to its elevation, the site is only accessible in warmer months.

National Park Gesäuse Hiking Tour:

Overview: Venture into Austria's youngest national park, offering raw natural beauty.
Highlights: Verdant meadows, roaring rivers, and the striking Ennstal Alps.
Duration: Full-day or multiple days, depending on trail.
Travel Tip: Equip yourself with good hiking gear and always check weather conditions before setting out.

Burgenland Wine and Culture Tour:

Overview: Explore Austria's easternmost region, known for its wines and Pannonian charm.
Highlights: Rust town with storks, Esterházy Palace in Eisenstadt, and numerous vineyards.
Duration: Full-day.
Travel Tip: Summer and autumn are the best times for vineyard visits and wine tastings.

Styrian Volcano Land Thermal Spa Tour:

Overview: Relax in the thermal spas of Styria, deriving their warmth from volcanic activity.
Highlights: Rogner Bad Blumau designed by Hundertwasser, Therme Loipersdorf, and the tranquil volcanic landscapes.
Duration: Full-day to multiple days.
Travel Tip: Stay overnight in one of the spa hotels for a comprehensive wellness experience.

Danube River Cruise from Vienna:

Overview: Sail along the majestic Danube, witnessing scenic landscapes and historic towns.
Highlights: Wachau Valley, towns of Melk and Dürnstein, and the magnificent Melk Abbey.
Duration: Full-day.
Travel Tip: Opt for cruises that offer on-board Austrian cuisine and live commentary.

Medieval Adventure in Riegersburg:

Overview: Time-travel to the medieval age in the fortified town of Riegersburg.
Highlights: Riegersburg Castle, falconry shows, and the nearby Zotter Chocolate Factory.
Duration: Full-day.
Travel Tip: For added fun, participate in a medieval-themed workshop or event.
Austria's multifaceted charm, spanning from its imperial past to its alpine wonders, is best experienced through guided tours. These tours, curated by experts, ensure that visitors not only see the country's highlights but also understand the narratives and nuances that make Austria unique. Whether walking through cobblestone streets, hiking alpine trails, or savoring a slice of Sachertorte in a historic coffeehouse, Austria

source: Samuel and Audrey on YouTube
Austria Accommodations Guide: Hotels, Guesthouses and Hostels
Nestled amidst the dramatic landscapes of Central Europe, Austria entices visitors not only with its natural beauty and cultural treasures but also with its diverse accommodations, ranging from luxurious palaces to quaint guesthouses and budget-friendly hostels. This guide offers a detailed overview of the different accommodation options available to travelers exploring the Austrian Alps, cities, and countryside.
Hotels:
Luxury Hotels:
Overview: Austria's luxury hotels often have historical significance, often located in erstwhile palaces, castles, or mansions.
Examples: Hotel Sacher (Vienna), Hotel Imperial (Vienna), and Schloss Fuschl Resort (Salzburg).
Amenities: Gourmet restaurants, spa services, personal concierges, and opulent rooms.
Travel Tip: Many of these hotels offer unique experiences, like private tours, cooking classes, and concert evenings.
Boutique Hotels:
Overview: Smaller in size, these hotels focus on providing a personalized experience with a touch of local culture.
Examples: Altstadt Vienna, The Guesthouse Vienna, and Hotel Stein (Salzburg).
Amenities: Themed rooms, local art exhibitions, and intimate dining settings.
Travel Tip: They often reside in historic buildings, so ask about the building's history.
Chain Hotels:
Overview: Reliable and consistent, these are part of international or national hotel chains.
Examples: Marriott, Hilton, and Ibis.
Amenities: Standardized services, conference rooms, and in-house restaurants.
Travel Tip: Enroll in loyalty programs for discounts and perks during your stay.
Guesthouses (Pensionen):
Overview: Guesthouses or "Pensionen" are family-run establishments offering a more intimate and local experience.
Amenities: Comfortable rooms, homemade breakfast, and often a garden or terrace.
Travel Tip: Engage with the hosts for recommendations on local attractions and hidden gems. They are often more than willing to share their local knowledge.
Hostels:
Youth Hostels:
Overview: Aimed at younger travelers, these are budget-friendly and offer a sociable environment.
Examples: Wombats City Hostel (Vienna) and Yoho International Youth Hostel (Salzburg).
Amenities: Dormitory-style rooms, communal kitchens, free Wi-Fi, and often, organized group activities.
Travel Tip: Book in advance during peak seasons and always bring earplugs and an eye mask for a peaceful sleep.
Backpacker Hostels:
Overview: Geared towards backpackers, they emphasize communal experiences and are often located near popular tourist spots.
Amenities: Shared rooms, travel information desks, and social events like pub crawls or city tours.
Travel Tip: Many hostels have private rooms, offering a balance between privacy and social engagement.
Bed and Breakfast (B&B):
Overview: Similar to Pensionen, B&Bs are often located in residential areas, providing a cozy, home-like atmosphere.
Amenities: Private rooms, a hearty breakfast, and personal interactions with hosts.
Travel Tip: Use B&Bs as a chance to get to know local traditions, foods, and stories from your hosts.
Apartments & Vacation Rentals:
Overview: Ideal for longer stays or those wanting a home-like environment.
Examples: Airbnb, VRBO, and local rental agencies.
Amenities: Kitchen facilities, living spaces, and, in some cases, laundry facilities.
Travel Tip: Check reviews thoroughly and communicate with hosts prior to booking. Ensure the property's location is convenient for your travel plans.
Farm Stays & Countryside Retreats:
Overview: Experience rural Austria with stays in functioning farms or secluded lodges.
Amenities: Farm-to-table meals, animal encounters, and outdoor activities like hiking or horseback riding.
Travel Tip: These stays are perfect for families, offering kids a chance to understand farm life.
Mountain Huts & Alpine Lodges:
Overview: For adventurers exploring the Alps, these lodges provide basic accommodations in mountainous regions.
Amenities: Warm meals, bunk beds, and heating. Some might not have running water or electricity.
Travel Tip: Ensure you have a reservation during trekking season and carry cash as many don't accept cards.
From the heart of bustling cities to the tranquil valleys, Austria's accommodation options are as varied as its landscapes. Whether you wish to indulge in the splendor of a luxury hotel, feel the warmth of a family-run guesthouse, or bond with fellow travelers in a vibrant hostel, Austria offers a plethora of choices to make your stay memorable. With a blend of tradition and modernity, each accommodation type provides a unique lens through which to experience the Austrian hospitality and culture. Choose wisely and immerse yourself in the authentic Austrian experience.
The Best Day Trips In Austria
Austria, with its harmonious blend of natural landscapes, historic towns, and cultural treasures, is an ideal destination for day trips. Whether you're stationed in one of its vibrant cities or just passing through, the country is compact enough to allow for rich and diverse experiences within a day's journey. Let's explore some of the best day trips you can embark on in Austria:
From Vienna to the Wachau Valley:

Overview: A UNESCO World Heritage site, the Wachau Valley is renowned for its picturesque landscapes, vineyards, and medieval towns.
Highlights: Dürnstein (a charming town with the ruins of a castle where Richard the Lionheart was imprisoned), Melk Abbey, and local wineries.
Travel Tip: Cruise the Danube River to soak in the valley's beauty. If visiting in April, the apricot blossoms are a special treat.

From Salzburg to Hallstatt:

Overview: Dubbed as the "most beautiful lakeside village", Hallstatt is a postcard-perfect town by the Hallstätter See.
Highlights: Hallstatt Skywalk, historic market square, Salt Mines, and Dachstein Ice Caves.
Travel Tip: Arrive early or stay late to avoid peak tourist hours and capture the serene beauty of the town.

From Innsbruck to Swarovski Crystal Worlds:

Overview: Dive into the sparkling world of Swarovski crystals in Wattens.
Highlights: Crystal Cloud with 800,000 hand-mounted crystals, the Giant's head entrance, and art installations by international artists.
Travel Tip: The evening light often brings an added shimmer to the crystals, making late afternoon a magical time to visit.

From Graz to the South Styrian Wine Road:

Overview: Experience Styria's green rolling hills and its renowned wine culture.
Highlights: Wine tastings in local vineyards, traditional wine taverns (Buschenschank), and the Wine Museum in Kitzeck.
Travel Tip: Rent a bicycle and pedal your way through vineyards, stopping at wine taverns for regional specialties.

From Vienna to Bratislava:

Overview: Just an hour away, Slovakia's capital on the banks of the Danube offers a unique blend of history and modernity.
Highlights: Bratislava Castle, Old Town with St. Martin's Cathedral, and the futuristic UFO Bridge.
Travel Tip: Opt for a Danube boat ride for a scenic journey between the two capitals.

From Salzburg to the Berchtesgaden National Park:

Overview: Experience Germany's alpine landscapes, just a stone's throw from Salzburg.
Highlights: Königssee (a clear lake surrounded by mountains), the Eagle's Nest (historical site), and the salt mines.
Travel Tip: If visiting during winter, the region transforms into a snowy wonderland, ideal for winter sports.

From Linz to Český Krumlov:

Overview: Cross the border into the Czech Republic to visit this fairy-tale town.
Highlights: Český Krumlov Castle, the old town square, and rafting on the Vltava River.
Travel Tip: Roam the winding alleys and discover artisanal shops, local eateries, and hidden courtyards.

From Bregenz to the Pfänder Mountain:

Overview: Offering panoramic views of Lake Constance, the Alps, and three countries.
Highlights: Pfänder cable car, wildlife park, and hiking trails.
Travel Tip: Visit in the early morning for mesmerizing sunrise views over the lake.

From Klagenfurt to the Woerthersee:

Overview: Carinthia's largest lake offers pristine waters and a Mediterranean flair.
Highlights: Minimundus (a miniature park), boat cruises, and vibrant lakeside towns like Velden and Pörtschach.
Travel Tip: In summer, indulge in water sports, from paddleboarding to water skiing.

From Innsbruck to the Stubai Glacier:

Overview: A paradise for snow enthusiasts, the Stubai Glacier offers year-round snow activities.
Highlights: Skiing and snowboarding, ice grotto tours, and the TOP OF TYROL viewing platform.
Travel Tip: Equip yourself appropriately for cold temperatures, even during summer.
Austria's central location in Europe, coupled with its diverse landscapes and rich cultural heritage, makes it a prime spot for day trips. Each journey, whether into shimmering crystal worlds, across vine-clad hills, or atop snow-covered glaciers, brings with it a promise of enchantment and discovery. So, pack a day bag, set off early, and let Austria and its neighboring regions unveil their wonders to you, one day trip at a time.

source: Samuel and Audrey on YouTube
Austria Transportation Guide
Situated in the heart of Central Europe, Austria is a hub of connectivity, boasting an efficient and comprehensive transportation network. Whether you're traversing the scenic alpine landscapes or navigating the historic streets of its cities, understanding Austria's transportation options can enhance your travel experience. Here's a detailed guide to getting around in Austria:
Railways:
ÖBB (Österreichische Bundesbahnen):
Overview: Austria's national railway company, offering extensive coverage across the country.
Services: Includes high-speed Railjet (RJ) trains, regional trains (R, RE), and the overnight Nightjet.
Amenities: Free Wi-Fi on Railjet trains, power outlets, and dining services.
Travel Tip: ÖBB offers various discount cards like the Vorteilscard, providing reduced fares for frequent travelers.
Westbahn:
Overview: A private railway company connecting Vienna with Salzburg.
Amenities: Free Wi-Fi, power outlets, and onboard entertainment.
Travel Tip: Tickets can often be cheaper if booked in advance and directly on the train.
Urban Public Transport:
Overview: Major cities like Vienna, Graz, Linz, Salzburg, and Innsbruck have integrated public transportation systems including trams, buses, and metros.
Vienna (Wiener Linien):
U-Bahn: Underground metro service with extensive coverage.
Trams & Buses: Reach areas not covered by the U-Bahn. The tram network, especially, is historic and extensive.
Travel Tip: Purchase a 24, 48, or 72-hour Vienna Card for unlimited travel and additional tourist benefits.
Buses:
PostBus (Postbus):
Overview: Austria's leading bus company, connecting regions not covered by trains.
Travel Tip: Especially useful for reaching alpine regions and smaller villages.
Regional Buses:
Overview: Operate within provinces, providing essential links between towns and tourist attractions.
Air Travel:
Austrian Airlines:
Overview: The national carrier, offering domestic flights and extensive international routes.
Major Airports: Vienna International Airport (VIE), Salzburg Airport (SZG), Innsbruck Airport (INN), and Graz Airport (GRZ).
Budget Airlines:
Overview: Carriers like Wizz Air, Ryanair, and EasyJet offer cheaper alternatives, especially for international routes.
Driving & Car Rentals:
Overview: Austria boasts well-maintained roads, making driving a pleasurable experience. The autobahn (motorways) often offer stunning scenic views.
Vignette: A toll sticker required for using the autobahn.
Driving Rules: Drive on the right side, adhere to speed limits (typically 50 km/h in cities, 100 km/h on highways, and 130 km/h on autobahns).
Car Rentals: Major international companies like Avis, Hertz, and Sixt operate in Austria, along with local agencies.
Travel Tip: In winter, ensure the vehicle is equipped with winter tires and familiarize yourself with winter driving conditions.
Biking:
Overview: Austria is a bike-friendly country with dedicated cycle paths, especially along river valleys like the Danube.
Bike Rentals: Available in major cities and tourist areas. Vienna's Citybike service offers short-term rentals with multiple docking stations.
Travel Tip: For long-distance cycling, consider the Danube cycle path or the Tauern cycle path.
Boats & Ferries:
Overview: Primarily found on major lakes and rivers.
Danube River Cruises: Connect Vienna, Linz, and other towns, offering a scenic mode of transport.
Lake Cruises: Operate on lakes like Wolfgangsee, Traunsee, and Wörthersee, providing both transport and scenic views.
Taxis & Ride-Sharing:
Taxis: Available in all cities. It's customary to round up the fare as a tip.
Ride-Sharing: Services like Uber and Bolt operate in major cities.
Austria's well-developed transportation network ensures that both cities and remote regions are accessible to visitors. From the efficiency of its railways to the scenic beauty of its boat cruises, each mode of transport offers a unique perspective of the country. With a blend of modernity and tradition, getting around in Austria is not just about reaching a destination but is often an integral part of the travel experience itself. Whether you're gazing out of a train window at alpine meadows, cycling alongside the Danube, or driving through verdant valleys, Austria's landscapes and its efficient transport options promise an unforgettable journey.
Austria 1 Day Travel Itinerary
Immerse yourself in the heart of Austria's capital for a day filled with historic grandeur, artistic masterpieces, and delectable cuisine. Vienna, a city where imperial history comes alive amidst modern charm, offers a tantalizing glimpse into the Austro-Hungarian Empire's opulence and the country's rich cultural heritage.
Morning:
Schönbrunn Palace:

Time: 8:00 AM – 10:30 AM
Overview: Start your day with a visit to this former imperial summer residence. This Baroque palace, with its 1,441 rooms, is a UNESCO World Heritage site and offers a glimpse into the Habsburg dynasty's life.
Highlights: The Grand Tour of the palace interiors, the Great Parterre gardens, and the Gloriette for panoramic views of the city.
Travel Tip: Arrive early to avoid crowds. If pressed for time, focus on the palace's main rooms and the immediate gardens.

Belvedere Palace:

Time: 11:00 AM – 12:30 PM
Overview: Another historic Baroque palace, the Belvedere houses an impressive collection of Austrian art, including Gustav Klimt's "The Kiss."
Highlights: The Upper Belvedere's art collection, the stunning palace architecture, and the manicured gardens.
Travel Tip: Purchase tickets online in advance to skip the line.
Afternoon:
Naschmarkt:

Time: 1:00 PM – 2:00 PM
Overview: Vienna's most popular market offers a plethora of culinary delights.
Lunch: Grab a bite from one of the many stalls. Savor Austrian delicacies, from savory sausages to sweet pastries.
Travel Tip: Look out for exotic spices, regional cheeses, and fresh produce stalls.

Inner Stadt (City Center):

Time: 2:30 PM – 5:00 PM
Overview: Walk through the historic heart of Vienna.

Stephansdom (St. Stephen's Cathedral): Admire its Gothic and Romanesque architecture. Optionally, climb the tower for a city view.
Graben & Kohlmarkt: Historic shopping streets lined with luxury boutiques and traditional coffeehouses.
Hofburg Imperial Palace: Wander through the vast palace complex, home to the Habsburgs for over six centuries.

Travel Tip: Consider purchasing a slice of Sachertorte from Café Demel or Café Sacher.
Evening:
Prater Park:

Time: 5:30 PM – 7:00 PM
Overview: An amusement park and a sprawling green space.
Highlights: The Giant Ferris Wheel (Riesenrad) offers an enchanting view of Vienna's skyline, especially during sunset.
Travel Tip: If you're an adrenaline junkie, there are plenty of thrilling rides to choose from.

Dinner at a Traditional Viennese Heuriger:

Time: 7:30 PM – 9:30 PM
Overview: Heurigers are traditional wine taverns specific to Vienna.
Dining: Enjoy Austrian wines, hearty dishes like Wiener Schnitzel, and live local music.
Travel Tip: Opt for a Heuriger in the Grinzing or Neustift am Walde districts for an authentic experience.
Late Night:
Danube Canal (Donaukanal) Stroll:

Time: 10:00 PM onwards
Overview: This once-neglected waterway has been transformed into a vibrant nightlife and cultural spot.
Highlights: Street art, pop-up bars, and a lively ambiance. Ideal for a relaxed conclusion to your day.
Travel Tip: Check out the Badeschiff – a floating swimming pool in summer and a sauna in winter.
While a day is hardly enough to encompass all of Vienna's grandeur, this itinerary provides a balanced blend of historic sights, cultural experiences, and culinary delights. Vienna, with its intoxicating waltz rhythms, imperial palaces, and legendary coffeehouses, promises an unforgettable journey even in the shortest of visits. This day will leave you yearning for more of Austria's captivating charm.
Austria 3-4 Days Travel Itinerary
A 3-4 days itinerary in Austria allows travelers to experience both the imperial charm of Vienna and the alpine allure of Salzburg, with a dash of countryside magic. Let's explore a captivating journey through Austria's key highlights.
Day 1: Vienna – Imperial Beginnings
Morning:
Schönbrunn Palace:

Time: 8:30 AM – 11:00 AM
Overview: Dive deep into the grandeur of this former imperial summer residence, exploring its ornate rooms and sprawling gardens.
Travel Tip: Opt for the Grand Tour to see all the main rooms.
Afternoon:
Belvedere Palace:

Time: 11:30 AM – 1:00 PM
Overview: Revel in Austrian art, including Klimt's masterpieces, amidst Baroque architecture.

Naschmarkt Lunch:

Time: 1:30 PM – 2:30 PM
Overview: Experience Vienna's culinary pulse at its most famous market.

Inner Stadt Exploration:

Time: 3:00 PM – 6:00 PM
Overview: Roam the historic city center, visiting landmarks like Stephansdom, Graben, and the Hofburg complex.
Evening:
Vienna State Opera:

Time: 7:30 PM – 10:00 PM
Overview: Enjoy an opera or ballet performance in this world-renowned venue.
Travel Tip: Book tickets in advance; consider a guided tour earlier in the day if you're an aficionado.
Day 2: Vienna to Salzburg – Transition Day
Morning:
Kunsthistorisches Museum (Museum of Art History):

Time: 9:00 AM – 11:00 AM
Overview: Explore one of Europe's premier art museums, home to numerous masterpieces.

Vienna Woods or Danube Valley Half-Day Tour:

Time: 11:30 AM – 3:00 PM
Overview: Venture slightly out of Vienna for a touch of nature or history.
Travel Tip: Tours typically include scenic spots, monasteries, and local experiences.
Afternoon & Evening:
Travel to Salzburg:

Time: 3:30 PM – 6:30 PM
Overview: Take the Railjet, Austria's high-speed train, to Salzburg.
Dinner: Try traditional Salzburger Nockerl or a hearty Austrian stew in the old town.
Day 3: Salzburg – Mozart, Castles, and Alpine Beauty
Morning:
Hohensalzburg Fortress:

Time: 8:30 AM – 10:30 AM
Overview: Dominating the city's skyline, this fortress offers panoramic views and a dose of medieval history.

Salzburg Old Town:

Time: 10:45 AM – 1:00 PM
Overview: Wander through Getreidegasse, visit Mozart's birthplace, and marvel at Salzburg Cathedral.
Afternoon:
Mirabell Palace and Gardens:

Time: 2:00 PM – 3:30 PM
Overview: Experience Baroque architecture and enjoy the Sound of Music's iconic Do-Re-Mi steps.

Hangar-7:

Time: 4:00 PM – 6:00 PM
Overview: A unique space housing aircraft, Formula 1 cars, and art exhibitions. Perfect for tech and art enthusiasts.
Evening:
Salzburg Evening Concert:

Time: 7:30 PM – 9:30 PM
Overview: Attend a Mozart concert in one of Salzburg's historic venues.
Day 4: Salzkammergut – Austria's Lake District
Morning & Afternoon:
Hallstatt Day Trip:

Time: 8:00 AM – 4:00 PM
Overview: Visit the jewel of the Salzkammergut region, a picturesque village by the lake. Explore the Dachstein Ice Caves, Salt Mines, and Hallstatt Skywalk.
Travel Tip: Use public transportation or join a guided tour from Salzburg.
Evening:
Return to Salzburg & Leisure Time:

Time: 5:00 PM onwards
Overview: Enjoy a leisurely evening, perhaps visiting a local brewery or relaxing by the Salzach River.
Three to four days in Austria lets you strike a harmonious balance between the urban allure of Vienna and Salzburg and the enchanting beauty of the Austrian countryside. With each city's distinct character, coupled with the natural marvel of the Salzkammergut region, this itinerary promises a melange of cultural, historical, and scenic delights.
Austria 1 Week Travel Itinerary
Exploring Austria in a week lets you uncover the multi-faceted charm of this Central European jewel: from imperial cities to alpine adventures, from musical interludes to culinary delights. Let's delve into a rich and fulfilling week-long journey across Austria.
Day 1: Vienna – The Imperial Grandeur
Morning:
Schönbrunn Palace: Explore the Habsburgs' magnificent summer residence and its beautiful gardens.
Afternoon: 2. Belvedere Palace: Admire Austrian art, especially Klimt's "The Kiss."
Naschmarkt: Enjoy lunch and browse Vienna's most vibrant market.
Evening: 4. Inner Stadt: Explore the historic city center, visiting landmarks like Stephansdom and Graben.
Vienna State Opera: Attend an opera or ballet performance.
Day 2: Vienna – Art & Culture
Morning: 6. Kunsthistorisches Museum: Revel in one of Europe's premier art collections.
Hofburg Complex: Discover the imperial winter palace and the treasures within, including the Spanish Riding School.
Afternoon: 8. Albertina Museum: Delve into another of Vienna's world-class art collections.
Prater: Experience Vienna's amusement park and take a ride on the Giant Ferris Wheel.
Evening: 10. Danube Tower: Enjoy dinner with a panoramic view of Vienna.
Day 3: Salzburg – Mozart's Hometown
Morning: 11. Hohensalzburg Fortress: Get a bird's-eye view of Salzburg and delve into its medieval history.
Afternoon: 12. Old Town: Wander through Getreidegasse, visit Mozart's birthplace, and admire the Salzburg Cathedral.
Mirabell Palace & Gardens: Enjoy the baroque beauty and the iconic Do-Re-Mi steps from The Sound of Music.
Evening: 14. Mozart Dinner Concert: Savor traditional dishes while listening to Mozart's masterpieces.
Day 4: Salzkammergut & Surroundings
Full Day: 15. Hallstatt: Spend a day in one of Austria's most picturesque lakeside towns, exploring Dachstein Ice Caves, Salt Mines, and taking in panoramic views from the Hallstatt Skywalk.
Day 5: Innsbruck – The Alpine Jewel
Morning: 16. Golden Roof & Old Town: Discover the iconic landmark and the medieval charm of Innsbruck.
Hofburg: Visit the imperial palace, reminiscent of the Habsburgs' might.
Afternoon: 18. Nordkette: Take the Nordkette funicular and cable car up to the Karwendel Alps, enjoying breathtaking views.
Evening: 19. Maria-Theresien-Straße: Shop and dine along this lively street.
Day 6: Graz – A Blend of the Past & Present
Morning: 20. Schlossberg: Climb or take the lift to the top for panoramic views and to see the iconic clock tower.
Graz Cathedral & Mausoleum: Explore these historic religious landmarks.
Afternoon: 22. Landeszeughaus (Styrian Armoury): Marvel at the world's largest historic armory.
Murinsel: Visit this modern architectural island on the River Mur.
Evening: 24. Graz Old Town: Explore the UNESCO World Heritage site, wandering through its historic lanes and courtyards.
Day 7: Styrian Wine Country & Return to Vienna
Morning: 25. South Styrian Wine Road: Embark on a scenic drive or tour through Austria's picturesque wine region, visiting vineyards and tasting regional wines.
Afternoon: 26. Return to Vienna: Use the remaining time for any last-minute shopping or sightseeing in Vienna.
Evening: 27. Farewell Dinner: Indulge in a sumptuous Austrian meal, perhaps at a traditional Heuriger, as you reminisce about your Austrian adventures.
A week in Austria lets you dive deep into its historical tapestry, alpine wonders, and rich cultural life. With each day unveiling a new facet of Austria's allure, travelers are ensured diverse experiences, ranging from the vibrant energy of its cities to the tranquil beauty of its countryside. By the week's end, you'll not just have memories, but stories of sipping wine amidst rolling vineyards, walking in Mozart's footsteps, gazing at alpine panoramas, and indulging in imperial luxuries.
Austria 1 Month Travel Itinerary
A month in Austria provides the luxury of immersion, letting you truly feel the rhythm of its cities, appreciate the tranquility of its countryside, and partake in its myriad cultural offerings. This detailed itinerary spans the country's highlights and hidden gems.
Week 1: Vienna & Surroundings
Days 1-4: Vienna Immersion
Historical Core: Hofburg Palace, Stephansdom, Belvedere Palace, and the Opera House.
Museums: Kunsthistorisches Museum, Albertina, Leopold Museum, and the Museum of Modern Art.
Leisure: Prater amusement park, Danube Tower, and Naschmarkt.
Neighborhood Exploration: Dive into districts like Mariahilf, Neubau, and Leopoldstadt.
Days 5-7: Excursions from Vienna 5. Wachau Valley: Enjoy a day of wine-tasting, Danube cruising, and visiting historical sites like Dürnstein.
Bratislava: Take a day trip to Slovakia's capital.
Neusiedler See: Explore Austria's largest lake, perfect for bird-watching, water sports, and relaxation.
Week 2: Salzburg & Upper Austria
Days 8-11: Salzburg & Environs 8. Salzburg Core: Explore Hohensalzburg Fortress, Getreidegasse, Mirabell Gardens, and Mozart's residences.
Sound of Music Tour: Revisit iconic film locations.
Berchtesgaden: Journey to this Bavarian town, visiting the Eagle's Nest and the salt mines.
Days 12-14: Exploring Upper Austria 11. Hallstatt: Spend a day in this iconic lakeside town with visits to the Dachstein ice caves.
Linz: Discover the European Capital of Culture 2009, with its contemporary art scenes mixed with historical sites.
Steyr: Revel in the medieval charm of this lesser-visited town at the confluence of the Steyr and Enns rivers.
Week 3: Tyrol & Vorarlberg
Days 15-18: Innsbruck & Tyrolean Adventures 14. Innsbruck Highlights: Golden Roof, Nordkette Mountains, and Ambras Castle.
Swarovski Crystal World: Dive into a world of sparkling wonders in Wattens.
Ötztal Valley: Engage in hiking, visit Ötzi Village, or enjoy thermal spas in Aqua Dome.
Days 19-21: Vorarlberg 17. Bregenz: Explore the city on Lake Constance, especially during the Bregenz Festival.
Montafon Valley: A haven for hikers and nature lovers.
Silvretta High Alpine Road: Experience one of Austria's most scenic drives.
Week 4: Styria, Carinthia & Burgenland
Days 22-24: Graz & Styrian Delights 20. Graz: Delve into the Old Town, Schlossberg, and the Styrian Armoury.
South Styrian Wine Road: Enjoy scenic vistas and exquisite wine tasting.
Gösting Ruins: Take in panoramic views atop these medieval ruins.
Days 25-27: Carinthia's Lakes & Mountains 23. Klagenfurt: Discover the capital of Carinthia and the adjacent Wörthersee.
Grossglockner High Alpine Road: Traverse Austria's most famous mountain road, accessing the country's highest peak.
Millstätter See: Enjoy water sports, hiking, or simply relax by the lake.
Days 28-30: Burgenland 26. Eisenstadt: Visit the Esterházy Palace and explore the capital of Burgenland.
Neusiedler See National Park: Embrace bird-watching and nature walks.
Rust: Conclude your month with this picturesque town known for storks and wine. Enjoy a farewell wine-tasting session, reflecting on your Austrian journey.
A month in Austria lets you uncover the layered beauty of the country, far beyond the usual tourist trails. You'll experience a harmony of nature, history, culture, and gastronomy. From the bustling alleys of Vienna to the silent peaks of Tyrol, from the vineyards of Styria to the serene lakes of Carinthia, this month-long journey promises an unforgettable tapestry of experiences and memories.
Is Austria A Safe Country To Visit?
Austria, renowned for its alpine vistas, imperial history, and rich musical heritage, is also frequently cited as one of the safest countries in the world for travelers. However, as with any travel destination, it's essential to be informed about potential risks and best practices to ensure a smooth trip. Let's delve into the safety aspects of visiting Austria:
General Safety:
Low Crime Rate: Austria boasts one of the lowest crime rates in Europe. Violent crimes are rare, and petty crimes, such as pickpocketing, are the primary concern, especially in tourist-heavy areas.
Political Stability: Austria is a politically stable nation with a robust democratic system in place. Protests or political demonstrations are generally peaceful and well-organized.
Healthcare: The country has an excellent healthcare system, and travelers can expect high-quality medical services, though it's always advisable to have comprehensive travel insurance.
Safety in Cities:
Vienna: As the capital city and a major tourist hub, Vienna is generally very safe. However, popular tourist areas like Stephansplatz or Mariahilfer Straße might have occasional pickpockets.
Salzburg, Innsbruck, Graz, and other cities: These cities also enjoy low crime rates. As always, maintain general caution and awareness of your surroundings, especially in crowded areas.
Safety in Rural Areas:
Wildlife: When hiking in alpine areas, be mindful of wildlife. Though encounters with aggressive animals are rare, it's essential to know how to act around them.
Mountain Safety: The Austrian Alps are a prime attraction, especially for hiking and skiing. Ensure you have the right equipment, check weather conditions, and familiarize yourself with the terrain. Every year, there are reports of accidents, primarily due to unpreparedness or overconfidence.
Traveling by Public Transport:
Reliability: Austria's public transport system, including trains and buses, is known for its punctuality and reliability.
Safety: Train and bus stations are generally safe, even late at night. However, it's a good practice to stay alert and be wary of strangers, particularly in larger cities.
Safety Tips for Travelers:
Stay Vigilant: Be cautious in crowded areas, train stations, and popular tourist spots where pickpockets may operate.
Secure Valuables: Use hotel safes for passports, and don't flaunt expensive jewelry or electronics.
Local Emergency Number: Familiarize yourself with the local emergency number, which is 112 in Austria.
Cultural Respect: Austria has a rich cultural heritage. Showing respect for local customs and traditions will only enhance the warmth of your reception.
Stay Informed: It's always a good idea to check travel advisories from your government's official website before traveling.
Austria offers travelers a harmonious blend of cultural experiences and natural beauty in a safe environment. While the risk of crime or other adversities is minimal, maintaining standard travel precautions ensures a memorable trip. Whether you're sipping coffee in a Viennese café, skiing down Tyrolean slopes, or exploring the alleys of Salzburg, Austria promises both safety and serenity. The welcoming nature of its people, combined with its inherent safety, ensures that Austria remains a top choice for travelers worldwide.
When Is The Best Time To Visit Austria?
Austria, with its multifaceted landscapes and rich cultural tapestry, offers distinctly different experiences throughout the year. The "best" time to visit largely depends on your interests, be it winter sports, warm-weather sightseeing, cultural festivals, or a mix of these elements. Here's a detailed look at Austria's seasonal offerings to help you decide:
Spring (Late April to Early June):
Pros:
Blooming Beauty: As the snow retreats, Austria's meadows burst into a riot of colors with wildflowers.
Mild Weather: Temperatures are comfortable, making it ideal for sightseeing and outdoor activities.
Fewer Tourists: You can enjoy popular attractions without the heavy crowds of peak season.
Cons:
Unpredictable Rain: Spring showers are common, especially in May.
Highlights:
Vienna's Gardens: Places like Schönbrunn and Belvedere Palace gardens are in full bloom.
Easter Celebrations: Witness traditional Easter markets and festivities, especially in Vienna and Salzburg.
Summer (Late June to August):
Pros:
Warm Weather: Days are long and sunny, with temperatures perfect for exploring cities and countryside.
Outdoor Activities: Ideal for hiking, cycling, and enjoying lakes like the Wörthersee or Neusiedler See.
Festivals: Austria comes alive with cultural events, music festivals, and open-air concerts.
Cons:
Tourist Crowds: Major attractions, especially in Vienna and Salzburg, can get crowded.
Higher Prices: Accommodation and some services might be more expensive due to demand.
Highlights:
Salzburg Festival: A world-famous music and drama festival held in July and August.
Alpine Exploration: Venture into regions like Tyrol and Carinthia for mountainous adventures.
Autumn (September to October):
Pros:
Fall Foliage: Witness stunning autumnal hues, especially in alpine regions.
Wine Season: South Styria's vineyards offer wine-tasting events and rustic experiences.
Mild Climate: While cooler than summer, the weather remains pleasant for most activities.
Cons:
Shorter Days: Daylight hours reduce as winter approaches.
Highlights:
Vienna's Museums: The cultural season kicks off, making it a great time to visit museums and theaters.
Harvest Festivals: Rural areas celebrate harvest time with local festivities and culinary delights.
Winter (November to March):
Pros:
Winter Sports: Austria's ski resorts in areas like Tyrol, Vorarlberg, and Salzburg are world-renowned.
Christmas Markets: From late November, cities like Vienna, Salzburg, and Graz host enchanting Christmas markets.
Snowy Landscapes: Austria's countryside transforms into a winter wonderland.
Cons:
Cold Weather: Especially in January and February, temperatures can drop significantly.
Limited Daylight: Days are short, with sunlight fading early in the afternoon.
Highlights:
Vienna's Ball Season: Experience the grandeur of traditional balls, most notably the Opera Ball.
Ice Skating: Many towns offer ice rinks, with Vienna's Rathausplatz being a popular choice.
Conclusion:
The best time to visit Austria hinges on your personal preferences:
Winter is for snow enthusiasts and those captivated by Christmas charm.
Spring offers rebirth and rejuvenation, with blossoms and fewer crowds.
Summer is ideal for comprehensive sightseeing, cultural fests, and alpine hikes.
Autumn provides a visual treat with fall colors and is a haven for wine lovers.
Regardless of when you choose to visit, Austria promises a medley of experiences, ensuring memories to cherish for a lifetime.
Top Festivals and Events in Austria
Austria, a country renowned for its cultural vibrancy and rich traditions, plays host to numerous festivals and events throughout the year. These occasions celebrate the nation's love for music, art, food, and its historical heritage. Let's embark on a detailed exploration of Austria's premier festivals and events:
Vienna Ball Season (January – February):
Overview: A tradition hailing from the imperial era, the ball season in Vienna sees over 450 balls taking place, with the city transforming into a dance floor.
Highlights:
Vienna Opera Ball: Held at the Vienna State Opera, it's the most prestigious event, attended by celebrities and international guests.
Coffeehouse Owners' Ball: A more traditional atmosphere, perfect for waltz enthusiasts.
Fasching (Carnival – January to March):
Overview: Similar to Mardi Gras, Fasching is Austria's carnival season, marked by parades, masquerades, and street parties.
Highlights:
Vienna Fasching: The capital's celebrations include grand balls, children's parades, and culinary delights, especially Faschingskrapfen (jam-filled doughnuts).
Salzburg Festival (July – August):
Overview: A world-famous music and drama festival, it's a celebration of opera, concerts, and theater performances.
Highlights:
Performances in the historic Felsenreitschule and Haus für Mozart.
Top international artists and orchestras.
Bregenzer Festspiele (Bregenz Festival – July to August):
Overview: A renowned performing arts festival held in Bregenz, by Lake Constance.
Highlights:
Opera performances on the floating stage on the lake.
Contemporary theater and orchestra concerts.
Vienna International Film Festival (Viennale – October to November):
Overview: Austria's most significant film event, showcasing an eclectic mix of movies from around the globe.
Highlights:
Screenings in historic theaters like Gartenbaukino.
Opportunities to meet filmmakers and attend workshops.
Christkindlmarkts (Christmas Markets – Late November to December):
Overview: These markets are an integral part of Austria's festive season, exuding charm, warmth, and tradition.
Highlights:
Vienna: Notable markets at Rathausplatz, Belvedere Palace, and Maria-Theresien-Platz.
Salzburg: Historic market in the old town, with the Hohensalzburg Fortress as a backdrop.
Innsbruck: Markets in the medieval old town with a stunning alpine backdrop.
Perchtenlauf (December):
Overview: A traditional event held in various parts of Austria, especially in the alpine regions, to ward off winter spirits.
Highlights:
Participants wear elaborate, fearsome masks and costumes.
The spectacle is a mix of pagan and Christian traditions.
Donauinselfest (Danube Island Festival – June):
Overview: Europe's largest open-air free music festival, held in Vienna.
Highlights:
Multiple stages hosting diverse musical genres, from rock to electronica.
Activities like roller-skating and dance workshops.
Styrian Autumn Festival (Steirischer Herbst – September to October):
Overview: Graz becomes the cultural epicenter with this contemporary art and cultural festival.
Highlights:
Innovative theater, visual arts, and music performances.
Debates, lectures, and film screenings.
Linz Fest (May):
Overview: A cultural and music festival held on the banks of the Danube in Linz.
Highlights:
Diverse music performances, from jazz to electronic.
Art installations and culinary stalls.
Grafenegg Festival (August – September):
Overview: Located in Lower Austria, the Grafenegg Festival is a top-class classical music event set against the romantic backdrop of Grafenegg Castle.
Highlights:
Performances by renowned international orchestras and soloists.
The state-of-the-art open-air stage, Wolkenturm, offers a unique concert experience amidst nature.
Vienna Design Week (Late September – Early October):
Overview: Austria's largest design festival, showcasing both local and international design in various forms.
Highlights:
Exhibitions, installations, and city tours focused on design themes.
Focuses on product, furniture, industrial design, and more.
Snowbombing in Mayrhofen (April):
Overview: An annual week-long festival combining skiing and snowboarding with electronic music.
Highlights:
Concerts held in unique locations, from igloos to forest clearings.
Participation from top international DJs.
Schubertiade Schwarzenberg and Hohenems (June and September):
Overview: A renowned festival celebrating the works of Franz Schubert.
Highlights:
Intimate chamber music concerts.
Recitals and orchestral concerts in scenic locations.
Vienna Jazz Festival (June – July):
Overview: One of the most important jazz festivals in the world, held across various iconic venues in Vienna.
Highlights:
Features a mix of jazz, blues, soul, and world music.
Hosts top international artists and emerging talents.
Vienna Ice Dream (January – March):
Overview: During winter, the front of Vienna's City Hall transforms into a massive ice rink.
Highlights:
Over 8,000 square meters of ice for skating.
Romantic paths through City Hall Park.
Austrian Wine Festival, Wachau (September):
Overview: The Wachau region, known for its exceptional wines, celebrates the harvest season with gusto.
Highlights:
Wine tasting events with regional vintners.
Gourmet experiences and traditional music.
Lech Classic Festival (August):
Overview: Set in the mountain village of Lech, this festival celebrates classical music amidst the stunning Alpine scenery.
Highlights:
Performances by world-class musicians.
A blend of well-known classics and rare musical treasures.
Tyrolean Folk Festival, Innsbruck (June):
Overview: A celebration of Tyrolean traditions, music, and dance.
Highlights:
Traditional Tyrolean costumes.
Parades, folk music, and regional culinary delights.
Electric Love Festival, Salzburg (July):
Overview: One of Europe's premier electronic dance music festivals, set near the Salzburg Ring.
Highlights:
Features top international DJs and electronic artists.
Stunning light shows and stage setups.
Austria offers a myriad of festivals and events that cater to diverse tastes. Whether you're a classical music aficionado, a film enthusiast, or someone looking for traditional experiences, Austria's calendar ensures there's something for every visitor. Each festival not only provides entertainment but also a deeper understanding of the country's cultural fabric. Immersing oneself in these events is a fantastic way to connect more intimately with Austria's heartbeat.
Austria Shopping Guide and Souvenir List
Steeped in centuries-old tradition, yet home to contemporary creativity, Austria is a shopper's paradise offering a wide array of unique products, from handcrafted items to high-end brands. This guide delves deep into the shopping avenues of Austria and lists souvenirs that encapsulate the essence of this Central European gem.
Key Shopping Zones:
Vienna:

Mariahilfer Straße: Vienna's largest shopping street, lined with international and local brands.
Kärntner Straße, Graben & Kohlmarkt: Exclusive shopping streets home to luxury brands and traditional stores.
Naschmarkt: A historic market offering gourmet foods, spices, and vintage items.

Salzburg:

Getreidegasse: The city's main shopping alley, lined with traditional storefronts and international brands.
Salzburg Schrannenmarkt: A weekly market known for its fresh produce and regional specialties.

Innsbruck:

Maria-Theresien-Straße: The main shopping street dotted with both international brands and local boutiques.

Graz:

Herrengasse & Hauptplatz: Central shopping areas filled with a mix of fashion stores, local boutiques, and cafes.
Souvenir List:
Mozartkugeln: These are chocolate balls filled with marzipan and nougat, dedicated to the famed composer, Wolfgang Amadeus Mozart.
Sachertorte: A delicious chocolate cake from Vienna, available in many confectioneries, especially the Hotel Sacher.
Austrian Wine & Schnapps: Austria is known for its white wines, particularly from the Wachau, Burgenland, and Styria regions. Schnapps, a potent fruit brandy, is also a popular takeaway.
Dirndl & Lederhosen: Traditional Austrian attire. Dirndls for women and lederhosen for men can be found in many local boutiques.
Austrian Lace & Linens: Especially from regions like Vorarlberg, these intricate handcrafted items make for a precious gift.
Swiss Army Knives: Even though they're Swiss in origin, these are popular among tourists in Austria due to their utility and compactness.
Viennese Porcelain: The Augarten Porcelain Manufactory in Vienna produces exquisite handcrafted porcelain items, making for luxurious gifts or keepsakes.
Austrian Crystal: Brands like Swarovski, originating from the Tyrolean region, offer intricate jewelry and decor items.
Pumpkin Seed Oil: A specialty from Styria, this nutty oil is a culinary delight and a unique Austrian product.
Snow Globes: Invented in Vienna, snow globes with various themes make for charming gifts.
Music Boxes: Reflecting Austria's rich musical heritage, these boxes play classic tunes from composers like Mozart, Beethoven, and Strauss.
Austrian Beer & Steins: With a vibrant brewing tradition, consider picking up local Austrian beers or decorative beer steins.
Wooden Toys & Decor: Especially from the Alpine regions, handcrafted wooden items like toys, clocks, and decorative pieces are popular.
Hand-painted Easter Eggs: These delicate and beautifully painted eggs, especially from Salzburg, are sought after, especially during the spring.
Shopping Tips:
Bargaining: Unlike in many countries, bargaining isn't a common practice in Austria. Prices in shops and markets are usually fixed.
Tax-Free Shopping: Non-EU tourists can benefit from tax-free shopping in many stores. Look for shops with a "Tax-Free" sign and ensure you complete the necessary paperwork.
Store Timings: Most shops open around 9-10 AM and close by 6-7 PM. They might have shorter hours on Saturdays and are usually closed on Sundays.
Austria, blending age-old traditions with modern elegance, offers a diverse shopping experience. Whether you're seeking gourmet delights, traditional crafts, or high-fashion brands, Austrian markets and boutiques promise quality and authenticity. The souvenirs you take home will not just be objects, but memories of the Alpine landscapes, imperial cities, musical evenings, and the warm hospitality of the Austrian people.
Where To Visit After Your Trip To Austria?
Having explored the majestic landscapes and cultural epicenters of Austria, you may wonder which destinations could ideally follow such a memorable experience. Given Austria's central location in Europe, you have a plethora of exciting destinations to consider. Here's a comprehensive list to help you chart your next journey:

source: Samuel and Audrey on YouTube
Germany:
Overview: Sharing linguistic and cultural ties with Austria, Germany promises everything from vibrant cities to fairy-tale villages and rich historical sites.
Highlights:
Bavaria: Munich's beer halls, Neuschwanstein Castle's ethereal beauty, and Nuremberg's historical significance.
Berlin: Dive into Germany's tumultuous history and dynamic contemporary art scene.
The Romantic Road: A picturesque route connecting historical towns and scenic landscapes.
Czech Republic:
Overview: Known for its ornate castles, medieval towns, and renowned beers.
Highlights:
Prague: The Charles Bridge, Prague Castle, and the Astronomical Clock.
Český Krumlov: A UNESCO World Heritage site with a beautiful old town and castle.
Brno: A mix of modernism and historic sites with a vibrant nightlife.
Hungary:
Overview: A country rich in history, thermal baths, and a unique culinary scene.
Highlights:
Budapest: The Buda Castle, thermal baths, and the vibrant ruin pubs.
Eger: Known for its castle, thermal baths, and red wine.
Lake Balaton: Central Europe's largest freshwater lake, ideal for relaxation.
Slovakia:
Overview: Boasting beautiful mountains, castles, and a lesser-known charm.
Highlights:
Bratislava: The capital's old town, Bratislava Castle, and the UFO Tower.
High Tatras: A mountain range perfect for hiking and skiing.
Spiš Castle: One of the largest castle complexes in Central Europe.
Slovenia:
Overview: A blend of Mediterranean warmth, Alpine cool, and Slavic charm.
Highlights:
Ljubljana: A picturesque capital with a hilltop castle and charming old town.
Lake Bled: A serene lake with an island church and clifftop castle.
Triglav National Park: Explore the Julian Alps and engage in adventure activities.
Switzerland:
Overview: A paradise for nature lovers, offering some of Europe's most stunning landscapes.
Highlights:
Zurich & Geneva: Dynamic cities known for their financial hubs, art scenes, and lakeside views.
The Alps: Regions like Zermatt (home to the Matterhorn) and Jungfrau offer skiing and jaw-dropping vistas.
Bern: The charming medieval capital with its clock tower and bear park.
Italy:
Overview: From Renaissance art to mouth-watering cuisine, Italy is diverse and enchanting.
Highlights:
Venice: Known for its canals, gondolas, and the beautiful Piazza San Marco.
Milan: A fashion capital with the stunning Duomo and Da Vinci's "Last Supper."
South Tyrol: A region blending Austrian and Italian cultures, with beautiful landscapes and castles.

source: Samuel and Audrey on YouTube
Croatia:
Overview: A Mediterranean gem offering pristine beaches, historic towns, and delicious seafood.
Highlights:
Dubrovnik: A historic city with massive stone walls and beautiful architecture.
Plitvice Lakes: A national park known for its cascading lakes and waterfalls.
Istria: A peninsula with Italian influences, hilltop towns, and truffle delicacies.
Poland:
Overview: Steeped in history and traditions, with vibrant cities and natural beauty.
Highlights:
Kraków: A historic city with Wawel Castle, the old town square, and proximity to Auschwitz.
Warsaw: The capital's blend of historical palaces and modern skyscrapers.
Zakopane: Nestled in the Tatra Mountains, ideal for winter sports.
France:
Overview: From the romantic streets of Paris to the rolling vineyards of Bordeaux, France promises an unparalleled sensory experience.
Highlights:
Paris: Visit the iconic Eiffel Tower, Louvre Museum, and the charming Montmartre district.
Provence: Lavender fields, historic towns, and local rosé wines make this region enchanting.
Loire Valley: Known for its picturesque châteaux and wine-producing villages.
Belgium:
Overview: Renowned for its medieval towns, Renaissance architecture, and as the headquarters of the European Union.
Highlights:
Brussels: Grand-Place, Atomium, and a plethora of museums await.
Bruges: Canals, cobbled streets, and medieval buildings — it's like stepping into a fairy tale.
Antwerp: Belgium's diamond district, combined with a vibrant arts scene.
Netherlands:
Overview: Famous for its flat landscapes, canals, tulip fields, windmills, and cycling routes.
Highlights:
Amsterdam: Anne Frank House, Van Gogh Museum, and the iconic canals.
Keukenhof: The most significant flower garden in the world, bursting with tulips in spring.
Rotterdam: Modern architecture and the impressive port make this city stand out.
Luxembourg:
Overview: A small European country known for its fortified medieval old town perched on sheer cliffs.
Highlights:
Luxembourg City: Explore the Grand-Ducal Palace, Bock Casemates, and Chemin de la Corniche.
Vianden: A picturesque town with the magnificent Vianden Castle.
Echternach: Known for its abbey and as the starting point for various hiking routes.
Liechtenstein:
Overview: A German-speaking microstate nestled between Austria and Switzerland.
Highlights:
Vaduz: The capital city where you can visit Vaduz Castle, the Liechtenstein Museum, and enjoy mountain views.
Balzers: Home to Gutenberg Castle and close to hiking trails.
Malbun: A small alpine village known for winter sports.
Romania:
Overview: Located on the edge of Central Europe, Romania offers a mix of cultures and landscapes.
Highlights:
Bucharest: The bustling capital with the impressive Palace of Parliament.
Transylvania: Dracula's Bran Castle, medieval towns of Brașov and Sibiu, and fortified churches.
Maramureș: Known for its wooden churches and traditional villages.
Serbia:
Overview: A crossroad of Eastern and Western Europe, Serbia is a blend of cultures, history, and festivals.
Highlights:
Belgrade: Visit the historic Kalemegdan Fortress, the Bohemian quarter of Skadarlija, and Nikola Tesla Museum.
Novi Sad: Known for the Petrovaradin Fortress and the EXIT music festival.
Niš: One of the oldest European cities, with historical significance and landmarks.

source: Samuel and Audrey on YouTube
Bosnia and Herzegovina:
Overview: A land of stunning landscapes, rich history, and unique cultural heritage.
Highlights:
Sarajevo: Dive into the city's rich history with the Baščaršija district, Latin Bridge, and War Tunnel Museum.
Mostar: Visit the iconic Stari Most (Old Bridge) and enjoy its Ottoman-influenced architecture.
Travnik: Once the Ottoman vizier's town, it's filled with mosques and an old fortress.
Bulgaria:
Overview: From mountainous terrains to sandy beaches and historic cities, Bulgaria is a diverse destination.
Highlights:
Sofia: Explore the Alexander Nevsky Cathedral, Vitosha Boulevard, and Boyana Church.
Plovdiv: A city with ancient Roman ruins, including a theater and stadium.
Black Sea Coast: Enjoy the beaches of Varna and Burgas and the historic town of Nessebar.

source: Samuel and Audrey on YouTube
Montenegro:
Overview: Known as the Pearl of the Mediterranean, Montenegro offers stunning coastlines, mountain ranges, and historic towns.
Highlights:
Kotor: A UNESCO World Heritage site, with its fortified old town and bay views.
Budva: Famous for its sandy beaches, nightlife, and the historic old town.
Durmitor National Park: A haven for nature lovers, offering skiing, hiking, and the Tara Canyon.
Ukraine:
Overview: A vast country known for its Orthodox churches, forested mountains, and Black Sea coastline.
Highlights:
Kyiv: Explore the Pechersk Lavra monastery, Independence Square, and the vibrant Andriivs'kyi Descent.
Lviv: A city with Polish and Austro-Hungarian influences, known for its UNESCO-listed old town.
Chernivtsi: Often referred to as "Little Vienna" for its architecture and history.
Belarus:
Overview: A nation rich in Soviet heritage, dense forests, and traditional villages.
Highlights:
Minsk: Visit the monumental Independence Avenue, National Opera and Ballet Theatre, and the WWII museum.
Brest: Known for the Brest Fortress, a significant WWII memorial.
Nesvizh: Home to the Nesvizh Castle, a UNESCO World Heritage site and a fine example of Renaissance architecture.
After exploring the splendors of Austria, extending your European adventure allows you to delve deeper into the continent's diverse cultures, landscapes, and histories. Whether you're drawn to the beaches of Croatia, the mountains of Switzerland, or the art of Italy, each neighboring country offers a distinct experience, ensuring your journey remains vibrant and enriching.
Austria Travel Guide: Final Thoughts
Nestled in the heart of Central Europe, Austria is a symphony of culture, history, and natural beauty that has resonated with travelers for centuries. Its rich tapestry weaves together the grandeur of the Habsburgs, the notes of Mozart and Strauss, and the awe-inspiring vistas of the Alps. But as with any symphony, it's the intricate details and nuances that create a masterpiece. As we culminate our journey through this travel guide, let's reflect on what makes Austria such an unparalleled destination and offer some final insights for your upcoming adventure.
A Historical Epicenter:
Austria stands as a testament to Europe's evolving history. From the regal palaces of Vienna to the Roman ruins in Carnuntum, the country serves as a living museum. The historic cities, laden with Baroque architecture and Gothic cathedrals, echo tales of empires, wars, and revolutions. Every cobbled street and every ornate facade has a story, waiting to be uncovered.
Nature's Canvas:
The Austrian landscapes are nothing short of poetic. The Alps stretch out with their snowy peaks, offering winter wonderlands in resorts like St. Anton and Kitzbühel. In contrast, regions like Styria and Burgenland present serene vineyards, dense forests, and sparkling lakes. Whether you're skiing down Tyrolean slopes, hiking through the National Parks, or simply enjoying a lakeside retreat in Salzkammergut, Austria's nature is enchanting.
Cultural Powerhouse:
Home to legendary composers, artists, and thinkers, Austria's cultural legacy is profound. Attend an opera in Vienna, explore Mozart's birthplace in Salzburg, or wander through the contemporary art museums in Linz. With festivals celebrating everything from music and film to wine and chocolate, the Austrian calendar is a cultural fiesta.
Culinary Delights:
Austrian cuisine is a delightful fusion of Central European flavors. From hearty dishes like Wiener Schnitzel and Sachertorte to the fine wines of Wachau Valley, Austria offers a gastronomic journey. The country's coffeehouse culture, where time seems to pause, is an experience in itself.
Accessibility & Connectivity:
Austria's central location makes it a pivotal hub for European travel. With world-class airports, efficient railways, and well-maintained roadways, moving in and out of Austria is a breeze. This connectivity also enhances day trips and extended explorations to neighboring countries.
The Austrian Charm:
Beyond the sights and sounds, it's the Austrian people that add depth to any visit. Their warmth, hospitality, and pride in their heritage offer an authentic experience. Traditions are held dear, and as a traveler, you're invited to partake in local festivities, dances, and traditions.
Austria, in essence, is a celebration of life's finer things. It's where history meets modernity, where the Danube kisses the valleys, and where melodies float through cobbled alleys. This travel guide has aimed to be your compass, highlighting the landmarks and hidden gems, but Austria's true essence lies in the moments in between – the unexpected discoveries, the chats with locals, the serenity of its landscapes, and the melodies that you'll carry in your heart. As you embark on your Austrian journey, go with an open heart and let the country's magic unfold. Safe travels, and may your Austrian sojourn be as timeless as its alpine peaks and as memorable as its most beautiful waltz.
An Ode To Austria
In the heart of Europe's grand design, Lies Austria, where history and nature entwine. Majestic peaks kiss the cerulean sky, While Vienna's streets hum lullabies gone by.
The Danube flows with tales untold, Of Habsburgs, empires, and knights of old. Through Salzburg's alleys, echoes Mozart's song, While alpine meadows to wildflowers belong.
Ski down Tyrol's snow-laden glide, Or in Vienna's coffeehouses, let time reside. From the operas that in theaters play, To the rustic charm where hay bales lay.
Waltz through time in a land so fine, Where every corner holds a story, like vintage wine. Sachertorte sweet, and schnitzel gold, A culinary saga in every bite, bold.
Traveler, in Austria, find your muse, In its cities, valleys, or a Danube cruise. For in this land of music and grace, You'll find a rhythm, a passion, a pace.
Come, let the Austrian winds your spirit lift, As you journey through its alpine drift. For in its embrace, warm and grand, You'll discover more than just a land.