Nestled in the easternmost tip of the Caribbean's Lesser Antilles archipelago, Barbados is a sparkling gem that has captivated the hearts of many. This is not just an island; it's a lifestyle, a history, and a testament to the melding of cultures. Its charm is not only rooted in its sun-kissed beaches and azure waters but also in its rich tapestry of history, culture, and warmth of the Bajan people. Let this guide be the compass that points you to the heart and soul of Barbados, offering an in-depth exploration of what makes this island unique and worth visiting.
Geographical Overview:
Barbados, though small at just 21 miles long and 14 miles wide, boasts a diverse topography. The western coast, with its tranquil Caribbean waters, is a haven for those seeking a serene escape. The eastern coast, kissed by the Atlantic Ocean, offers rugged landscapes and a wilder sea, perfect for adventurous souls and surfers. Between these coasts, rolling hills, expansive sugar cane fields, and patches of tropical forests give the island its distinctive charm.
Historical Legacy:
Steeped in history, Barbados has transitioned from a British colony to an independent nation in 1966. The historical remnants are evident throughout the island. From the 17th-century plantation homes to the UNESCO World Heritage site of Historic Bridgetown and its Garrison, tales of bygone eras await every traveler.
Cultural Melting Pot:
The island's rich heritage is a blend of African, British, Indian, and indigenous influences. This mosaic of cultures is evident in the island's music, art, and, most deliciously, its cuisine. From flying fish and cou-cou to the rhythms of calypso and tuk bands, the vibrancy of Bajan culture is palpable.
A Festive Spirit:
Barbados is not just a destination; it's a celebration. Throughout the year, the island comes alive with festivals, the most renowned being Crop Over. This historical harvest festival is a colorful extravaganza that celebrates Bajan culture in all its glory. With parades, music, dance, and food, it's a must-experience event.
Natural Wonders:
Beyond its beaches, Barbados is home to fascinating natural wonders. Explore the crystalline depths of Harrison's Cave, dive into the marine wonders of Carlisle Bay, or gaze at the migratory birds in the Graeme Hall Nature Sanctuary. Every corner of this island promises a new adventure.
Warm Bajan Hospitality:
The true essence of Barbados lies in the heart of its people. Bajans, known for their warmth and hospitality, ensure that every visitor feels at home. Engaging conversations, spontaneous invitations to local events, and genuine smiles are the hallmark of the Bajan spirit.
Embarking on a journey to Barbados means immersing oneself in an island that offers more than just picturesque views. It promises a deep dive into an enthralling culture, a step back in time, an adventure in every nook and cranny, and memories that will last a lifetime. Welcome to Barbados – where every day is a discovery and every moment is a treasure.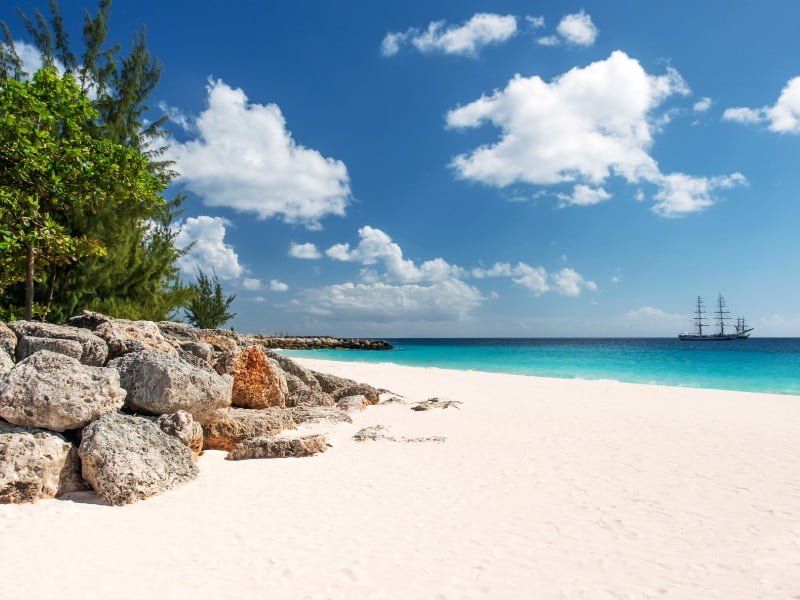 Barbados Country Guide: A Brief History Of Barbados For Visitors
Welcome to the intriguing chronicle of Barbados, an island with a history as vivid as its landscapes. For the traveler keen to delve deep, understanding Barbados's history enriches the experience manifold, providing context to the modern-day sights, sounds, and stories of this Caribbean gem.
The Early Inhabitants:
Before the European incursion, Barbados was home to the Arawaks and then the Caribs, indigenous peoples who migrated from South America's Orinoco Basin. The Arawaks were peaceful settlers who introduced pottery, agriculture, and fishing to the island. The Caribs, who arrived later, were more aggressive and gradually displaced the Arawaks. Both groups left behind artifacts that offer a glimpse into their way of life.
European Discovery and Settlement:
While many believe Christopher Columbus discovered Barbados, it was the Portuguese explorer Pedro a Campos who first landed here in the 1500s during his voyage to Brazil. He named the island "Los Barbados" due to the island's fig trees, which have beard-like aerial roots.
However, it was the British who left an indelible mark. They claimed Barbados in 1625 and began its colonization in 1627. Sir William Courteen was the first to settle, followed by the Earl of Carlisle. Under British rule, the island underwent a major transformation.
The Sugar Revolution:
In the mid-1640s, Dutch settlers introduced sugarcane cultivation, which reshaped Barbados's economic and social fabric. The island quickly became a major sugar producer, necessitating large labor forces. This led to the tragic transatlantic slave trade. Thousands of enslaved Africans were brought to the island to work on plantations under harsh conditions. The legacy of this era is still evident in the island's population demographics and its rich Afro-Caribbean culture.
Road to Independence:
The oppressive conditions on the plantations led to numerous revolts, with the 1816 Bussa Rebellion being the most significant. Although it was quashed, it sowed the seeds for emancipation, which was finally achieved in 1834. However, true political power remained elusive until the 20th century.
After World War II, a global decolonization movement took hold, and Barbados began its journey towards independence. With leaders like Sir Grantley Adams and Errol Barrow, the island transitioned to self-governance. On November 30, 1966, Barbados officially became an independent nation, with Errol Barrow serving as its first Prime Minister.
Post-independence Era:
The post-independence era saw Barbados diversifying its economy. While sugar remained essential, tourism began to take center stage. The island modernized, with investments in infrastructure, health, and education. Barbados today stands as a testament to resilience, growth, and evolution, all the while cherishing its roots and traditions.
Cultural Imprints:
The history of Barbados is not just about dates and events; it's about the rich tapestry of cultures that have melded here. African traditions, British colonial legacies, Amerindian traces, and global influences have shaped the island's festivals, music, dance, art, and culinary delights.
Understanding the history of Barbados offers visitors a profound appreciation of the island. Beyond its pristine beaches and crystal-clear waters, lies a tale of courage, resilience, and cultural convergence. As you traverse the island, from its historic Bridgetown to the rum distilleries and the vibrant Oistins Fish Fry, remember that every cobblestone and every beat of calypso carries with it a story rooted in a rich and tumultuous past.

source: Before You Go on YouTube
Barbados Top Attractions: Best Places to Visit in Barbados
One of the better-known Caribbean islands thanks to its role in creating one of the world's most popular alcoholic beverages (rum), Barbados is a bucket list destination for many travelers.
Known by many as Little Britain due to its long history as a colony of the British Empire, there are many reminders of that period that can be found throughout Barbados. Those renting a car or scooter will drive on the left, while many locals enjoy a good game of cricket during their time off from work.
With plenty to see and do, a holiday in Barbados will be filled with memories from start to finish.
Currency: Barbadian Dollars
Languages: English
Start your cultural tour of Barbados by paying a visit to St Nicholas Abbey. This estate is one of only three genuine Jacobean mansions that can be found in the Western Hemisphere. Despite the name, this attraction has no connection to any religion, as it has always served as a sugarcane plantation house.
Dating back to the 17th century, one of the original aristocrats to own this mansion moved to what is now the United States to found the colony of South Carolina. The gardens are also noteworthy, and sugar cane is still grown on site, though it is currently processed at a different location.
While tourism dominates the Barbadian economy in the 21st century, rum has always been one of its largest exports. When you visit Mount Gay Rum Distillery, you will learn that this famous brand is one of the oldest in the world, as it was founded in 1703.
The tour here will take you through the present-day bottling plant, and it also contains antique stills from the early days of rum production. At the end, you will be greeted with complimentary cocktails and a traditional Bajan lunch, making this tour a great value for visitors to Barbados.
Barbados' tropical climate makes it easy to grow plants of all kinds; if you want to see the diversity of this island's endemic and imported plants in a gorgeous setting, be sure to drop by Hunte's Gardens.
Situated at the centre of Barbados within a 30 minute drive of most places on the island, it is easily one of the best green spaces on the entire island. Created by owner Anthony Hunte, he is often on the property to greet visitors.
Other Cultural Attractions: Trip to Barbados
Always eager to share a drink and a story, his commentary will make your walk through this paradise an enjoyable one, so don't be afraid to engage him if he happens to be home.
Discovered in 1795, but forgotten about for almost 200 years, Harrison's Cave is one of Barbados most popular tourist attractions.
Those that are scared about getting lost needn't worry, as transport through this subterranean cavern is organized by tram, with designated stops where passengers can get off and observe the stalactites and stalagmites up close. The most impressive feature in this cave is the Great Hall, which features a 50 foot high ceiling.
There are many beaches on Barbados that are famed worldwide for their attractiveness. While the one by your resort will likely be quite beautiful, be sure to make time in your schedule for Carlisle Bay.
While it is not the best place for those looking for peace and quiet, if you are looking for a family-friendly beach with calm waters, snorkeling and diving opportunities, water sports, and/or plenty of urban amenities, you will like what you find here.
If you are looking for a more serene environment, you will fall in love with Bottom Bay. Backed by coral cliffs and lorded over by tall palm trees, it is an ideal spot to catch up on your reading in some of the most inspired surroundings that you will find on the island.
If you want to invigorate your spirit, then spending an afternoon on Bathsheba Beach will do the trick.
Exposed to the open Atlantic on the east coast of Barbados, casual swimming is not recommended here due to strong rip currents, but surfers will love the breakers that roll in on a consistent basis.
What to Eat in Barbados
If you are looking for a quick snack on Barbados, be sure to reach for a Conch Samosa. Thanks to a long history of Indian immigration, this savoury pastry has become a popular snack for locals and visitors alike.
With conch being one of the most plentiful shellfish found off the coast of Barbados, this type of samosa is one of the most uniquely Barbadian flavours that you can try.
If you want to sample the national dish of Barbados, be sure to order some Cou-Cou & Fried Flying Fish when you are out at a local restaurant.
Consisting of cornmeal and okra (Cou-Cou) and fried or baked flying fish (which is often seasoned with fresh lime juice), it is a satisfying meal that you might find yourself having more than once during your time here.
Pudding and Souse is another Barbados delicacy that you should try. Available only on Saturdays, it consists of pickled pork served with a pudding made from sweet potatoes.

source: Virgin Atlantic on YouTube
Top 55 Things To Do in Barbados For Visitors
From sun-soaked beaches to historic landmarks, Barbados offers a cornucopia of experiences. Here are the top 55 things to do when visiting this Caribbean gem:
Carlisle Bay: Dive or snorkel in the clear blue waters and explore several shipwrecks.
Harrison's Cave: Journey into this crystalline cave with its stunning stalactites and stalagmites.
Oistins Fish Fry: Join locals for fresh seafood, music, and dance on Friday nights.
Historic Bridgetown: Wander through the UNESCO World Heritage site, visiting landmarks like the Parliament Buildings.
Mount Gay Rum Distillery: Discover the world's oldest rum's origins and enjoy tasting sessions.
Bathsheba: Admire the impressive rock formations and catch some waves at Soup Bowl, a surfer's paradise.
Barbados Wildlife Reserve: Spot green monkeys, turtles, and tropical birds in their natural habitat.
Andromeda Gardens: Stroll through this botanical paradise with exotic plants from around the world.
Hunte's Gardens: Immerse yourself in this lush, beautifully landscaped garden.
St. Nicholas Abbey: Visit this 17th-century plantation house and rum distillery.
George Washington House: Explore the residence where the future US president stayed in 1751.
Crop Over Festival: Revel in the vibrant carnival celebrating the sugar cane harvest season.
Welchman Hall Gully: Hike in this tropical forest, witnessing its rich biodiversity.
Graeme Hall Nature Sanctuary: Birdwatch in this last remaining mangrove on the island.
Barbados Museum: Dive deep into the island's history, from pre-colonial times to present.
Morgan Lewis Windmill: Visit one of the Caribbean's last remaining operational sugar mills.
Cherry Tree Hill: Enjoy panoramic views of the island from this 850-foot elevation point.
The Atlantis Submarine: Experience an underwater adventure, exploring reefs and marine life.
Swim with Turtles: Join sea turtles in their natural habitat on guided snorkeling tours.
Nidhe Israel Synagogue: Explore one of the oldest synagogues in the Western Hemisphere.
Bottom Bay: Relax on this secluded, palm-fringed beach, ideal for picnics.
Holetown Festival: Celebrate Barbados' British settlement with parades, music, and dance.
The Careenage: Walk along this historic Bridgetown area with its colonial architecture.
Garrison Savannah Racetrack: Experience horse racing in a historical setting.
Crane Beach: Revel in the beauty of pink-tinged sands and azure waters.
Flower Forest: Wander amidst vibrant tropical flora in this 53-acre nature reserve.
Surfing at Silver Sands: Ride the waves at this renowned spot for windsurfing and kitesurfing.
Gun Hill Signal Station: Marvel at panoramic views and learn about the island's military history.
Speightstown: Walk the streets of this historic town with its charming colonial architecture.
Animal Flower Cave: Explore this sea cave, named for the sea anemones found within.
Limegrove Lifestyle Centre: Indulge in luxury shopping and dining in Holetown.
Folkestone Marine Park: Snorkel amongst colorful corals and marine life.
St. John's Parish Church: Admire this Gothic church's architecture and its cliff-top views.
Codrington College: Visit the Western Hemisphere's oldest theological college.
Rihanna Drive: Stroll the street dedicated to Barbados' global pop icon.
Barbados Concorde Experience: Get up close with the supersonic aircraft at Grantley Adams International Airport.
Diving in Shark Hole: Experience the thrill of diving in this spot, despite its misleading name, sharks aren't common here.
Sunbury Plantation House: Step back in time in this 300-year-old plantation home.
Pelican Craft Village: Shop for local crafts and artworks.
Sam Lord's Castle: Learn about the legends surrounding this historic mansion.
Paynes Bay: Engage in water sports or simply relax on this popular west coast beach.
Rum Punch Tasting: Sample this Caribbean cocktail at various local joints.
Barbados Golf Club: Tee off in this scenic, world-class facility.
The Boatyard: Enjoy beach activities, water trampolines, and a lively beach bar atmosphere.
Orchid World & Tropical Flower Garden: Marvel at a diverse collection of orchids and other tropical plants.
Bridgetown Market: Shop for fresh produce and local delicacies.
Catamaran Cruises: Sail along the coast, stopping for snorkeling and beach picnics.
Blackwoods Screw Dock: Discover the only remaining screw dock in the world.
Barbados National Heroes Gallery: Learn about the ten national heroes of Barbados.
The Globe Drive-In: Experience an open-air movie at this iconic venue.
The Rum Shop Experience: Visit local rum shops for an authentic Bajan experience.
Island Safari: Explore Barbados' off-the-beaten-path areas in 4×4 jeeps.
Barbados Blue Water Sports: Dive, snorkel, or paddleboard in pristine waters.
Aerial Trek Zipline: Glide above the treetops and experience Barbados from a bird's-eye view.
This expansive list is merely a starting point. Every corner of Barbados holds a new story, a fresh experience, or a hidden gem waiting to be discovered. Happy exploring!

source: Davidsbeenhere on YouTube
What To Eat and Drink in Barbados
When you visit Barbados, prepare to embark on a culinary journey that tantalizes your taste buds. The island's rich cultural tapestry, combined with its natural bounty, offers a symphony of flavors. Here's a detailed guide to the must-eat foods and drinks of Barbados.
Eats:
Flying Fish: This iconic fish, often served fried or steamed, is almost synonymous with Barbados. It's commonly paired with cou-cou, making the national dish of the island.
Cou-cou: Made from cornmeal and okra, this dish is reminiscent of polenta. It's traditionally served with flying fish but can be paired with other proteins.
Macaroni Pie: A Bajan twist on mac and cheese, this is a baked dish with pasta, cheese, and various seasonings. It's richer and more flavorful than its American counterpart.
Fish Cakes: These deep-fried delights made from salted fish, herbs, and spices are a popular snack and appetizer.
Pudding and Souse: This Saturday delicacy consists of pickled pork served with steamed sweet potato pudding.
Roti: A culinary influence from the Indian indentured laborers, this curry-filled wrap is a satisfying meal on its own.
Bajan Seasoning: A mix of herbs, peppers, and spices, this marinade is essential for many local dishes, imparting a unique Barbadian flavor.
Grilled Lobster: Freshly caught Caribbean lobsters grilled to perfection, often seasoned with Bajan spices.
Pepperpot: A rich, thick stew made from various meats and flavored with cassava-based "cassareep."
Salt Bread: Soft, doughy bread that pairs wonderfully with fish cakes or ham for a delicious sandwich.
Rice and Peas: A staple in many Caribbean islands, in Barbados, this dish is often made with pigeon peas and flavored with coconut.
Breadfruit: Can be roasted, fried, or boiled. When roasted and served with salted cod, it's known as "Bajan Caviar."
Sweet Potato Pie: A delightful dessert or side dish, made creamy with condensed milk and spiced with nutmeg and cinnamon.
Conkies: A treat made from cornmeal, coconut, pumpkin, and sweet potato wrapped in banana leaves and steamed. It's especially popular during the Independence celebrations in November.
Drinks:
Rum: Barbados claims to be the birthplace of rum, and with distilleries like Mount Gay, it's a must-try. Experience it neat, on the rocks, or in cocktails.
Rum Punch: A delightful mix of rum, lime juice, sweet syrup, and a dash of Angostura bitters.
Mauby: A unique, slightly bitter drink made from the bark of the mauby tree, sweetened and spiced.
Banks Beer: The island's local beer, this lager is a perfect refreshing drink for the beach.
Falernum: A sweet syrup used in cocktails, made from almond, ginger, lime, and sometimes cloves.
Sea Moss Drink: Made from Irish moss, this drink is often flavored with vanilla and spices, and touted for its health benefits.
Sorrel Drink: Typically enjoyed during Christmas, this drink is made from dried hibiscus flowers, ginger, and spices.
Coconut Water: Fresh from the husk, it's nature's own electrolyte-rich drink.
Bajan Lemonade: Made with fresh limes, sugar, and a touch of bitters, it's a refreshing accompaniment to any meal.
Ginger Beer: A non-alcoholic fizzy drink made by fermenting ginger and sugar, perfect for a hot day.
To truly savor Barbados, one must dive into its culinary delights. These foods and drinks not only offer a burst of flavors but also tell stories of the island's history, cultural amalgamation, and the abundant love Bajans pour into their cooking. Enjoy your culinary journey in this Caribbean paradise!
Barbados Travel Guide: Final Thoughts
Nestled in the heart of the Caribbean, Barbados stands as an exquisite gem that captivates the hearts of all who venture to its sun-kissed shores. This comprehensive travel guide aims to delve into the very essence of Barbados, providing intricate details to help you craft an unforgettable journey through this tropical paradise. From its azure waters and pristine beaches to its vibrant culture and historical landmarks, Barbados offers an unparalleled experience that leaves an indelible mark on every traveler's soul.
Natural Splendors and Beach Bliss:
Barbados boasts some of the most stunning natural landscapes in the Caribbean. The coastline is a masterpiece of contrasting colors – the dazzling white sands blend seamlessly with the turquoise waters, while lush greenery frames the entire vista. Visitors are spoilt for choice when it comes to beaches, each with its own unique character. The popular Crane Beach, known for its dramatic cliffs and gentle waves, contrasts with the serene and family-friendly Mullins Beach. For water sports enthusiasts, Silver Rock Beach offers world-class windsurfing and kitesurfing opportunities.
Culinary Delights:
Barbados tantalizes the taste buds with its eclectic culinary scene. The island's cuisine is a fusion of African, Caribbean, and British influences, resulting in a rich tapestry of flavors. Don't miss out on trying the national dish, Cou-Cou and Flying Fish, which represents the cultural amalgamation of the island. The bustling Oistins Fish Fry is a must-visit for a casual dining experience where fresh seafood is grilled to perfection, and local music fills the air.
Historical and Cultural Immersion:
Barbados is not just a beach destination; it's a repository of history and culture waiting to be explored. Bridgetown, the capital, is a UNESCO World Heritage Site that echoes the island's colonial past. The historic Garrison area is home to the impressive George Washington House, where the first U.S. President once stayed. The Barbados Museum and Historical Society provide a deeper understanding of the island's heritage, from its indigenous roots to its colonial era and beyond.
Festivals and Vibrant Celebrations:
Immerse yourself in the island's festive spirit by participating in its lively celebrations. The Crop Over Festival, the most famous of all, marks the end of the sugar cane harvest with a vibrant carnival, showcasing elaborate costumes, pulsating music, and an overall atmosphere of joy. The festival is a testament to the island's resilience and its ability to transform even the darkest history into a celebration of life.
Adventure and Exploration:
While Barbados is renowned for its laid-back beach culture, adventure-seekers will find plenty of activities to get their hearts racing. Explore Harrison's Cave, an underground marvel of stalactites and stalagmites that has been carefully preserved for generations. Animal Flower Cave, located at the northern tip of the island, offers not only stunning sea views but also the opportunity to swim in natural rock pools.
Hospitality Beyond Compare:
Barbadians, often referred to as Bajans, are known for their warm and welcoming nature. The island's friendly locals are eager to share their culture and stories, enriching your travel experience. Whether you're engaging in conversations with street vendors or seeking directions from a passerby, you'll find the people of Barbados embody the true spirit of Caribbean hospitality.
In conclusion, a journey to Barbados transcends the realm of a typical vacation. It's an expedition that encompasses relaxation, adventure, history, culture, and connection. From the moment you step onto the island's shores, you're enveloped in an ambiance that invites you to slow down, appreciate life's simple pleasures, and embrace the beauty that surrounds you. As you depart this paradise, you'll carry with you not just memories of turquoise waters and golden sunsets but a profound understanding of a place where nature, history, and humanity coexist in perfect harmony.