Montana, often referred to as the "Treasure State" or "Big Sky Country", offers a sublime juxtaposition of vast plains and towering mountains. As one of the least populated states in the USA, Montana presents a unique opportunity for visitors to truly immerse themselves in its sprawling natural landscapes, experiencing the raw beauty of North America without the humdrum of crowded tourist spots.
The state's name itself, derived from the Spanish word 'montaña', meaning mountain, offers a hint of the grandeur that awaits those who venture here. Montana's skies seem to stretch infinitely, painted with vibrant hues during sunrises and sunsets, and sparkling with countless stars on clear nights.
Geography and Climate
Geographically diverse, Montana is divided into two main regions: The Rocky Mountains to the west and the Great Plains to the east. This gives rise to an assortment of terrains ranging from vast, undulating prairies, verdant valleys, meandering rivers, to rugged mountain peaks. Montana's climate, while generally described as continental, can vary significantly. Winters can be cold and snowy, especially in the mountains, while summers are warm but can be punctuated by cool nights — a relief for those wanting to escape the oppressive heat found elsewhere.
Natural Wonders
Montana houses two of the country's most renowned national parks: Glacier National Park, often called the "Crown of the Continent", and the north entrance to Yellowstone National Park. Both parks offer opportunities for wildlife viewing, including elk, wolves, and grizzlies. The state also boasts a variety of other natural attractions from the geothermal wonders of Yellowstone, the intricate limestone caverns in Lewis & Clark Caverns State Park, to the massive Fort Peck Lake.
Cultural Tapestry
Beyond its natural beauty, Montana also presents a rich tapestry of history and culture. Indigenous tribes such as the Crow, Cheyenne, and Blackfeet have lived in Montana for thousands of years, their cultures and histories weaving intricate stories across the plains and mountains. The state's more recent history during the 19th century is painted with tales of explorers, gold prospectors, and settlers. Visitors can get a taste of this history in towns like Virginia City, where time seems to stand still, or through the numerous museums and heritage sites scattered across the state.
Activities Galore
For the active traveler, Montana offers a plethora of activities. Hiking, skiing, fishing, and horseback riding are just a few of the myriad ways one can intimately engage with the land. Winter transforms the state into a snowy paradise, ideal for skiing, snowboarding, and snowshoeing.
Culinary Delights
No travel guide would be complete without mentioning the culinary scene. Montana might surprise you with its gastronomic offerings. From juicy bison burgers, succulent trout freshly caught from its rivers, to huckleberry pie, Montana's culinary palette is as diverse as its landscapes. Local breweries and distilleries also offer unique brews and spirits for those looking to quench their thirst after a day of adventure.
In sum, Montana is not just a destination; it's an experience. It beckons those with a yearning for open spaces, untouched nature, rich history, and a sense of adventure. Whether you're gazing up at the vastness of its skies, listening to the stories of its past, or feeling the pulse of its rivers, a trip to Montana is an odyssey of discovery, offering treasures that linger long in memory.
Montana State Guide: A Brief History Of Montana For Visitors
When one stands amidst Montana's sprawling landscapes, it's easy to imagine the footprints of time etched across its terrain. From its earliest Indigenous inhabitants to its modern-day appeal as a haven for nature enthusiasts, the history of Montana is a saga of perseverance, exploration, and transformation.
Prehistoric Era and Indigenous Tribes
The narrative of Montana begins thousands of years ago, with the region's first Indigenous tribes. Archaeological evidence points to human habitation in the area as far back as 12,000 years. Indigenous tribes such as the Crow, Blackfeet, Cheyenne, Kootenai, Salish, and Pend d'Oreille were the region's first inhabitants, each with their distinct cultures, traditions, and histories. They thrived on Montana's plains and mountains, creating societies deeply connected to the land.
European Exploration and The Fur Trade
The 18th century heralded the era of European exploration. By the early 1800s, trappers and traders ventured into Montana's wilderness, lured by its abundant beaver population and the promise of the fur trade. The Lewis and Clark Expedition of 1804-1806 was a significant event in Montana's early history, marking the first documented exploration by Americans. Their journey through the region, which they dubbed the "Gateway to the Northwest", opened Montana to further exploration and trade.
Gold Rush and Settlement
The discovery of gold in the mid-19th century at spots like Grasshopper Creek transformed Montana almost overnight. This prompted a rush of settlers and prospectors hoping to stake their claim and seek their fortunes. The resulting influx led to the establishment of booming towns like Virginia City and Bannack. But with prosperity came challenges. The sudden influx caused tensions with the Indigenous populations, leading to conflicts like the Battle of the Little Bighorn in 1876.
Statehood and Railroads
Montana achieved statehood in 1889. Around this time, railroads started crisscrossing the state, spearheading its development and drawing more settlers. Railroads like the Northern Pacific and the Great Northern facilitated the movement of cattle, grain, and minerals, connecting Montana to national markets and ensuring its economic growth.
20th Century Development and Conservation
The 20th century saw Montana evolve in various ways. While the state continued its agrarian tradition, there was a growing emphasis on conservation. Efforts were made to protect Montana's pristine landscapes, leading to the establishment of Glacier National Park in 1910 and the expansion of Yellowstone. The New Deal programs of the 1930s helped Montana recover from the Great Depression, investing in infrastructure and conservation projects.
Modern Montana
Montana today stands as a blend of its historic roots and modern evolution. The state's agricultural heritage persists, with Montana being a leading producer of beef, wheat, and barley. The rich cultural tapestry of its Indigenous tribes is celebrated through events, museums, and reservations. Tourism plays a significant role in Montana's economy, as travelers from around the world are drawn to its natural beauty, historical sites, and recreational opportunities.
Montana's history is as vast and varied as its landscapes. From the proud legacy of its Indigenous peoples, the adventurous spirit of its early explorers, to the determination of its settlers, Montana's past is a compelling journey of challenges and triumphs. For visitors, understanding this history enriches the experience of traversing its lands, lending depth and perspective to every mountain, river, and valley.

source: Scenic Hunter on YouTube
Top Attractions and Best Places to Visit in Montana
Starting out from flat to rolling plains in the east, and transitioning to undulating coulees and buttes as you head west towards the dramatic Rocky Mountain front, Montana will thrill lovers of the outdoors.
Those that abhor crowds will similarly adore this state as little more than one million people fit into this naturalist's wonderland that stretches 630 miles east to west and 255 miles north to south at their broadest points.
All this space has bred an attitude of libertarianism that is inspiring, as many of the folk that inhabit this naturally poetic land have built their lives from the ground up in this stunning and abundant territory.
When headed to Montana, don't forget to kick the dried up, crusted mud from your hiking boots, as there is a portion of backcountry out there waiting to be captured and claimed by you, if only for a day.
While American, European and other settlers from around the world only started to stream into this wild but beautiful territory little more than a century ago, native tribes have called these calming lands home for eons, as have the wildlife of the present and of the ancient past.
The Museum of the Rockies tells the story of this special corner of America, from the days that the various native nations (Kootenay, Blackfoot, Crow, and more) roamed the plains and valleys of Montana, to millions of years prior, when T-Rex roamed the same patch of earth in search of dinner.
Being affiliated with the Smithsonian institution, and having the largest collection of dinosaur remains in the USA, this museum is a must visit when passing through Bozeman.
If the mystique of the Old West resonates strongly with you, dropping by the C. M. Russell Museum will be well worth your while. Named after the famed western artist and located in the home in which he once resided, this gallery of art in Great Falls contains paintings, stuffed animals such as bison, and sculptures that evoke the pioneer experience in Montana.
Recommended by the Wall Street Journal as one of the best western art galleries in America, it is a place that can't be missed.
More About Montana
Bored with life in the Lower Midwest, wealthy entrepreneur Preston B. Moss decided to shake up his life by moving to the frontier city of Billings in 1903 from Paris, Missouri. At a time when houses and land cost an average of $3,000, Preston built the Moss Mansion for an astounding $105,000, making it stand out from other homesteads in the otherwise humble western city.
Lived in until 1984 by his daughter, the furnishings and condition of the interior is still in excellent shape, with its inspired appearance spurning dreams among those with the ambition to achieve such lofty heights in life.
Not far from the center of Billings is the Pictograph Cave, which is a cavern that contains drawings by native peoples that date back anywhere from 200 to 2,100 years in the past. The engravings depict local wildlife, people engaging in rituals and warfare, the latter of which depict rifles in the more recent drawings.
This makes this place a great way to see the progression of native culture from the days when they were alone in this land, right up to their first contact with Americans.
Other Cultural Attractions: Trip to Montana
Outdoor enthusiasts will be like a kid in a candy store during their time in Montana, with endless possibilities for interacting with nature at every turn. Start by visiting Glacier National Park, which contains the southernmost portion of the geological portion of the Rocky Mountains that resemble the Canadian Rockies to the north.
This means enormous vertical prominences from valley bottom to mountain peak, abundant glaciers, and lakes that glow an effervescent blue-green from pulverized glacial sediment. Drive the Going-To-The-Sun road and stare with your jaw agape at the mountain scenery visible from a road that barely clings the side of another peak, camp in the front or backcountry, or reflect in the crystalline serenity of Lake MacDonald.
Whatever you do in Glacier National Park, it will fill your soul up and may even change you as a person; such is the power of the beauty of this region.
Those that want to get up close and personal with the wildlife that inhabits Glacier or any other wild region of Montana will love the Grizzly & Wolf Discovery Center. Taking in habituated or orphaned bears (those that have lost their fear of humans from being fed or from feeding on garbage in towns) and wolves, this institution allows you to see these beautiful creatures up close, as well as learn about the social structures of these two fascinating species.
With some of the best peaks in the American Rocky Mountains, but totally lacking in the crowds that plague resorts to the south in Colorado, Montana is an excellent place to carve up the slopes in winter, whether you are a skier or a boarder.
Big Sky Resort is the best place to show off your shredding skills, as having almost 6,000 acres of terrain will allow you to find the perfect line without getting crossed in front by some idiot.
When the snow melts in the spring, trade in your skiing/snowboarding boots for hikers, as trekking in the summer time is a popular activity in Montana.With numerous trails in national forests, wilderness reserves, and in Glacier National Park and the small sliver of Yellowstone National Park that can be found in Montana, there is no shortage of choice for the serious hiker.

source: Island Hopper TV on YouTube
Top 55 Things To Do in Montana For Visitors
Montana, lovingly known as "Big Sky Country," blends natural beauty, rich history, and modern-day wonders seamlessly. Dive into this extensive guide to experience the best of Montana.
National Parks & Majestic Nature
Glacier National Park: Navigate the iconic Going-to-the-Sun Road, witnessing glacial landscapes and pristine lakes.
Yellowstone's Montana Realm: Traverse the geothermal wonders, including geysers and hot springs, while spotting wildlife like bison and elk.
Makoshika State Park: Wander among the badlands, admiring unique rock formations and prehistoric fossils.
Flathead Lake: Relish water activities in one of the cleanest freshwater lakes in the world.
Lewis & Clark Caverns: Delight in naturally air-conditioned cave tours, showcasing stalactites and stalagmites.
Historical and Cultural Landmarks
Virginia City & Nevada City: Time-travel to the well-preserved gold-mining towns of the 1860s.
Montana Historical Society Museum: Absorb Montana's comprehensive history in Helena's heart.
World Museum of Mining, Butte: Explore the mining heritage and perhaps descend into an original mine.
Little Bighorn Battlefield National Monument: Pay respect at the site recounting the 1876 battle between the U.S. Army and Native American tribes.
Plains Indian Museum, Browning: Dive deep into the rich tapestry of Montana's Native American cultures.
Adventure & Sports
Whitefish Mountain Resort: Experience skiing, mountain biking, or zip-lining, depending on the season.
Rock Climbing in Gallatin Canyon: Rise to the challenge of climbing granite walls.
Fly Fishing in Gallatin River: Engage in Montana's iconic pastime amidst serene nature.
Hiking in Bitterroot National Forest: Traverse the forest trails, perhaps spotting wildlife or blooming wildflowers.
Snowmobiling in West Yellowstone: Glaze over snow-covered terrains, feeling the rush of cold air.
Scenic Routes & Picturesque Trails
Beartooth Highway: Drive this high-altitude, panoramic route for unbeatable mountain views.
Missouri River Country: Experience a serene boat journey tracing Lewis & Clark's expedition.
Big Sky's Mountain Trails: Horseback ride, appreciating Montana's countryside.
Highline Trail, Glacier National Park: Hike this challenging but rewarding trail, gazing at alpine landscapes.
M Trail, Bozeman: A moderate hike leading to panoramic city and valley views.
Wildlife & Birdwatching
National Bison Range: Witness herds of bison, Montana's iconic animal, roaming free.
Slippery Ann Elk Viewing Area: Experience the enchanting sight of elk in their natural habitat.
Ninepipe Wildlife Refuge: A paradise for birdwatchers, with numerous species flocking here.
Bear Paw Battlefield: If lucky, spot grizzly bears in this historic setting.
Freezout Lake: Marvel at the spring bird migration, especially snow geese.
Local Cuisine & Craft Beverages
Huckleberry Treats: From pies to jams, indulge in Montana's beloved fruit.
Taste Bison: Relish a local bison steak or burger.
Montana Brewery Tour: Sip on craft beers, noting the distinct flavors from local ingredients.
Visit a Local Distillery: Sample spirits, including those made from locally grown grains.
Farmer's Markets: Experience local produce, crafts, and often live entertainment.
Art, Music & Festivals
Missoula Art Museum: Admire contemporary art in a serene setting.
Montana Folk Festival, Butte: Enjoy traditional music, dance, and crafts.
Bozeman Symphony: Attend a concert, feeling the local vibe and passion for music.
Sweet Pea Festival, Bozeman: Engage in this arts celebration, filled with music, theater, and dance.
Alive After Five, Billings: A summer weekly concert series, perfect for music enthusiasts.
Relaxation & Wellness
Chico Hot Springs: Unwind in natural hot pools, gazing at surrounding mountains.
Spa Day in Big Sky: Rejuvenate with treatments amidst serene settings.
Yoga in the Outdoors: Practice yoga, often offered in parks or by lakes.
Mindful Retreats: Engage in guided retreats, focusing on mindfulness amidst nature.
Shopping & Souvenirs
Downtown Bozeman: Shop local boutiques, galleries, and gourmet food shops.
Billings' Rimrock Mall: Montana's largest shopping center offers diverse retail options.
Handmade Montana Crafts: Acquire unique souvenirs like pottery, jewelry, or textiles.
Family-Friendly Activities
Montana Grizzly Encounter, Bozeman: Learn about grizzly bears and conservation.
Dinosaur Trail: Visit multiple sites, like the Museum of the Rockies, displaying dinosaur fossils.
Storybook Island, Rapid City: A whimsical park with characters from children's tales.
Big Sky Labyrinth: Walk a peaceful, meditative stone labyrinth with mountain views.
Unique Montana Experiences
Star Gazing in Big Sky Country: Montana's clear skies offer unmatched stargazing opportunities.
Sled Dog Adventures: Experience dog sledding in wintery landscapes.
Cowboy Experience: Engage in a genuine cowboy day, learning roping and riding.
Ghost Town Exploration: Visit abandoned towns like Bannack and Garnet, stepping into history.
Helicopter Tours: Gain a bird's-eye view of Glacier or Yellowstone National Park.
Seasonal Activities
Ice Climbing in Hyalite Canyon: A winter adventure for adrenaline junkies.
Wildflower Spotting in Spring: Montana's meadows burst into color.
Fall Foliage Tours: Admire autumn colors, especially in areas like the Bitterroot Valley.
Summer Rodeos: Embrace Montana's western heritage with barrel racing, bull riding, and more.
With its diversity of experiences, Montana truly offers something for every type of traveler, promising memories to last a lifetime.

source: Wolters World Eats on YouTube
What To Eat and Drink in Montana
Montana's gastronomic journey is a delightful blend of indigenous culinary traditions, ranch-style comforts, and contemporary influences. Here's an extensive guide to ensure you relish the essence of Montana through its food and drink.
Traditional Montana Cuisine
Bison: Montana's iconic animal, bison meat is a leaner alternative to beef. You can enjoy it as a juicy bison steak, burger, or even in stews.
Huckleberries: Found predominantly in Montana's mountainous areas, these tart, dark berries are a staple. From jams and pies to ice creams, huckleberries are omnipresent.
Elk and Venison: Often featured in steaks, sausages, and jerky, these game meats are rich in flavor and rooted in Montana's hunting traditions.
Rocky Mountain Oysters: A dish not for the faint-hearted, these are deep-fried bull testicles, and they're a traditional delicacy, especially at local festivals.
Pasties: Introduced by Cornish miners in Butte, these meat and vegetable-filled pastries have become a Montana favorite, especially in the winter months.
Sourdough Pancakes: A breakfast staple, many Montana families maintain their sourdough starters for generations, using them to whip up fluffy pancakes.
Modern Montana Delights
Farm-to-Table Restaurants: The movement has taken Montana by storm. With the state's agricultural bounty, restaurants often source fresh local ingredients, ensuring a delicious farm-to-table experience.
Artisan Cheeses: Dairy farms across Montana produce a range of cheeses. Seek out local goat, sheep, or cow cheeses to taste the terroir.
Wild Trout: Montana's pristine rivers are teeming with trout. Rainbow, brown, and cutthroat trout often feature on menus, grilled or smoked.
Microgreen Salads: Montana's burgeoning agricultural scene is producing a variety of microgreens, offering a fresh, nutrient-rich addition to meals.
Sweet Treats
Chokecherry Jam: Made from the small, tart chokecherries found in Montana, this jam is a delightful mix of sweet and tangy.
Montana Whiskey Cake: A dense, rich cake that often incorporates local grains and spirits.
Flathead Cherry Pie: The cherries from Flathead Lake are sweet, juicy, and perfect for pie filling.
Drinks & Beverages
Montana Craft Beers: With numerous microbreweries dotting the state, Montana has emerged as a beer lover's paradise. From traditional ales to inventive IPAs, there's a brew for every palate.
Huckleberry Liqueur: Montana's beloved huckleberries are also distilled into a sweet and tangy liqueur, perfect as a dessert accompaniment or in cocktails.
Big Sky Wines: While not as famed as its neighboring states, Montana's budding wine scene boasts unique flavors, particularly cold-hardy grape varietals.
Local Spirits: Distilleries across Montana craft a range of spirits from local grains. Look for Montana-made whiskeys, vodkas, and even gins.
Montana Coffee Traders: This brand, among others, represents Montana's burgeoning coffee scene, roasting beans for rich, flavorful cups.
Sarsaparilla: A nostalgic root beverage reminiscent of root beer, it's a non-alcoholic treat popular in the West.
Festivals & Culinary Events
Flathead Cherry Festival: Celebrate the cherry harvest with tastings, contests, and lots of cherry-themed goodies.
Montana Brewers Fall Rendezvous: A must for beer aficionados, this festival showcases the best of Montana's craft beer scene.
Taste of Big Sky: A culinary event where Montana's top chefs display their skills, offering a feast for attendees.
Dining in Montana provides a spectrum of experiences, from hearty traditional meals to contemporary delights. Combined with the state's natural beauty, it ensures a sensory journey that stays etched in memory.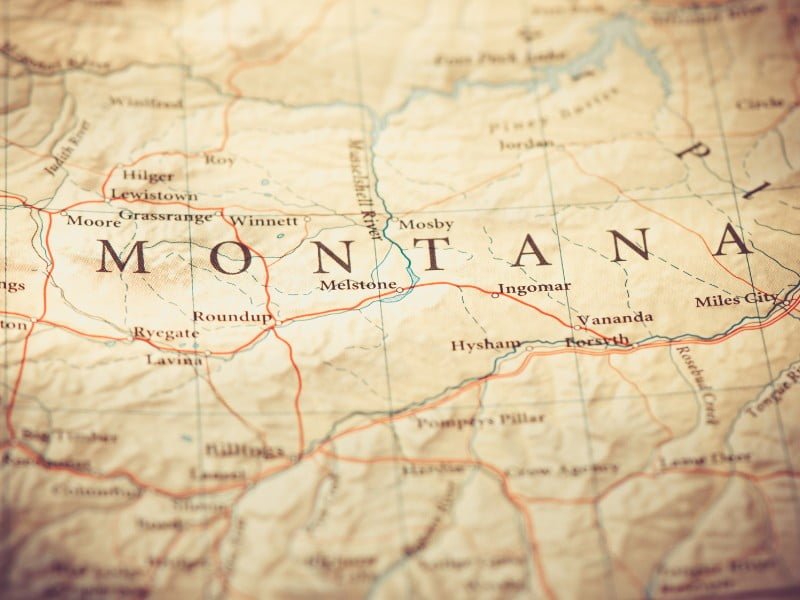 Montana Travel Guide: Final Thoughts
Ah, Montana, the land of unspoiled natural beauty, where the mountains meet the prairies, and the skies stretch out endlessly. As our journey through this guide comes to an end, let's take a moment to reflect on the myriad wonders that this state offers and why Montana truly lives up to its moniker, "Big Sky Country."
The Landscape
Montana's vast and diverse landscapes are arguably its most defining feature. From the towering peaks of Glacier National Park to the rolling plains of eastern Montana, the state provides a backdrop that seems to spring straight from an artist's palette. With the Rocky Mountains, serene lakes, and expansive grasslands, the terrain constantly shifts, offering travelers a new vista at every turn.
The Cultural Tapestry
Montana's rich tapestry of history and culture is intricately woven. The tales of Native American tribes, pioneers, gold miners, and cattle ranchers play out across its expanse. Every historic site, from the eerie ghost towns to the bustling streets of Virginia City, tells a story of determination, strife, and hope. The state not only respects but celebrates its indigenous cultures, ensuring that their stories, art, and traditions are kept alive for generations to come.
A Nature Lover's Paradise
For those passionate about wildlife and nature, Montana is nothing short of paradise. With the likes of Yellowstone and Glacier National Parks within its borders, animal enthusiasts can witness American bison grazing in valleys, grizzly bears meandering by riversides, and majestic eagles soaring under vast blue skies. And let's not forget the vibrant flora – from spring wildflowers to autumn's fiery foliage, Montana's seasons are a sensory delight.
Adventures Unlimited
Whether you're an adrenaline junkie or a seeker of peaceful retreats, Montana caters to every whim. Ski down the snow-clad slopes of Big Sky Resort, raft the frothy waters of the Gallatin River, or simply camp under a canopy of stars. Every experience here, be it horseback riding across the plains or hiking up mountain trails, resonates deeply with the soul.
Culinary Delights
Montana's culinary scene, often underestimated, offers both traditional flavors and innovative dishes. From juicy bison steaks to huckleberry-infused desserts and drinks, the state's gastronomy reflects its rich agricultural heritage and modern-day innovations. The burgeoning craft beer and distillery movements further attest to Montana's commitment to quality and local produce.
Final Reflections
Montana isn't just a destination; it's an emotion. It beckons with the promise of untouched beauty and delivers with genuine, heartfelt experiences. In Montana, the landscapes are grander, the skies are bluer, and the horizons stretch out further. Every sunset viewed and every mountain peak conquered here seems to imprint on the heart, leaving travelers with memories that linger long after the journey ends.
In essence, Montana is more than just a travel destination. It's a testament to nature's grandeur, human resilience, and the simple joys of life. And as we conclude our guide, one thing is certain: a journey through Montana is not just a trip across a state; it's a voyage through time, culture, and overwhelming beauty. Whether you're a first-time visitor or a returning traveler, Montana will always have new stories to tell and new wonders to unveil. Safe travels, and may Montana's vast skies guide your way!
Ode To Montana
In the heart of the West, where the mountains stand tall, Lies Montana, a wonder, the fairest of all. With skies stretching endless, so vast and so blue, A canvas of nature, in every hue.
Majestic and wild, where the bison roam free, Rivers that sparkle, forests dense as can be. From Glacier to Yellowstone, the beauty's profound, In every corner, magic is found.
The echoes of history, in ghost towns they sing, Of Native tribes, gold rush, and the hope they would bring. The prairies dance golden, in the evening's soft glow, While peaks capped with snow, watch the valleys below.
To the traveler, seeking adventures untold, Montana offers stories, in its landscapes bold. Feel the spirit of freedom, with each breath of fresh air, In Big Sky Country, there's nothing to compare.
So, come with a heart open, and eyes ready to see, The splendors of Montana, wild and free. For in this vast state, memories are sown, A place once visited, forever called home.