Spain stands apart from its European neighbors. A warm nation with a culture that values relaxed living (Siestas) but also knows how to party (botellón). Its a unique culture the Spanish are proud of and many people the world over envy. If you asked an outsider to imagine Spain, they would conjure images of Flamenco, tapas and bullfights. They're likely picturing the South of Spain – Andalucia.I try not to qualify what is "authentically" Spanish", each face of a Country makes it what it is. Popular destinations will always attract outside visitors, a place and its people are always in flux as modernisation marches foward. That said, there's certainly a different flavor to the Andalucia region that separates it from its more modern, international counterparts Barcelona and Madrid.
Subculture
This was taken in Sevilla. A friend of my Auntie's who I was staying with remarked that this event didn't embody real
Spanish culture
. After finding several subcultures transplanted all over the world, I see a shared humanity rather than a pastiche from another place. Whether you're at a Rockabilly gig in Sevilla or a Punk Rock show in Córdoba, there's comfort in a familiar lifestyle though the divide of language and culture remain.
This Punk Rock show featured an old drunk guy who harassed the band and hurled himself off the ground like an inflatable punching bag. Its universal.
Spain has its own 50's American Diner franchise and its own Rockabilly scene. This show in Sevilla featured well-dressed Spanish dames, some groovy dancing and sandwiches for intermission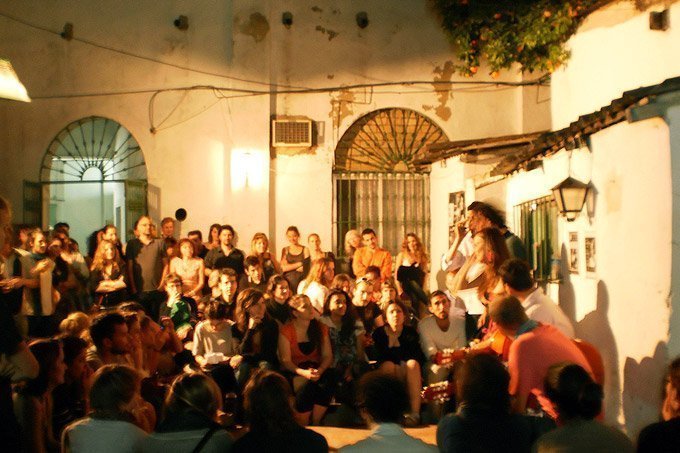 On the Bus to Sevilla I sat next to an Argentinian, it was his first time back after having lived there for 2 years. This was a spot he suggested for good Underground Flamenco
Culture
Putting subcultures aside, there are a few cultural things that are uniquely Spanish. Informed by its relaxed custom and sunny climate.
Botellón is the pastime of young people gathering in public drinking alcohol (pre-drinks or pre-game). You'd be forgiven for thinking this was the aftermath following New Year's celebrations or a big festival. For Siviglianos its Thursday morning.
There is definitely a hippie and bohemian streak in Spain, helped no less by the high rate of youth unemployment. This shot was taken in Granada where I found this way of life at its most visible.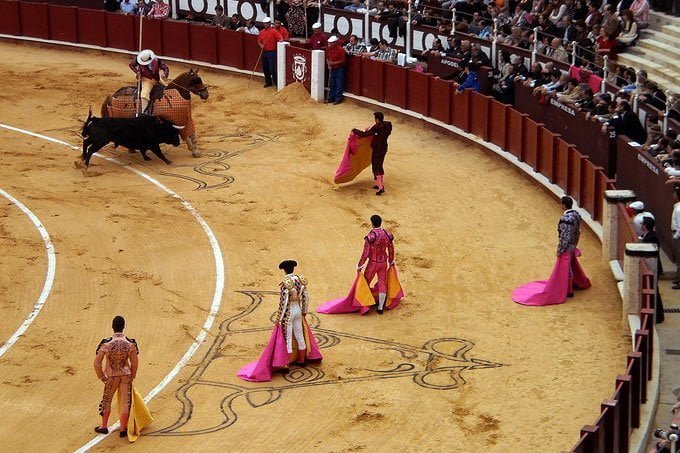 The Spanish-style of BullFighting (corrida de toros) is found largely in Andalucia. Though the sport is synonymous with Spain, its people are divided on the practice (Barcelona banned it in 2010). Though I was torn myself, I succumbed to watching it live in Malaga before passing judgment. You can find the sport screened on on PPV TV at some fancier restaurants.
Tradition
Semana Santa (Holy Week) is a celebration held in April during the week leading up to Easter. Crowds gather watching street processions organised by hermandades and cofradías, religious brotherhoods. Males of all ages take part in the tradition dressed in penitential robes and hoods. For the uninitiated the costumes are reminiscent of the Klu Klux Klan, its actually family affair so its jarring to find cute figurines by the Ice Cream display.
The processions in Sevilla bring out the entire neighborhood. Young people perched on top decked in their Sunday best.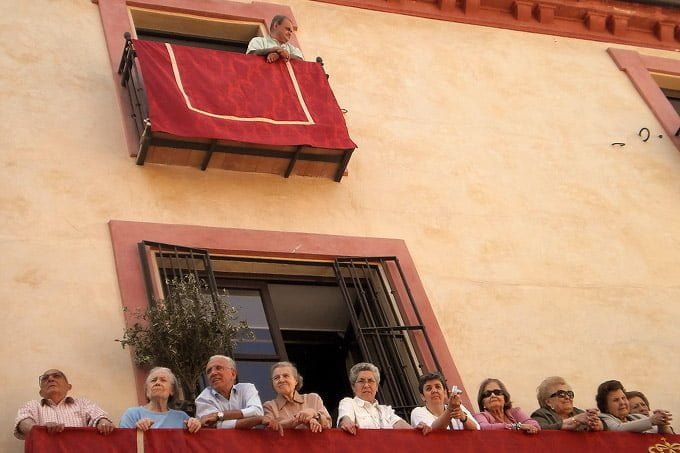 There's nothing like the comfort of a good view and old friends.
This was a guest post from Lorenzo of Loz In Translation.  You can keep up to date with his adventures by following him on twitter.