When you think of Ireland, you probably think of beautiful green landscapes and Guinness. I spent many years living in Dublin and generally Irish pubs are full of friendly locals drinking pints of the black stuff. There are many fantastic drinking holes in Dublin but here are five of my favourite places to enjoy a cheeky pint or two at, if you decide Ireland is your next holiday destination.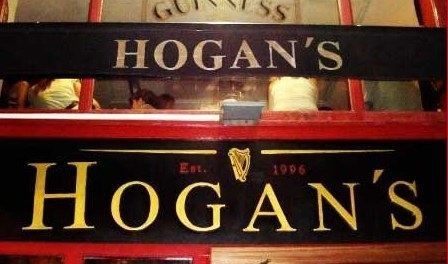 1. Hogans
Despite being a trendy pub on South Great Georges Street, the dress code is casual and it has a relaxed atmosphere. When Hogan's first opened back in the early 1990s the location was quite run down, which is a huge contrast to what it's like today. It was also one of Dublin's first 'superpubs', initially opening as a jazz bar, but now it's a popular late night drinking bar. When the weekend arrives hired DJs really bring in the crowds.
Reasons to visit this Pub: Cool yet down-to-earth atmosphere.
2. Bar with no name
This mysterious bar can actually be found above Hogans. It really doesn't have a name, although it does have a sign with a snail on it! When it first opened it was the city's best kept secret, sadly it's no longer a secret and can get very busy – especially at the weekends. If you want to get a seat make sure you get there very early but there's also a terrace which is an attractive option in the summer. When here make sure you try one of the cocktails mixed by their talented bar staff. The Negroni is very popular but at €10 a go it's not cheap.
Reasons to visit: It's a trendy bar and somewhere a little bit different.
3. The Lotts Café Bar
The Lotts is a great place to go for a drink, the Snug (a small area in the pub where you can enjoy a private drink) is perfect for an after work pint. If you are there on a Sunday, you'll find there's a 'Sports Specials'  where free drinks are given out if a certain player scores. In the evening head to the main bar where you'll find music, beers and cocktails on offer – it's a real contrast from the Snug but it's a good place to get your night started. Also try their weekly quiz night held every Thursday, they offer good prizes including holidays to Spain.
Reasons to visit this Pub: Great competitions and a friendly Irish welcome.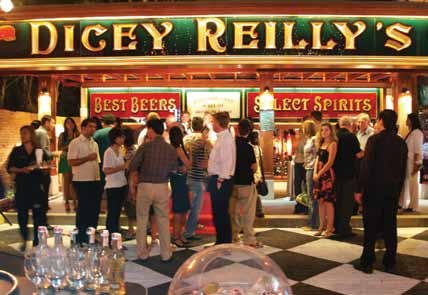 4.  Dicey Reilly's
This bar is part of the Russell Court Hotel and is a great place to enjoy a night out – especially out the back where there is a large courtyard beer garden. During the winter the heaters come out, meaning you can sit outside all-year round. If you book a table in advance they sometimes offer free food platters, making it an even more attractive option. A DJ plays out the back at the weekends and there is a room inside where bands often play.
If you want to find a quiet part of the bar then head for the balcony area, although to guarantee a seat you'll need to book in advance. During the week they offer drinks discounts, with pints costing just €2.00 on a Tuesday. At the weekends you will have to be over 21 to gain entry.
Reasons to visit: Attractive beer garden and freebie food.
5.  Kehoe's Pub
This traditional pub was first licensed in 1803 and is popular with both locals and tourists. Located just off of Grafton Street it get's very busy and boasts some of the best Guinness in the city. The owner John Kehoe, used to live above the pub but after his death, it was sold and the new owners turned John's sleeping quarters into more drinking space. Despite the change of ownership and investment, the pub still draws in students and locals, but now you will also find trendy Dubliners drinking there as well. It's a great pub, with a lovely atmosphere and with its friendly vibe you will probably want to stay longer than you planned!
Reasons to visit: One of the best traditional pubs in the city.
Hopefully one of these, if not all will appeal to you. Dublin is a great city with so much to offer, and the pubs and people are unlike any other in the world. Have a grand trip and remember you can never have enough Guinness!
Written by Scott Balaam. Scott is a travel writer for the travel website GlobalGrasshopper.com which offers travel tips and hotel reviews including where to find cool Amsterdam hotels.