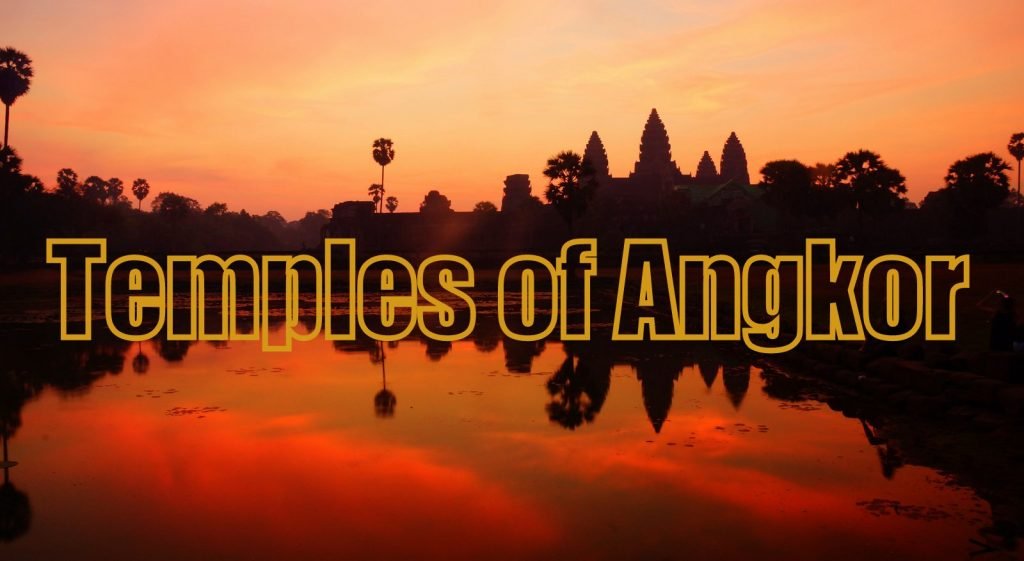 Taking the time to explore the Temples of Angkor by tuk-tuk from Siem Reap (including Angkor Wat, Ta Prohm, Banteay Srei, Angkor Thom, Bayon and Preah Khan) should be at the top of any list of things to do for those traveling in the Kingdom of Cambodia in search of culture, temples and Khmer traditional music.
[vsw id="C-VEzMxt-Oc" source="youtube" width="950″ height="650″ autoplay="no"]
Our first suggestion is to wake-up early and experience a breathtaking sunrise at Angkor Wat. Although you won't be sharing this alone (literally hundreds will be joining you) it's still a unique experience that you can share collectively with others. Once you've taken the 'classic shot' of Angkor Wat, make sure to take the time to explore the temple and complex thoroughly. The sheer scale of Angkor Wat will blow your mind as this is the largest religious structure in the world.
[vsw id="BR2p602499Y" source="youtube" width="950″ height="650″ autoplay="no"]
Dragging yourself out of bed and getting up before the crack of dawn is an absolute must if you want to avoid the dreaded package tourists who flock and clog the temples in ways that can't be imagined. We were literally the first to arrive at Banteay Srei having left our guest house via tuk-tuk at 5 am. The benefits of being first on the scene included our own very private tour of what is normally a part of the temple that is off-limits to tourists.
[vsw id="i_gJ0t89Pfs" source="youtube" width="950″ height="650″ autoplay="no"]
Preah Kahn was one of of our favorite temples in all of Angkor. It has a lot of similar features to Ta Prohm – the temple made famous by the movie Tomb Radier starring Angelina Jolie – without the mass crowds. Maze like corridors, Crumbling walls, piles of rubble and nature winning the battle over man made structures (in this trees overtaking walls) is what you'll have to discover.
[vsw id="uPU7aVRGciM" source="youtube" width="950″ height="650″ autoplay="no"]
There is no better way to get explore the Temples of Angkor than by tuk-tuk. We couldn't help but notice those who decided to go by bicycle looking awfully fatigued and sun burnt trying to navigate on their own. The temples themselves are enormous (sometimes kilometers in length) and challenging enough on foot any given day. Thus, conserving your energy and letting an expert drive you around (in this case a autorickshaw driver) is an affordable and comfortable way to temple hop.
[vsw id="b7X7UjHo9z4″ source="youtube" width="950″ height="650″ autoplay="no"]
When visiting some of the most popular temples, such as Ta Prohm, you'll have the opportunity to listen to traditional Khmer folk music. We thoroughly enjoyed the performance and were happy to leave a small donation.
 [vsw id="jCmfOoBDgVs" source="youtube" width="950″ height="650″ autoplay="no"]
The many faces of Bayon await those who visi the gigantic complex known as Angkor Thom. The stone cold faces with a hint of a smile are fascinating at both short and long proximity; however, Bayon can get overrun by tourists if you're there shortly after sunrise, so we highly recommend going early in the morning.
[vsw id="Nl4u2FB-y1Q" source="youtube" width="950″ height="650″ autoplay="no"]
Ta Prohm is one of the most overrated temples of Angkor largely because of the movie Tomb Raider starring Angelina Jolie where it was featured prominently. Although it's worth checking out, it's the kind of place where you'll feel swamped by tourists with very few places to seek refuge. Although it was one of the most impressive temples we visited it was hard for us to really appreciate it fully because of our inability to escape the human gridlock and noise pollution levels.