Today's article comes from Francis Tapon who is on a 4 year quest to explore Africa. Having already spent 1 year travelling around West Africa, Francis has decided to take on a new project to showcase "The Unseen Africa". His goal is to delve deeper into the continent and showcase Africa for more than the wars and poverty we see on television. For this reason he has launched a Kickstarter campaign to create "The Unseen Africa TV Series". Read on as he tries to debunk certain myths about West Africa, and scroll all the way down to support his campaign.
What comes to mind when you think about West Africa?
Most people would struggle to answer that question. They would probably cite the same ideas they have about Africa in general.
If you're a bit more knowledgeable, you might have a few specific ideas, but how accurate are they?
When I entered Africa in March 2013, I knew little about the continent. I had never set foot in Africa, yet I was starting a four-year trip to all 54 Africa countries (see image on the right).
I began with spending three months in Morocco (which is considered North Africa, so we won't cover it here), and then I spent the next year in every West African country.
Here are 9 commonly held beliefs about West Africa. I'll confess that I believed a few of them before coming here. Learn why they're false.
The Top 9 Myths About West Africa

9. West Africa doesn't have anything like East Africa's wildlife
Wrong.
While West Africa doesn't have the quantity and diversity of wildlife that East Africa has, you might be surprised by just how abundant and varied the wildlife is. For example, when I was in The Gambia, monkeys were jumping all over me (see pic above). I also saw warthogs off a highway in Senegal.
In addition, there are thousands of elephants, although they are vulnerable to extinction. Today, they represent just 1.5% of all of Africa's elephants.
When I was in Koure, Niger, I learned about the 300 giraffes that hang nearby during the rainy season.
Meanwhile, when I swam in the Niger River in Niamey (see photo above), the locals told me to stay away from the deep section because just a months before a hippo had killed someone there. A hippo on the outskirts of a city with one million residents? Who would have thought!? In fact, hippos are spread out throughout West Africa, albeit in decreasing numbers.
There's also the pygmy hippopotamus in Sierra Leone, Liberia, and Côte D'Ivoire.
Finally, West Africa even has a few hundred lions scattered throughout the region.
8. West Africa is dangerous
Yes and no. Yes, West Africa has a high homicide rate. According to the UNODC, 15 out of every 100,000 inhabitants are murdered every year.
On the other hand, it's highly unlikely that they will kill a tourist since most murders are between people who know each other, often intimately (just watch a show about forensic detectives who solve murders).
West Africans might rob you. That's what happened to me after spending one month in Accra. It was 9:00 p.m. and I was walking a few seconds with my Samsung Galaxy S4 in my hand. I thought, "Anyone could knock this out of my hand, so I better put it in my front pocket." So I did. About 5 seconds later, someone pushed me from behind, reached over my shoulder, slipped his hand into my shirt's front pocket, snatched the phone, and ran away.
However, such a theft could happen in any capital city. I was robbed twice in Moscow, for example.
OK, so far I haven't convinced you.
How about this: I camped at least 100 nights in random places off the side of the road throughout West Africa and never had a problem.
Another example: my car broke down in the middle of nowhere at night in Northern Mali. I waved down a random car who helped me find a mechanic. My car broke down many times all over Africa, often in inconvenient places where I was vulnerable, yet Africans were always happy to help.
Still unconvinced?
Process this: Last year I picked up over 1,000 West African hitchhikers.
So what happened?
The only thing exciting that happened is that several of them invited me to stay in their homes to slept and eat. I accepted their offer and saw a bit of The Unseen Africa.
7. If West Africans aren't starving, then they're skinny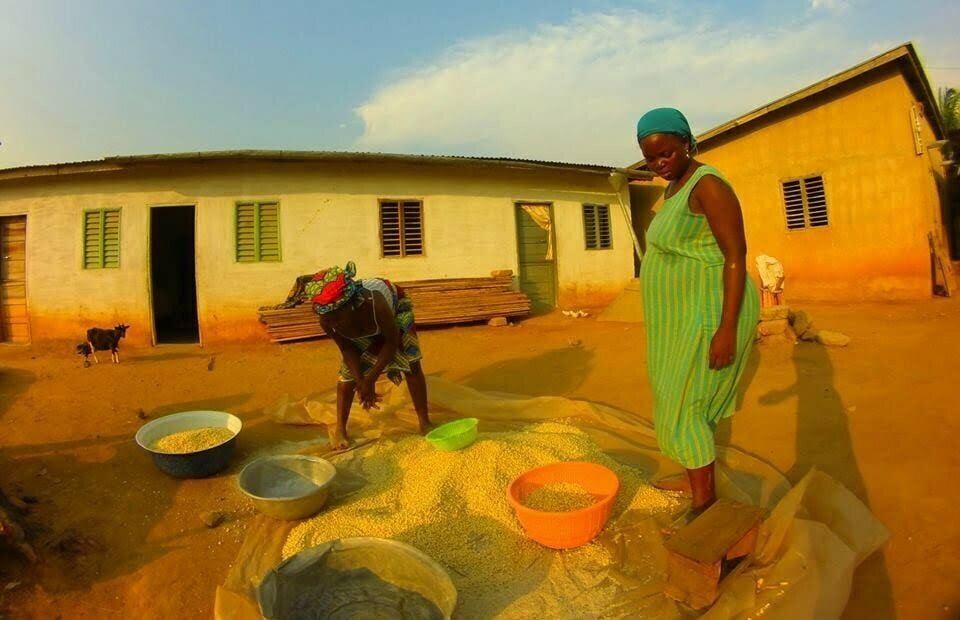 I've never see so many fat asses in my life. Although the men are often trim, the women are usually overweight. For example, in Dassa and Bohicon (two towns in Benin), it was extremely rare to find a thin woman over 25 years old.
Of course, there are exceptions, like the svelte Senegalese. And yes, malnutrition is a problem in the poorest homes. And yes, West Africans have asked me for food (but those who ask are not like the emaciated Africans you see on TV).
In fact, West African culture is about sharing and nobody is allowed to go hungry. If you're hungry, then you knock on the door of any of your relatives (and you do have a lot of relatives), and they will always give you something to eat.
Moreover, Islam (the dominant religion in West Africa) encourages Muslims to give to beggars. Thus, begging is pretty effective in Islamic societies.
In conclusion, West Africa's big problem isn't starvation, it's obesity. The next West African charity you should support isn't Oxfam, but Weight Watchers.
5. Most West African slaves went to the United States
From 1519 to 1867, only 6% of all slaves shipped out of Africa went to the United States. The vast majority went to South America (especially Brazil) and the Caribbean.
West Africa certainly produced the majority of the slaves around the world: six in 10 African slaves came from West Africa. And West Africa supplied the bulk of the slaves that went to the Americas—including the United States. However, the United States was only a relatively minor player in the global slave trade.
4. West African slaves no longer exist
In Mauritania, 10-20% of the population is a slave. Although they abolished slavery in 1981 (yeah, they were a wee bit late to the party), they didn't criminalize slavery until 2007 (OK, way late to the party). As a result, the practice is still widespread.
I met several child slaves, like Fali, a 10-year-old Beninese girl (photo on the right). Africans never call such child "slaves." They euphemistically say that they are un enfant placé (a placed child). Fali's poor parents sent her to work for a richer family. The rich family feeds Fali, but does not send her school. Instead she does housework. The rich family sends some money to her parents to compensate.
A 2003 study showed that in Cote D'Ivore "28 percent of all children worked, with 20 percent working full time. About 23 percent of the children ages 10 to 14 and 55 percent of the children ages 5 to 17 carried out an 'economic activity.'"
Compared to other continents, Africa has the highest percentage of people who are still slaves. Slavery started in Africa, and it will probably be the last continent to still practice it. Africans enslave their own people more than anyone else.
Mariette, a Beninese woman, was looking over my shoulder when I was researching slavery. When she saw a gruesome photo of a whipped slave, she raised her voice and said to me, "Why did you do this to us? How could you enslave us?"
I replied, "Why do you still enslave each other today?"
3. West Africans all look the same
False.
First, there are the tan skinned Berbers, Tuaregs, and Arabs that are especially prevalent in West Africa's Sahara.
Second, the style of dress changes. For instance, the Beninese are famous for their colorful clothing. Even the men will wear bright flashy colors that you might only see in San Francisco's Castro District.
Third, the Sahelians tend to be thin and tall. Perhaps it's just genetic or diet driven. Compared to coastal West African, Sahelians eat more meat and yet fewer calories because of the extreme heat. The coastal West Africans, in contrast, eat more root vegetables, like manioc. For whatever reason, they tend to be shorter and more stocky than those from the Sahel.
Fourth, coastal West Africans show more skin than those in the interior. This is partly driven by religion – Islam encourages people to cover up and Muslims dominate the Sahara.
2. AIDS is a widespread epidemic in West Africa
In the USA, 0.6% of the population is infected with HIV.
In West Africa, it's 0.7% to 3.4%, depending on the country. Although that's significantly higher than the USA, it's not a widespread pandemic. Russia and Estonia, for example, have higher HIV rates than Liberia, Niger, and Senegal.
The real HIV problem is in Southern Africa, where HIV infection rates can top 20%.
1. West Africa is one big jungle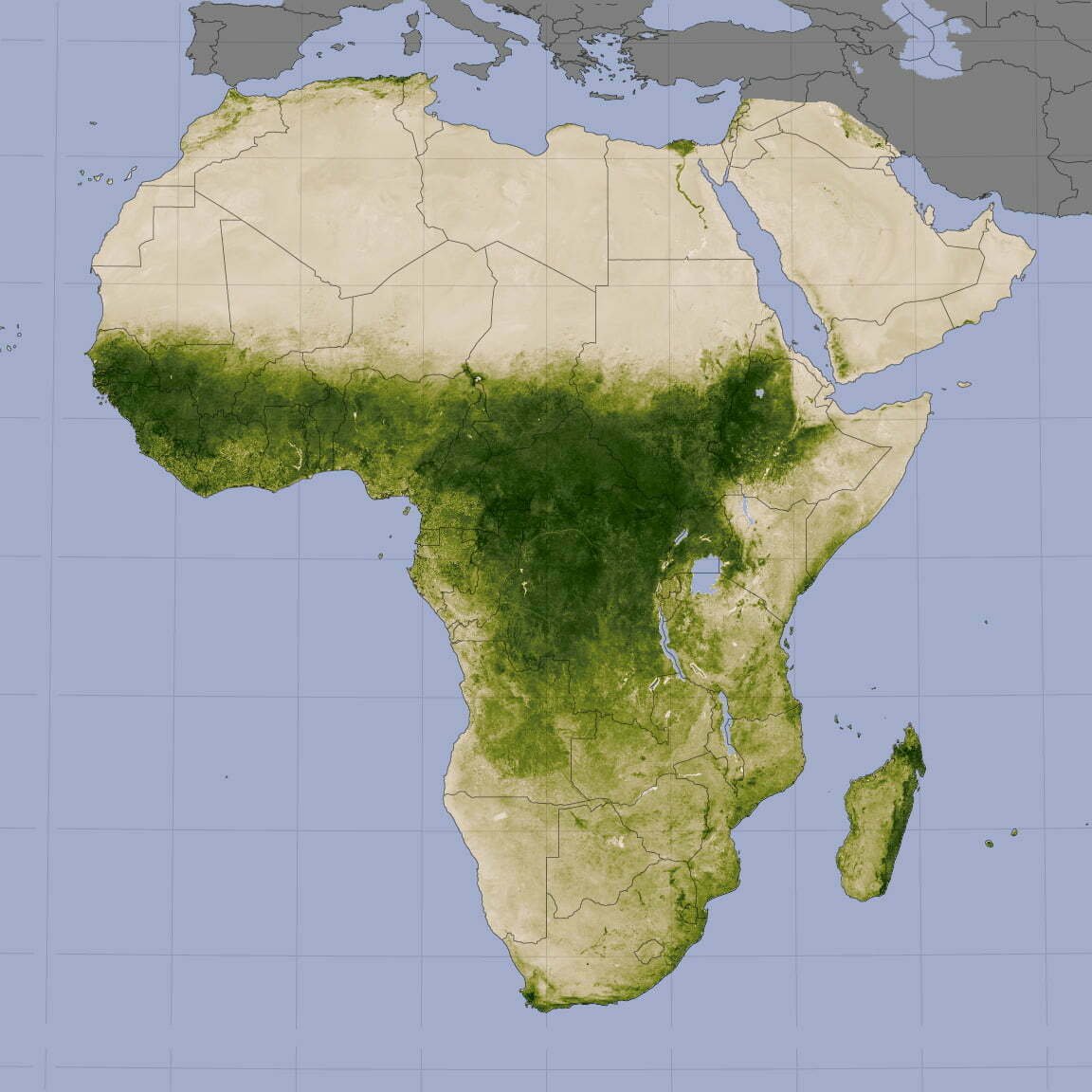 Not exactly.
I believed this myth because I spend an embarrasing amount of time looking at NASA images, like the one above and this one. Such satellite imagery gives you the impression that most of West Africa is a lush green zone (aside from Mauritania and Northern Mali).
However, after spending one year in West Africa, I learned that while thick jungles do indeed exist, their zones are limited.
What you're more likely to see is sparse woodland. In fact, the Sahel encroaches into many West African countries. It's remarkable how fast the coastal lushness turns to sand.
And of course, there's no jungle in the many major cities that line the West African coast: Dakar, Bajul, Freetown, Conakry, Monrovia, Abidjan, Accra, Lome, and Cotonou. And then there's Africa's megalopolis: Lagos. It had a population of 10 million in 2010, but by 2050 experts expect it to have 40 million. West Africa's green jungle is becoming a concrete jungle.
The map below is an accurate depiction of the vegetation density that I saw on the ground, not from my flying saucer.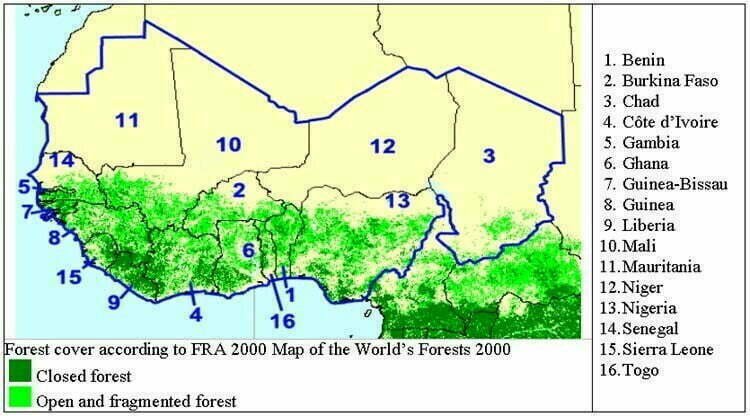 The Unseen Africa Kickstarter Project
Did you appreciate how I debunked some myths about West Africa? Then you'll probably love The Unseen Africa Kickstarter Project which will run until June 25, 2014! It's all about debunking our common views of Africa.
I'm producing a ground-breaking travel TV series that will reveal the sides of Africa that CNN and National Geographic never show. Please check it out, pledge as much as you can, and spread the word!
Francis Tapon, author of Hike Your Own Hike and The Hidden Europe, is creating a TV series and book called The Unseen Africa, which is based on his four-year journey across all 54 African countries.