Living the dream of a location independent lifestyle as a digital nomad is the vision of many long-term travellers these days.  I'm thrilled that Nora Dunn of The Professional Hobo has taken time out of her busy schedule to answer a few questions related to this very topic.  She's an inspiration for many and her travel blog offers a wealth of information and tips for those looking to do the same.
Life Overseas As A Digital Nomad
Q1) How long have you been living overseas as a digital nomad?
I've been nomadic since 2007, although not all "overseas"; I spent the first nine months of my full-time travels in my home country of Canada.
Q2) What is something you've learned recently that you wish you had known when you first started out as a location independent traveller?
The learning curve since the day I started travelling has been enormous (heck, the learning started well before I hit the road). And as technology and the location independent industry has changed and evolved (something that is a constant process), the learning has continued.
Something I learned relatively recently was how effective having a newsletter with a strong subscriber base can be for developing a loyal following who will be the the first in line to buy and promote anything you sell.
Okay, I've probably known this for a while, but I was procrastinating on creating yet another task that requires ongoing management. Now that I'm finally putting together some e-Products and services, I find myself behind the curve on the newsletter front.
So with hindsight in tact, I'd have started a newsletter much sooner.
(But I have a newsletter now, with access to an exclusive 5-part series on How to Travel Full-Time in a Financially Sustainable Way! Click here to subscribe).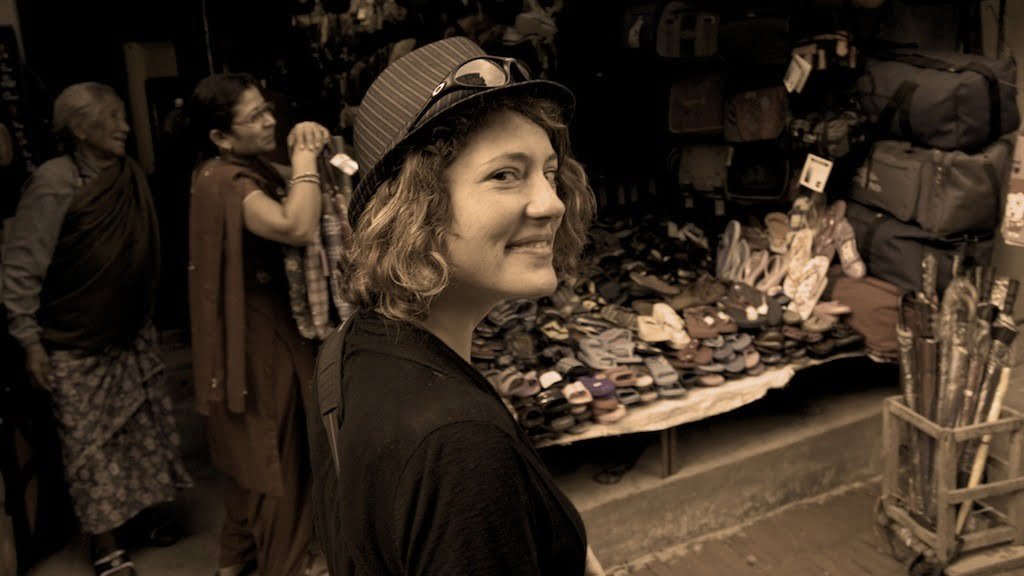 House Sitting To Live Abroad
Q3) You're an experienced house sitter. How has house sitting played an important role in your career and can you offer any tips or suggestions for those looking to do this for the first time?
Since I started traveling full-time, I've spent most of my time volunteering in trade for accommodation in one form or another – house-sitting having been the most recent incantation. Saving money on accommodation has helped my travels to become financially sustainable, and staying for months in a given location has given me time to work while deepening my connection to the people and the place I'm visiting.
House-sitting in particular is a great fit for location independent travelers, as it offers free accommodation, lots of personal space and time to work, and an ability to experience a slice of local life around the world.
For tips and suggestions, check out this article:
10 Tips for Landing the Perfect House-Sitting Gig
Q4) Do you have a favourite travel destination or a place you potentially could see yourself settling or staying on a seasonal basis?
I used to cringe at the "what's your favourite place" question, because I believe travel is very contextual; your current emotional state, who you're with, and what you're doing are often more influential factors in determining our "favourite places" rather than the destination itself.
But I must admit, two places I've returned to at least twice have been New Zealand and the Caribbean island of Grenada. In fact, I'm currently setting up a home base of sorts in Grenada, from which I can continue to travel (but I don't have to bring everything I own with me any more)!
Attractive Digital Nomad Bases
Q5) What do you think makes an attractive base for a digital nomad? Can you recommend any particular regions, countries or cities for someone looking to base themselves overseas for the first time?
One of the most important factors for any digital nomad in choosing destinations is access to the internet. I know some digital nomads who lived in Bangalore for a few months. Why Bangalore, I asked? Because it has the fastest internet in India, they replied.
So if we're looking at attractive bases for digital nomads, then wherever it is, the internet needs to be fast and reliable. Luckily, this doesn't rule out too many places these days.
Next, it's always nice if you can play currency differences by living in a place where the currency you're earning can go farther. This often rules out places like Scandinavia, where the currency is strong and cost of living is high. Asian and South American locales tend to be popular with digital nomads with the relatively cheap cost of living.
Beyond cost of living and internet access, the attractiveness of a destination is in the eye of the individual digital nomad and where they want to go.
I've actually spent quite some time in pricier places (like Australia, Hawaii, New Zealand, Europe, and the Caribbean), but because I've had free accommodation, I've been able to manage the rest of the expenses on my location independent income.
Q6) I've noticed you have several different forms of income streams. Do you feel diversifying your earnings has been an important part of being able to continue your nomadic lifestyle? Is there any type of projects or ways of potentially earning money you're interested in pursuing that you haven't done already?
As a freelancer and entrepreneur as well as a digitally nomadic one, income diversification is key!
Presuming that any one source of income (from a specific client or product) will always be lucrative or in demand is dangerous.
My main forms of income come from freelance writing (with a number of regular columns in both print and online forms), advertising on my site (advertising being an example of a fickle form of income with constant changes being made to online policies), and affiliate sales.
One of the most attractive forms of income that is great for digital nomads is passive income; income earned without you having to directly trade your time for it. My affiliate income is largely passive, since the affiliate links are built into posts that I wrote up to four years ago, but that readers continue to read and click on.
But to answer your question about income streams I'd like to pursue, it's high time for me to develop my own tools to help people adopt a life of full-time financially sustainable travel. Ebooks are an ideal form of passive income; they require very little additional input after the initial creation and setup process. And having my own team of affiliates to sell it for me will further boost passive sales.
I've also got my sights set on larger scale books, coaching courses, and public speaking opportunities – all ways of further diversifying my income.
If you're curious what my income is like, here's the dirt:
Financially Sustainable Travel Part 1: My 2011 Income
http://www.theprofessionalhobo.com/2012/03/financially-sustainable-travel-part-1-my-2011-income/
(And with very little additional effort, my income for 2012 is going to be almost double this; another testament to passive income).
New Location Independent Projects
Q7) What are some exciting new projects or travel plans you have in store for the rest of this year and next year?
I've just redesigned my website, started a newsletter, and am in the process of figuring out how to write all these books I've been told by so many people that I simply must write.
Travel-wise, I'm changing the focus of my travels by having a home base to return to in the Caribbean. I look forward to booking return tickets instead of coordinating one-way adventures, and I anticipate attending (and speaking at) more industry conferences, enjoying the odd press trip, and hopefully hosting some travel tv shows!
Q8) Could you please tell us more about your travel site. What can readers expect to find?
The Professional Hobo started as a travel log of my adventures in selling everything and becoming a full-time world traveler. Six years in, it has morphed into a resource on financially-sustainable full-time and long-term travel. In addition to my own observations of life wherever I am living and traveling, readers can enjoy weekly Financial Travel Tips, bi-weekly diary week-in-the-life accounts of the daily lives of other full-time/long-term travelers, and roundups of useful articles on travel, personal finance, and lifestyle design.
Nora Dunn is The Professional Hobo: a Canadian who in 2006 sold everything she owned (including a busy financial planning practice) to travel the world. She has roamed the world ever since, traveling full-time in a financially sustainable way.  She is an international freelance writer and travel blogger for publications such as Wise Bread, Flight Network, and Transitions Abroad, and recently penned the popular e-book How to Get Free Accommodation Around the World.