Last Winter I decided to challenge myself by partaking in a 100 day weight-loss and fitness regimen.  I had promised to follow up with a progress report and well…complete failure in that regard.  In a nutshell, my attempt to melt a few layers of fat off of my 'blogger bell'y and push myself away from the dinner table was only mildly successful.  I lost roughly 15 pounds but then as soon I came home to visit my parents over the Christmas holidays I gave in to the many temptations that had been unavailable to me while teaching in Korea.  Oh, those cookies.  Mmmmm…lasagna.  Turkey dinner!  Can I have seconds, thirds?!?!
Needless to say, even though I was skating daily, lifting weights and playing ice hockey, I was packing on the pounds.  When I hit the road for the first time as a digital nomad, my familiar 'comfort' eating habits continued.  Those delicious mango smoothies.  Dim Sum?  Hellz Yeah!  Roti Canai?  How could I just eat one.
One morning when I went to do the up the zipper of my loosest pair shorts I couldn't fasten the button across my waist.  Ahhhhhhhhhhhhhh!  Sometimes the greatest lessons you learn in life are from the most humiliating moments – like when you can't properly do up your pants 😛
In recent weeks I've been taking proactive steps to reduce the 'blogger belly' that I so desperately despise.  Now that I'm in Chiang Mai, Thailand basing myself for several months the excuses I've been using to justify the extra heft are now moot.  It's time to shed and let the shedding begin.  This is my plan of attack to get in shape this summer: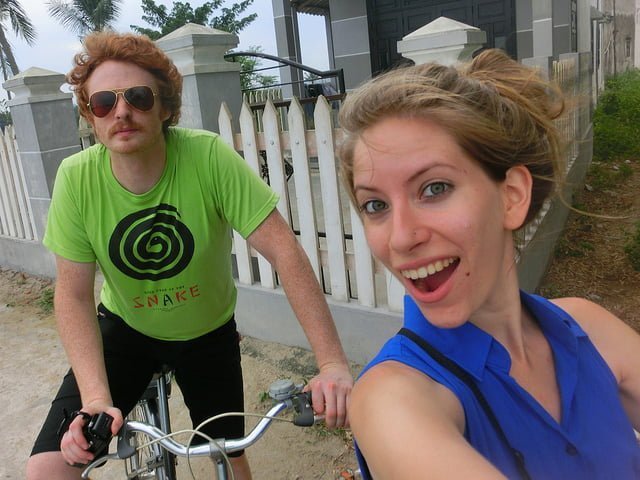 1)  Exercise Like A Fiend
If you notice a red headed albino flush faced and sweating profusely on a bicycle or rooftop gym somewhere in Chiang Mai, please do come over and say, 'hi!"  My strategy to melt away the flab includes plenty of daily exercise.  With a rooftop gym and pool in my rental apartment, I plan to wake-up at 6am every morning to hustle my little buns (oh how I wish they were little) on the treadmill before swimming laps and then going on a bicycle ride.  In the evenings I'll engage in a the seven minute New York work-out.  Now that I've finally shaved my clown hair, hopefully I'll look a little less like Richard Simmons along the way.
2)  Reduce Calories/Portion Sizes
My girlfriend Audrey is such a dear.  She's enhanced my life in so many ways; however, the one thing we haven't been so compatible with is our eating habits.  She's a nibbler who loves to eat something every few hours.  I, on the other hand, am like the guy who gets kicked out of buffet.  If it's in front of my face I'll devour it – no questions asked.  When we go out for lunch Audrey often has eyes larger than her stomach:  "Sam, I can't finish my shake.  Sam, can you help me finished my fries?"  Much like a tender eyed dog waiting for scraps under the table, I oblige by devouring every last morsel on the plate.  Well my loyal readers, those days are long gone.  I'm now 'push yourself away from the table, Sam.'  I'm going to eat slower, chew longer and leave food on my plate.  Indeed, it appears I have been abducted by aliens.
In essence, this all boils down to eating less and moving more.  I don't believe in making things any more complicated than they ought to be.
What kind of goals do you have this summer and how do you plan on achieving them?  Do you have any exercise or diet tips to help this rotund ginger?  Please share in the comments section below.