Do you know that over 150 million users worldwide have booked over one billion stays on Airbnb?
Airbnb had a roaring success in the hospitality industry for many reasons. According to a study commissioned by Airbnb, 97% of US travelers admitted that the amenities provided in the accommodation impact their travel experience. Guests prefer Airbnb or vacation rental homes over others to have a relaxing vacation with their family.
While not every guest wants luxury amenities during their stay, they expect basic Airbnb essentials from their rental hosts. The competition is so fierce that rental hosts need five-star reviews & exceptional guest experience to attract more leads and generate revenue. This article explores the best Airbnb amenities every rental host should know.
Best Amenities for Airbnb 
For the Living Room 
The living room is probably the one place that requires minimum essentials. What the customers are likely to expect from the living room include. 
Comfortable seating arrangement 
WiFi
TV set 
Coffee table/ end tables 
Air conditioner, heater, or fans
A house manual 
For the Kitchen
One of the primary reasons why guests prefer vacation rental homes over traditional hotels is the facility to cook meals for their families. Remember that little things have significant effects on your guest experience. The Airbnb kitchen essentials can differ from one property to the other depending on the guest's requirements. On a general note, some of the basic Airbnb kitchen essentials include
Cooking essentials like utensils, oil, salt and pepper, spices, etc. 
Refrigerator
Dishwasher soap, detergents
Cleaning towels, dish drying rack
Mugs and glassware
Crockery & cutlery items
Stove & basic cooking utensils
Trash cans, bin bags
For the Bathroom
The vacation rental bathroom is one of the basic and most important parts of your guest experience. The overall impression of your rental home depends on the amenities & cleanliness the guests experience here. It is better to have a dedicated Airbnb essentials list so you don't miss out on necessary bathroom essentials. Some of the basic Airbnb bathroom essentials include 
Bath towels, & linens
Body wash, shampoo & conditioner
Hair dryer,
Toothbrush, toothpaste, 
Room freshener
Towel hangers, Shower curtains 
Bath mats 
Mirror
For a Good Night's Sleep Experience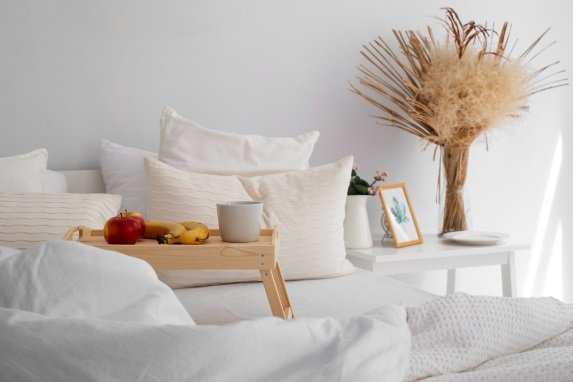 Bedroom is where your guests spend most of their time during their entire vacation stay. It is the place where they relax & recharge themselves after a long day of exploring. Thus, a good night's sleep is vital to the guest experience. A comfortable bedroom setting can make all the difference in whether or not the customer prefers your rental home in the future. Some of the Airbnb bedroom essentials include 
Bed linens and pillows
Table lamps & night lamps
Air conditioner, heater
Fans & lights 
Closey, dresser, & storage shelves 
Hangers & Hooks 
Tissues
Airbnb Safety Essentials 
Guests may spend a considerable amount of time at your rental home. Thus, their safety is your top priority. It is always important to give a copy of all the emergency contact details and your (host) contact number for the guest's quick communication in a crisis. The primary item every guest should be accessible is the first aid kit. Some of the Airbnb amenities to enhance your guests' safety include  
Fire Extinguisher 
First Aid Kit 
Smoke Detectors
Smart Door Lock 
Window Safety Locks
Emergency Lighting
Fire Blanket 
Conclusion
The Airbnb host essentials provided in the above list are just the beginning. Depending on your rental location, you can always provide more to enhance the guest experience. Perform market research to learn about the customer requirements & what your competitor rentals offer.
As you (hosts) serve beyond the basic Airbnb essentials, your guests become happier and will likely choose your rental home every time. Are you looking to list your rental on Airbnb? Let Inhaven be your companion in acquiring the best Airbnb essentials for your vacation rental. Let us work together to make each stay happy and fulfilled.