Milan, the fashion capital of Italy and a global hub of design and culture, is a city that exudes sophistication and style at every turn. With its iconic landmarks, world-class shopping, and rich artistic heritage, Milan offers travellers a captivating blend of old-world charm and modern elegance.
Join us as we explore the marvels of this fashionable metropolis and provide you with a 3-day itinerary to make the most of your Milan adventure. Whether you're seeking vacation packages to Milan, Italy, or planning a short visit with a 3-day itinerary, this guide will ensure you experience Milan's allure to the fullest.
Day 1: Milan's Cultural Treasures
Morning: The Milan Cathedral (Duomo di Milano)
Start your Milan journey at the Milan Cathedral, a masterpiece of Gothic architecture. Climb to the rooftop for panoramic views of the city and marvel at the intricate details of the cathedral's facade.
Afternoon: The Last Supper and Sforza Castle
Visit the Church of Santa Maria delle Grazie to see Leonardo da Vinci's Last Supper, one of the world's most renowned artworks. Advance reservations are essential for this cultural gem. Afterward, explore the nearby Sforza Castle, a mediaeval fortress that now houses museums and beautiful courtyards.
Evening: Aperitivo in Navigli District
Head to the Navigli district in the evening, known for its canals and lively atmosphere. Enjoy an Italian aperitivo, where you can sip cocktails and savour complimentary snacks at local bars.
Day 2: Milan's Fashion and Shopping
Morning: Fashion District
Discover Milan's reputation as a fashion mecca by exploring the Quadrilatero della Moda, the city's fashion district. Stroll along Via Montenapoleone, Via della Spiga, and Via Sant'Andrea, where you'll find high-end boutiques from renowned fashion designers.
Afternoon: Brera District
Head to the artistic Brera district, known for its charming streets and the Pinacoteca di Brera, an art gallery featuring works by Italian masters like Caravaggio and Raphael. Take a leisurely walk through the district's narrow lanes and enjoy lunch at a traditional trattoria.
Evening: La Scala Opera House
In the evening, attend a performance at La Scala, one of the world's most famous opera houses. Even if you don't have tickets, you can visit the museum and admire the opulent interiors.
Day 3: Milan's Hidden Gems
Morning: Leonardo's Vineyard and San Maurizio al Monastero Maggiore
Explore Leonardo da Vinci's Vineyard, a hidden gem that provides insights into the life of the Renaissance genius. Nearby, visit the San Maurizio al Monastero Maggiore, often referred to as the "Sistine Chapel of Milan," due to its stunning frescoes.
Afternoon: Indulge in Milanese Cuisine
Treat yourself to a traditional Milanese meal. Try local dishes such as risotto alla milanese (saffron risotto) or ossobuco (braised veal shanks) at a local trattoria.
Evening: Naviglio Grande
Wrap up your Milan adventure with a relaxing evening stroll along the Naviglio Grande, the oldest and most picturesque canal in the city. Enjoy dinner at a waterside restaurant and soak in the atmosphere of this vibrant district.
Milan's Top Attractions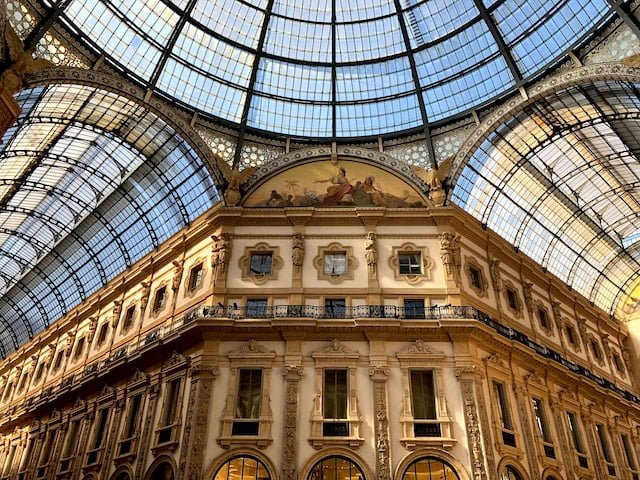 While the 3-day itinerary covers many of Milan's highlights, there are several other attractions worth exploring:
Leonardo da Vinci Museum of Science and Technology: Discover the genius of Leonardo da Vinci through his inventions and engineering designs.
Biblioteca Ambrosiana: Visit this historic library and art gallery, home to a vast collection of manuscripts, drawings, and works by artists like Botticelli and Raphael.
Galleria Vittorio Emanuele II: Admire the stunning architecture of this 19th-century shopping arcade, known as one of the world's oldest shopping malls.
Basilica di Sant'Ambrogio: Explore one of Milan's oldest churches, a splendid example of Romanesque architecture.
Vacation Packages to Milan, Italy
For travellers seeking convenience and a curated Milan experience, vacation packages to Milan Italy, are an excellent choice. These packages typically include accommodations, guided tours, and access to top attractions, allowing you to make the most of your time in the city.
Where to Stay: Best Hotels in Milan
Milan offers a wide range of accommodations to suit various budgets and preferences. Here are some of the best hotels in Milan:
Hotel Principe di Savoia: A luxurious hotel with a rich history, offering opulent rooms and exceptional service.
Bulgari Hotel Milan: A sleek and modern hotel located in the heart of the city's fashion district.
Hotel Milano Scala: A boutique hotel with a focus on sustainability, featuring stylish rooms and a rooftop terrace with panoramic views.
Hotel Straf: A trendy design hotel perfect for those seeking a unique and artistic atmosphere.
NH Collection Milano President: A centrally located hotel known for its comfortable rooms and excellent breakfast.
Tips for a Memorable Milan Experience
To ensure a memorable visit to Milan, consider these tips:
Book Tickets in Advance: For popular attractions like the Last Supper and La Scala, it's crucial to book tickets well in advance.
Dress Stylishly: Milan is known for its fashion, so consider packing some fashionable attire to fit in with the locals.
Public Transportation: Milan has an efficient public transportation system, including trams and a metro network, making it easy to get around the city.
Learn Basic Italian: While English is widely spoken in tourist areas, learning a few basic Italian phrases can enhance your experience and help you connect with locals.
Safety: Milan is generally a safe city, but be mindful of pickpockets, especially in crowded areas.
Conclusion: Milan's Timeless Allure
Milan, with its rich history, artistic treasures, and cutting-edge fashion, is a city that seamlessly marries tradition with modernity. Whether you're exploring its cultural gems, indulging in world-class shopping, or simply savouring the local cuisine, Milan will leave you captivated by its timeless allure.
So, whether you're considering vacation packages to Italy, or planning a short visit with a 3 days itinerary Milan, embrace the city's sophistication and elegance as you explore its remarkable marvels and create lasting memories.