If you're looking for a new adventure, why not escape to Norway this winter? The iconic landscapes of this truly magical country are teeming with sights, activities and once-in-a-lifetime moments that are firmly set on many a wanderer's bucket list.
In winter, the Norwegian snowscape is nothing short of captivating; from its glistening fjords to its wholesome Christmas markets. Whether you're visiting as a solo traveller or as a group, there's plenty to see and do in Norway to suit every taste. Here are just a few of the reasons to visit Norway this winter.
Unparalleled Scenery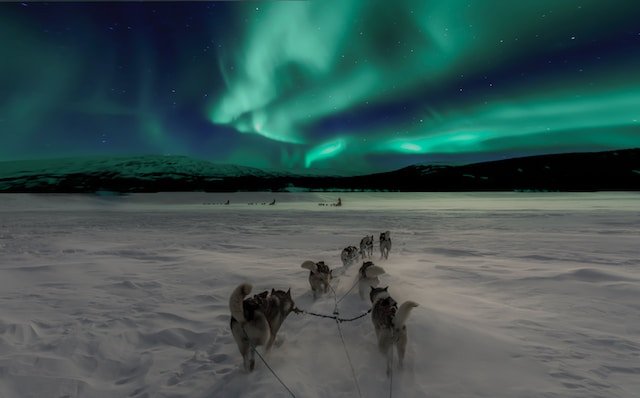 It's impossible to put into words just how awe-inspiring and beautiful the natural terrain of Norway is. From the moment you arrive, you'll be swept away by panoramic views of immense mountains, deep valleys, quaint villages and glistening waterways.
Plus, there's a multitude of ways to explore and enjoy the idyllic scenery. You can speed through the wilderness aboard a dog-sled or snowmobile, set sail through crisp fjords to some of the most remote corners of the arctic, or hike with snowshoes over a powdery white blanket to reach pristine peaks in the mountains.
Of course, everyone who visits Norway hopes to see the natural lightshow of the aurora borealis, and visiting between the winter months of December to February offers the best chance.
Sail with an experienced crew through the fjords for the brightest display – far away from the cities and towns. No matter how you wish to explore, be sure to end your excursion with a mug of hot chocolate or mulled wine in front of an open fire in true Norwegian style.
Authentic Christmas Spirit
If you've ever dreamed of visiting the North Pole as it's depicted in your favourite Christmas movies, Norway is about as close as you can get.
You'll be greeted warmly by the locals as you meander through the many Christmas markets, complete with choir singers, handmade gift stalls and plenty of delicious sweet and savoury treats.
In every town and city, the streets are filled with twinkling lights and the smell of fresh Pepperkaker (gingerbread) and mulled wine. If you're headed to Oslo, be sure to visit the Winter Wonderland market in Spikersuppa, where artisan crafters and bakers come together to offer their irresistible wears on the high street near the Royal Palace.
With ice skating rinks, carousels, Ferris wheels and some of the biggest Christmas trees you've ever seen, the Christmas markets in Norway are unmissable.
Magical Experiences
No matter the ages of your holiday group, there are some unique experiences to be had in Norway during the winter months. Visit the Norwegian Museum of Cultural History to see if you can spot Fjøsnissen, the Norwegian Santa, carving wooden toys in the barn or playing with the animals on the farm.
This is no ordinary museum, as the open-air exhibition walks you down cobblestone streets as you explore historic buildings, set in beautiful countryside.
On the island of Svalbard, you can pay a visit to the rumoured home of Santa's workshop (the locals claim he's taken up residence in an abandoned mine shaft). With a giant firetruck-red letterbox, we're not sure it's much of a "secret", though!
But if you can't make it that far north, you'll still find plenty of gingerbread houses displayed in every town. It's a tradition here for the local children and volunteers to construct intricate, miniature gingerbread towns to welcome the festive season.
Norway Is A Winter Wonderland
Norway really is a winter wonderland, in every sense. So, if you're looking for somewhere to explore that encompasses Christmas in an authentic, enthusiastic way, this stunning country is a must-visit.